I am a better baker and cook because of my husband. He usually isn't the one one creating new dishes in our kitchen, but he is the chief of of what he calls "quality assurance." He is the one I cook for and hope to delight with all of my meals. Let's face it cooking is more fun when you have someone who appreciates it as much as my husband does. My husband is my most trusted taste tester and critic when it come to creating new recipes. Over the years, I have come to really trust his taste buds and thoughts on food.
We had a family friend who made chocolate chip cookies using Bisquick, and I loved the texture of the cookies but my husband just wasn't sold on them. There was something about the taste of the baking mix that he didn't quite like. I have tried lots of scratch recipes over the years but there wasn't one that stood out as my favorite. There was something about texture of those cookies that other recipes could not match.  Recently I decided to take a closer look at that old recipe and see if I could update it and I have to agree my husband was right the baking mix was not nearly as good as this new version I created. These cookies have a crispy outside with a soft, chewy center that make them absolutely decadent and delicious.
The McCauley's Chocolate Chip Cookies
1 stick of butter, softened to room temprature
1 cup light brown sugar
2 tsp vanilla extract
1 egg
1/4 tsp salt
1 tsp baking soda
2 cups flour
1  1/2 cup chocolate chips
Preheat your oven to 350 degrees.
I call for cool room temp butter because it makes for a better cookie texture. First, place the butter in the bowl of your stand mixer or in a large mixing bowl if you are using a hand-mixer.  Cream or beat the butter at medium speed for abut a minute. Scrape down the sides of your bowl and then add the cup of brown sugar. Continue mixing or creaming the butter and sugar together for another two minutes. Then scrape down the sides of the bowl and add the vanilla and egg. When incorporated add the baking soda, salt and flour and continue to mix at a low speed. The mixture will look crumbly at first but it will come together to make a thick dough. Then mix in the chocolate chips.
I use an ice cream or cookie scooper to ensure that my cookies are all the same size and bake evenly. My scoop holds 3 TBSPs of dough. I make an even scoop an then with the palm of my hand I slightly press down on the ball to make a thick even disc.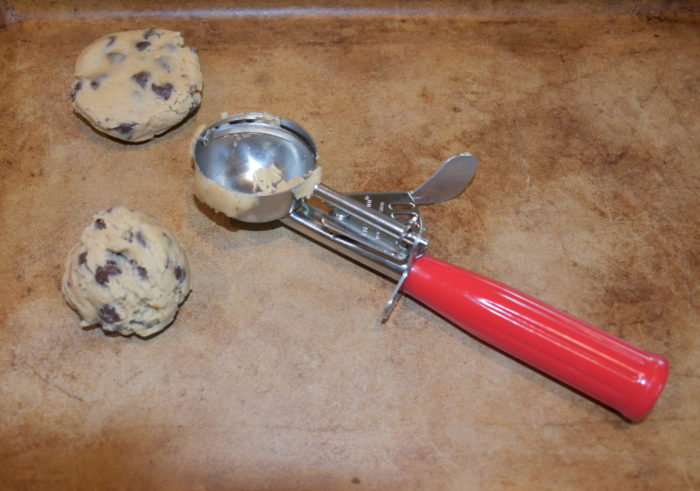 Make sure you leave some room for the cookies to spread a bit when baking. I like to bake cookies on my baking stone so I don't need to grease my pan. I like using a baking stone for cookies because it provides very even heat but if using a metal cookie sheet make sure you either spray the pan with Pam or line it with parchment paper. Then bake  the cookies for 10 to 14 minutes. My experience has been that baking cookies on my baking stone takes 12 minutes, but it could take a slightly different time on a metal pan or if you make the cookie size smaller.
Keep an eye on the cookies. They are done when you begin to see them start to get some golden color and cracks on the surface. Leave them to cool on the baking sheet for  about five to seven minutes or until they are set and cool enough to handle.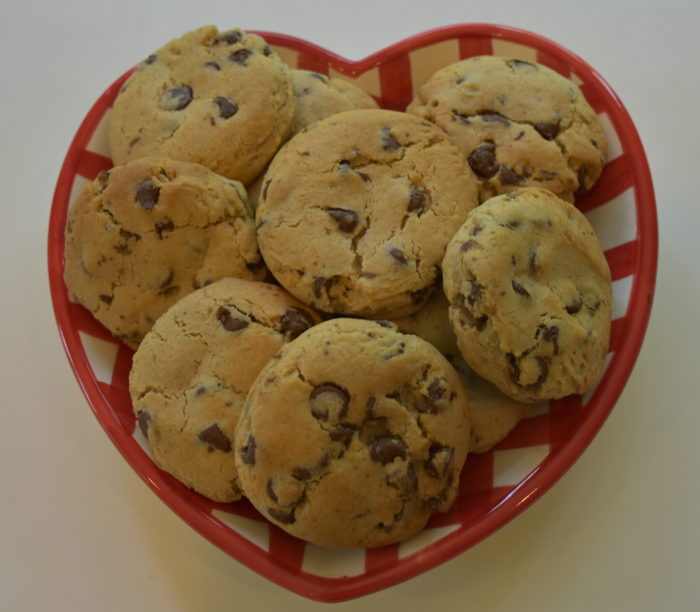 This recipe makes approximately 14 cookies give or take a few tastes from my tiny taste testers in training. While helping me make the cookies for this post, my four year old  told me she thinks these cookies are "pretty good." When my husband came home to taste the new recipe he kept taking bites of his cookie saying these are "perfect." Needless to say these cookies were a hit. The recipe doubles easily if you want to make a larger batch. I hope you love these as much as we do.