The 1990's boneless, skinless chicken craze brought with it many recipes that I call "chicken with sauce" because the sauce usually felt like an afterthought. The sauce was usually something to rescue the chicken from being too dry and flavorless. After years of eating and cooking these dishes somewhere along the way my love for boneless, skinless chicken began to wane. That was until recently when I got a new cookbook by celebrity chef and entertainer extraordinaire Alex Hitz. I first learned about Hitz when he wrote a monthly column for House Beautiful. I clipped a few of his chicken recipes and when I tried them I was impressed and they were all made with boneless skinless chicken breasts. Who knew boneless, skinless chicken could be so good? So I got a copy of his cookbook My Beverly Hills Kitchen and dish after dish left me impressed and wanting to try more.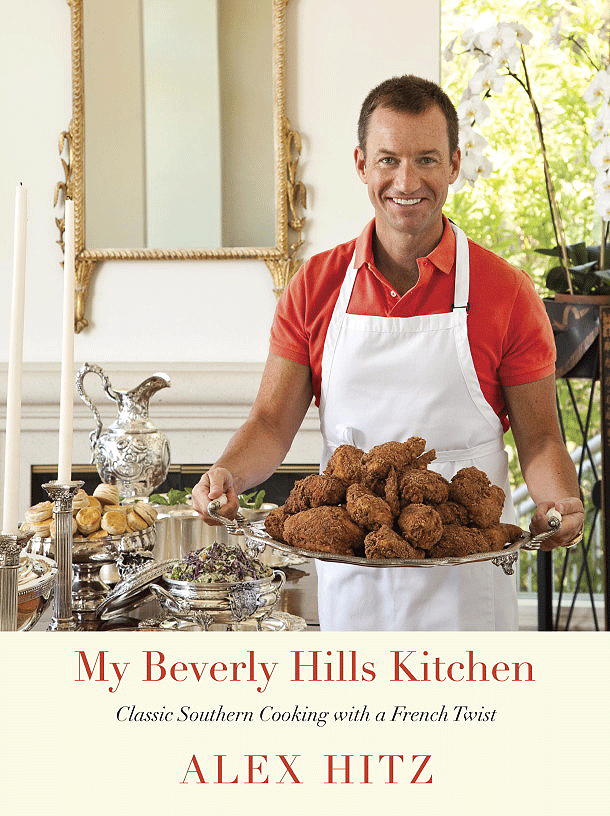 What I love about Hitz's dishes is that they are straight forward and easy to make without lots of fussy and hard to find ingredients. His sauces are superb they have these deep nuanced of flavors that make it taste like you have been in the kitchen all day. I made his Chicken Chasseur and when the chicken was gone I found myself wanting more of his amazing sauce. Hitz is originally from Atlanta but he trained at the La Cordon Bleu in Paris and now works as an event planner and chef in Beverly Hills. His cooking definitely has deep southern roots, but you can see the french influence in his sauces and techniques. The only part of the book that I didn't absolutely love was his desserts. I can't believe I am saying this but his cookies and brownies were actually too rich for my taste. It was honestly just too much butter, but don't let that stop you from getting a copy of this amazing book. It's not everyday that I find a cookbook that I love as much as this one. So today I thought I would share a favorite from his book called Chicken Chasseur or Hunter's Chicken.
Chicken Chausseur
2 Tablespoons of Butter
1 Tablespoon of Vegetable Oil
4 Chicken Breasts (I like to use the thin sliced breasts when making this recipe because they cook quickly and are about the right portion size for our family but you could use the regular thickness if you prefer)
1/2 Teaspoon Salt Divided
1/4 Teaspoon and then 1/8 Teaspoon Pepper
1/4 cup Minced Shallot
1 Teaspoon Minced Garlic
1 Cup Sliced Baby Bella Mushrooms
3 Roma or Other Firm Tomatoes Chopped
1/4 cup Heavy Cream
1/2 Cup White Wine
1/2 Cup Beef Broth
2 Tablespoons Lemon Juice
1 Tablespoon Flour
2 Tablespoons Chopped Fresh Basil
First prep your ingredients for the sauce. This dish comes together quickly in the end, so I like to have everything chopped and waiting for me. In his recipe Hitz recommends peeling the tomatoes. If you have done this before then you know how time consuming that can be so I make it with the tomato skins on and it still works well. One more tip is when chopping the fresh basil, stack the leaves on top of each other and roll the leaves lengthwise to form a chiffonade and then make thin slices. This will make even ribbons of basil and it goes fast because you cut it all at once.
In a large skillet over medium heat melt the butter and add the oil. Season the chicken on both sides with a pinch of salt and pepper (using a total of 1/4 tsp salt and 1/8 tsp pepper).
When the pan is hot and the butter has stopped bubbling add the chicken and brown it on each side. If you are using the thinner breasts the chicken will be cooked through if you are using a thicker chicken breast then brown it 3 minutes a side and then you will finish cooking it through in the sauce at the end.
Remove the chicken from the pan and place it in a dish to the side. Then using the same pan add in the shallots and sauté for 2 minutes. Then add in the mushrooms, tomatoes and garlic and cook for 5 minutes until they are soft.
Return the chicken to the pan and immediately at the wine, beef broth, lemon juice and cream and the remaining 1/4 tsp salt and 1/4 tsp pepper.
Then if you are using the thin chicken breast add flour and whisk it in to thicken the sauce and you are ready to serve.  If using thicker chicken breast cook the chicken in the sauce for an additional 6 to 8 minutes until the chicken breast is cooked through and then add the flour to thicken the sauce and serve immediately.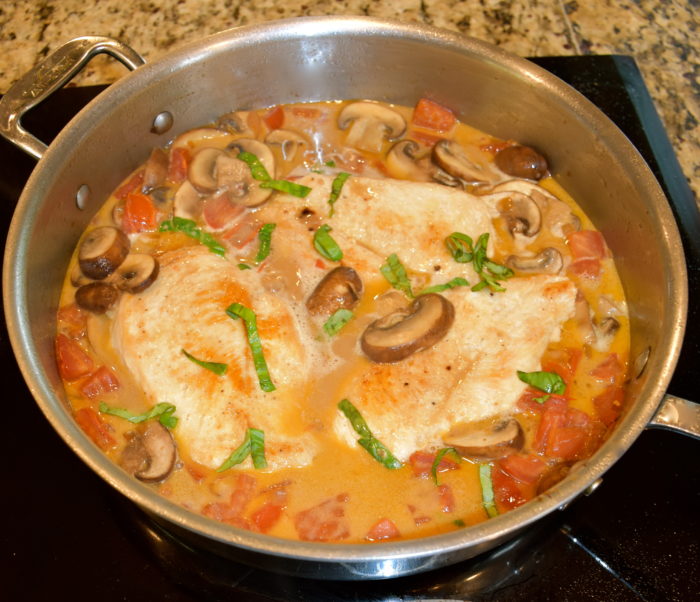 I like to serve this dish with a side of wild rice or mashed potatoes because they are a good pairing with the delicious sauce.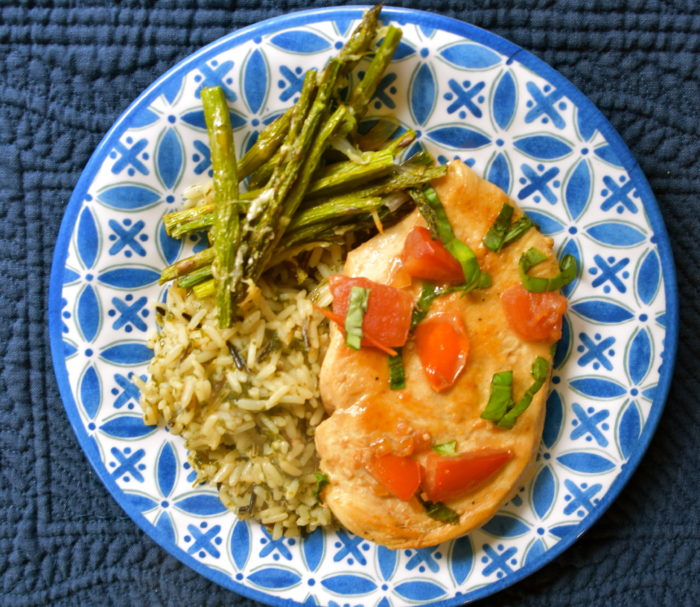 If this dish leaves you wanting more then try another favorite of mine. Hitz had a column in House Beautiful where he made his version of Chicken Veronique. This recipe  is not in his cookbook but you can find a link to the recipe here. I used Prosecco instead of champagne, because it is still bubbly and delicious but less expensive. So if you are looking for some delicious chicken recipes then give these two dishes a try. They are easy enough for a weeknight but the flavors are so good that they would be perfect for entertaining family and friends.