Sometimes grocery store flowers can get a bad reputation. My experience has been that if I go to the store with an open mind, there is usually something that catches my eye. As Carolyne Roehm likes to say "there is no such thing as bad flowers just bad arrangements." The real issue with shopping for flowers at the grocery store is that I can get so focused on the flowers that the vase and how I am arranging them becomes a bit of an after thought.
When it comes to arranging flowers, choosing the vase or bowl you plan to place the flowers in is important because even a simple arrangement can look good in the right vase. Vases don't have to be expensive to work, but the shape of the vessel you use does matter. I attended a floral design class taught by Michael Skaff, the former vice president of floral design at FTD. As I watched him work and talk about the design process, it was clear that what really influenced the shape and flowers he used in any arrangement was his choice of a base. He made some very lovely and large centerpieces that I will have to share in a later post, but the key to all his designs was working with the pot or vase he was using.
Over the years I have found that flowers with long stocks and a thinner profile like tulips, irises and calla lilies tend to look better in a vase with a thinner neck. I also think that unless you are going to put something in the bottom of the vase, flowers look better in opaque or colored vases. If I am giving flowers as a gift then I want the vase to be special as well. This doesn't mean that the vase has to be expensive. Some of my favorite places to get vases are Hobby Lobby, Pier One and Home Goods.
I thought that since Mother's day is coming and I had made a couple of arrangements recently using tulips that I would share some basic tips on simple floral arrangements.  My local grocery store had some pretty fuchsia tulips for ten dollars.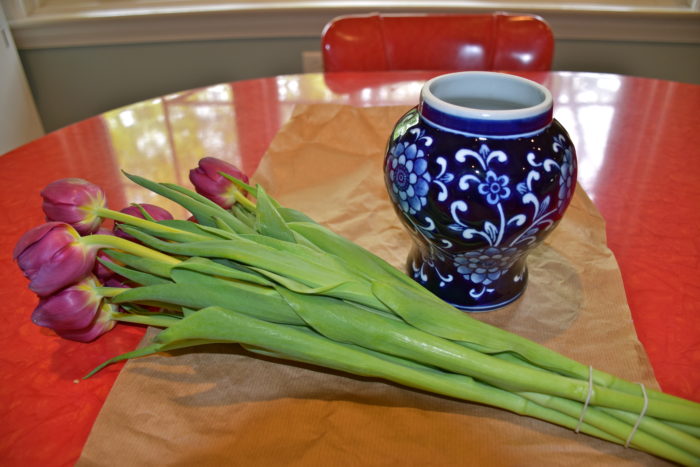 Here are the tulips and a small ginger jar I got for six dollars from Hobby Lobby. I like the combination of the blues and bright pink. I think a simple arrangement can look good in a vase or jar that has a little pattern to it.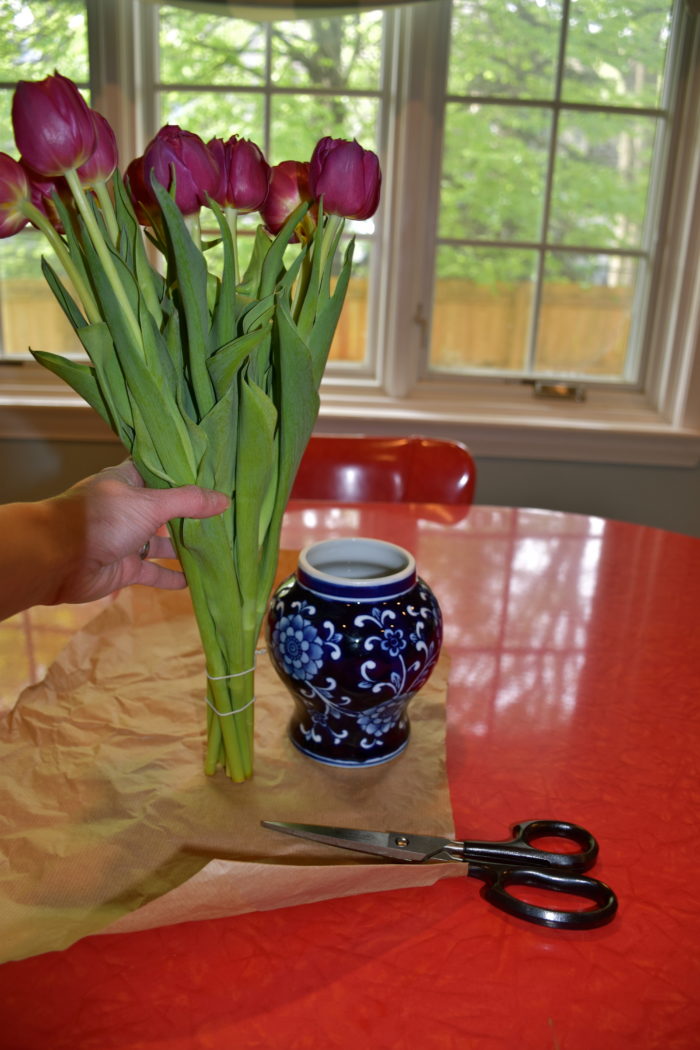 Here was the height of the flowers straight from the store. When I held them up I knew I needed to cut them and remove some of the outer leaves for it to fit my arrangement.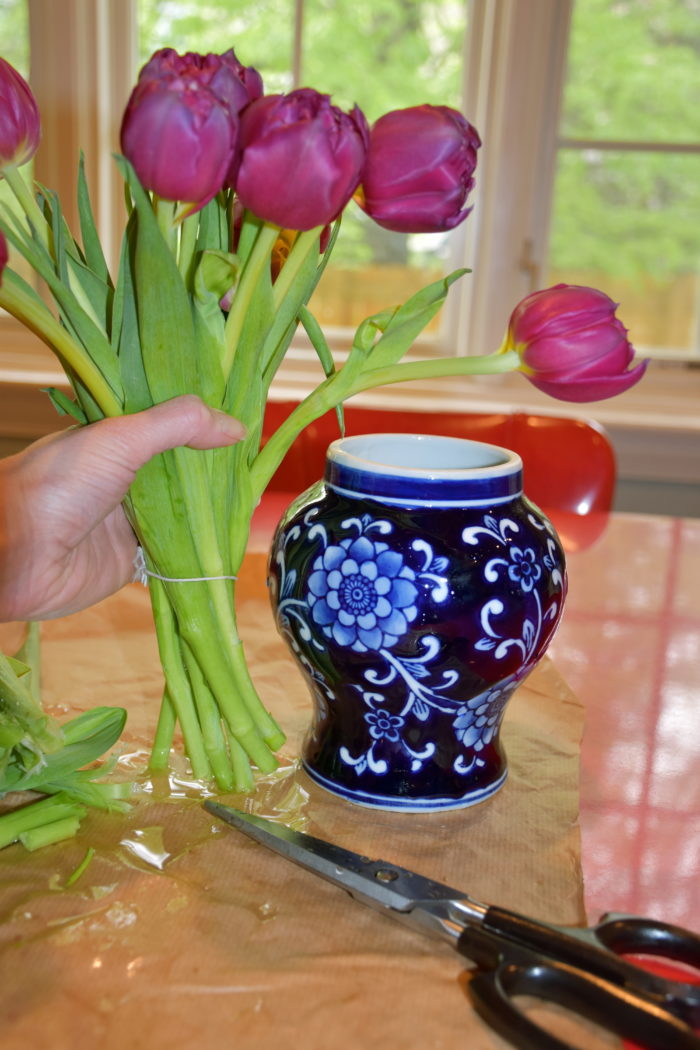 Here they are trimmed to the right length. I wanted to work with the shape and bend of the flowers, so I gathered the flowers together with the straighter tulips in the center and the ones that wanted to bend out I put on the outside. Then I used one of the elastic bands that came with the flowers to hold them in place and anchor them in the vase. If you are using a clear glass vase you can use one of those clear plastic hair ties or wrap a leaf around the elastic band so you cover it. Then place the tulips in your vase and for sixteen dollars you have a beautiful arrangement that would make a lovely gift.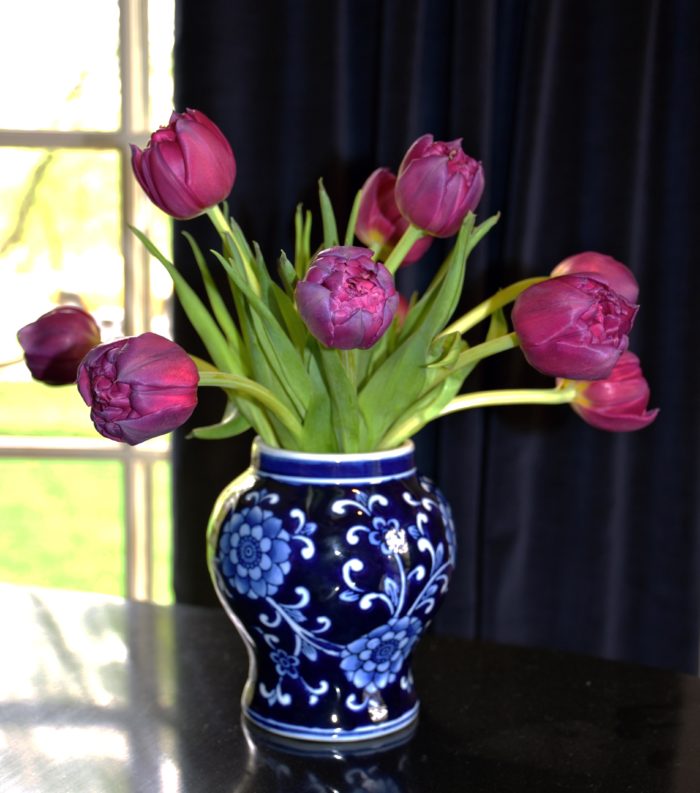 The next arrangement is slightly larger. I put together some flowers for Administrative Assistant's day, so I wanted a fuller arrangement.  I chose to use two bunches of tulips and one smaller bunch of hydrangeas. I went with a vase that had an hourglass shape because the narrower top will hold an arrangement in place without having to use floral foam or wire.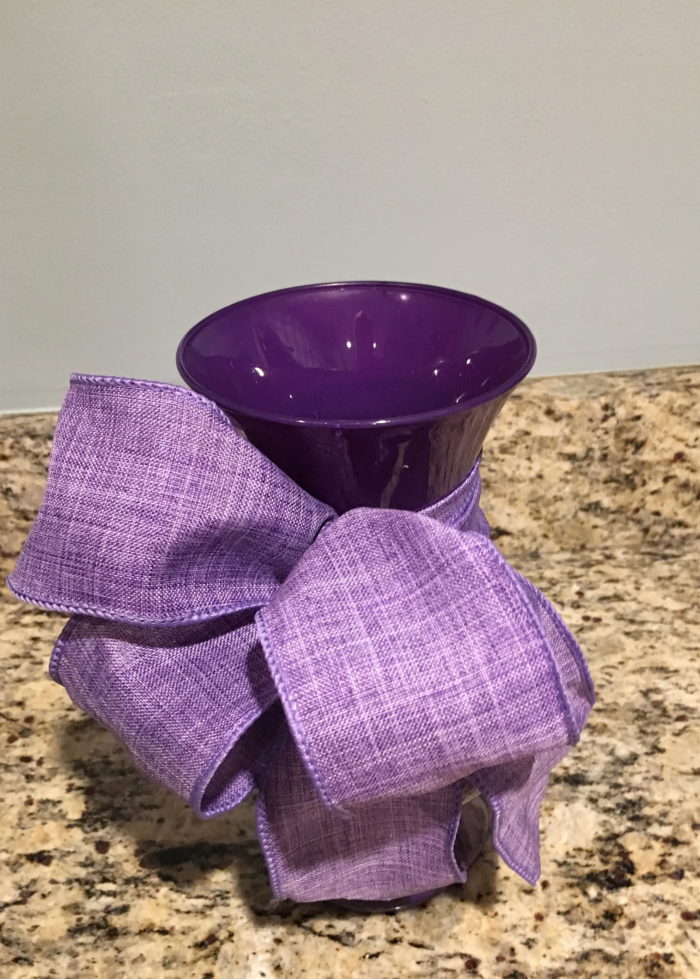 Since the vase was simpler and it was a gift, I decided to tie a bow around the neck of the vase with wired ribbon. Wired ribbon holds its shape well so I like to use it on floral arrangments.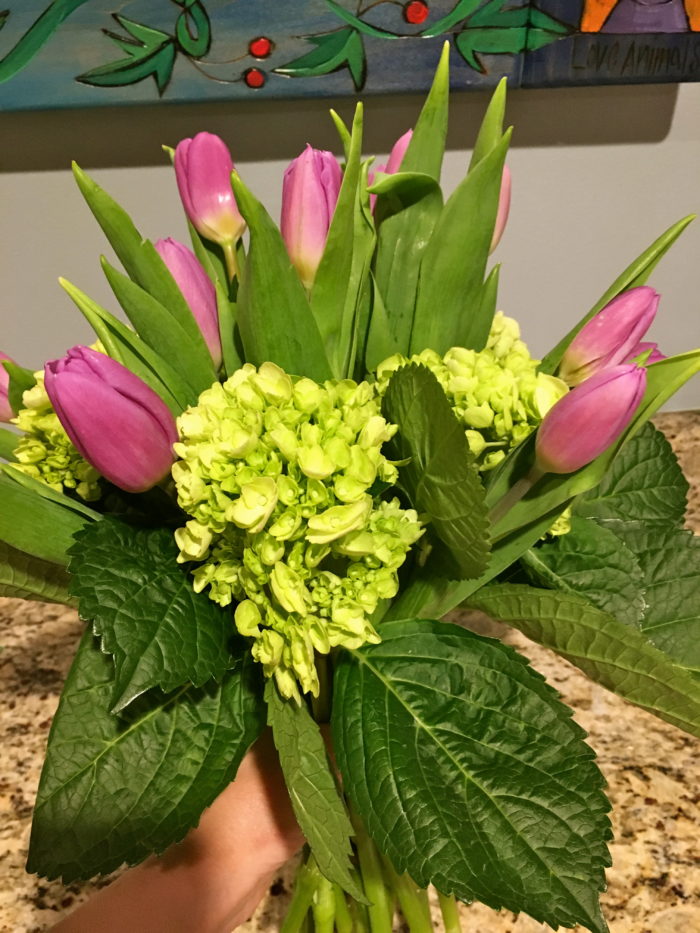 Next I trimmed my flowers and began to arrange them. I cut just under half of the tulips longer and placed then in the center.  Then I added the hydrangeas on the outside and filled in the spots between the hydrangeas with the rest of the tulips that I cut just a little shorter. Once I had the arrangement how I liked it I placed it in the vase. My oldest daughter wanted to have some flowers too so I used a few of the flowers to make a small arrangement for her. Sometimes if I am entertaining I like to make a second smaller arrangement like this to place in the kitchen or in our guest bath.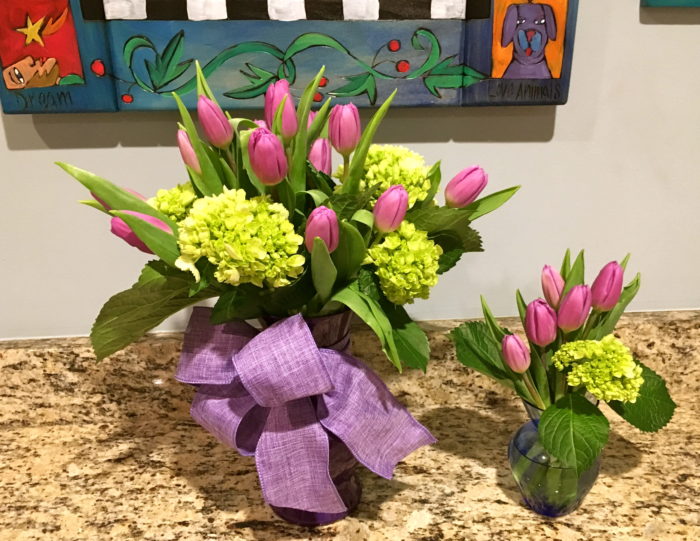 This arrangement including the vase was thirty dollars, but purchasing an arrangement like this from a florist can cost at least twice as much. So the next time you are in the grocery store buying flowers make the vase your first thought and you will have a beautiful arrangement to give or enjoy.