Have you ever heard that adage that if you only collect things that you really love then everything will work together? I believe that is for the most part true. Sometimes a little editing can be a good thing, but if you have classic pieces that you love they can be rearranged in a new space. New rooms are a bit like puzzles. Your furniture and accessories have a place, but sometimes it takes a little time to find the right home for everything.
I have spent the last year painting and slowly decorating our home. So I thought I would share a few photos of our living room. I had updated our living room at our old home about a year before we moved. I had purchased and tailored things to fit that space. At the time we had no plans to move, but when we did I needed to find a way to use the furniture we had in a very different space. It is certainly lots of fun to see a before and after with all new furniture and acessories, but the reality is that long distance moves have challenges. New furniture wasn't in the budget, so I chose to remix what I had in a way that fit the new space.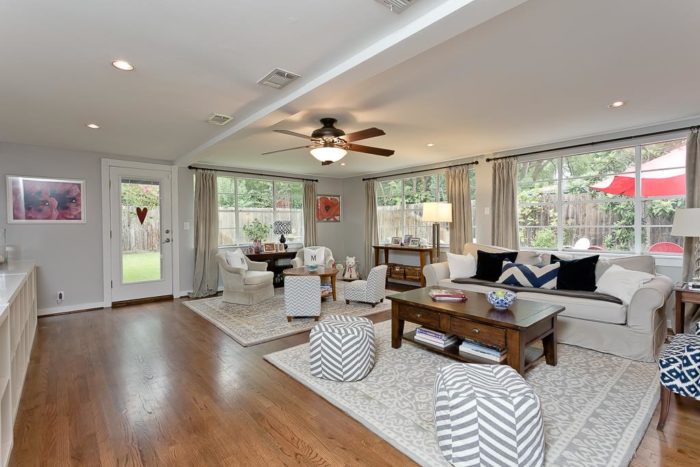 Our living room is my favorite room in our home. Looking back it was the reason we chose this home. It has lots of light and a great fireplace that we use all the time. Our old home didn't have a fireplace so it is a nice feature. Chicago has so many chilly nights that we love just sitting by the fire. The previous owners had used the space in a more formal way. We knew we wanted to room to be a place we used everyday.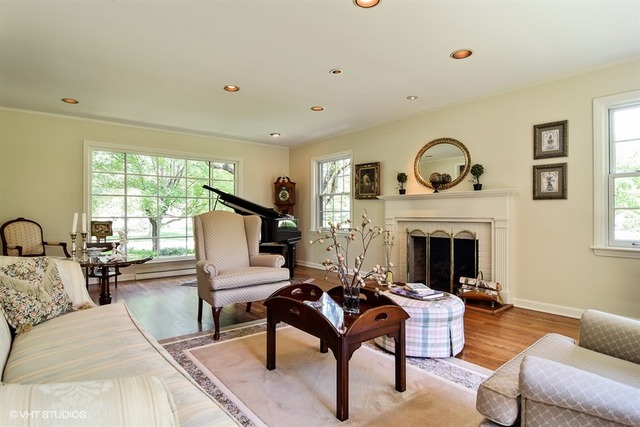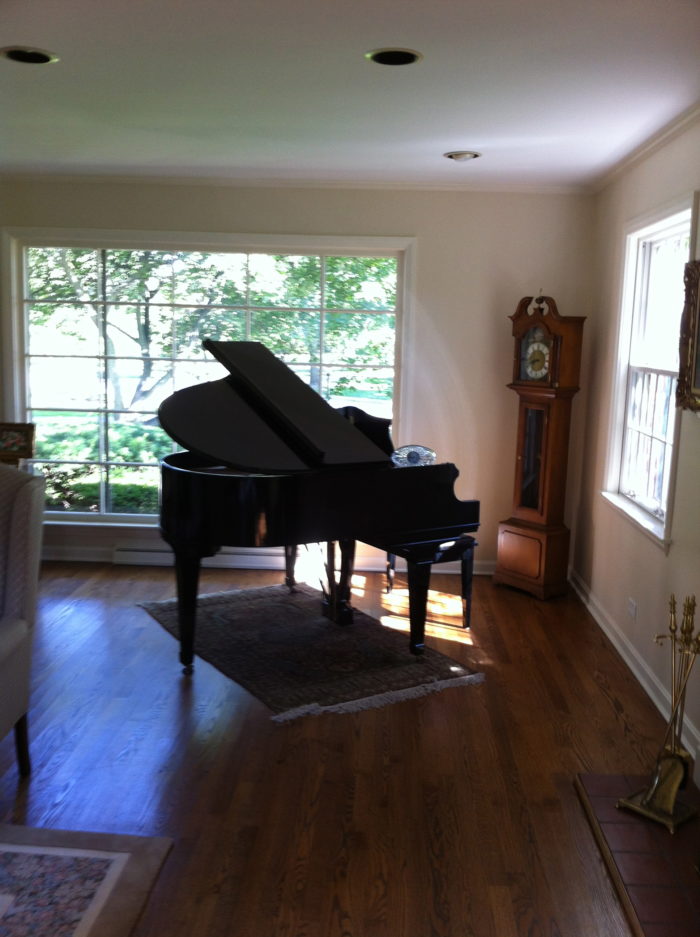 The room had been painted a neutral cream just before it was placed on the market. The color went with the previous owners furniture, but it didn't have the warmth I wanted for the room. I had a lot of projects to tackle so we lived with it for a bit until I could get it painted.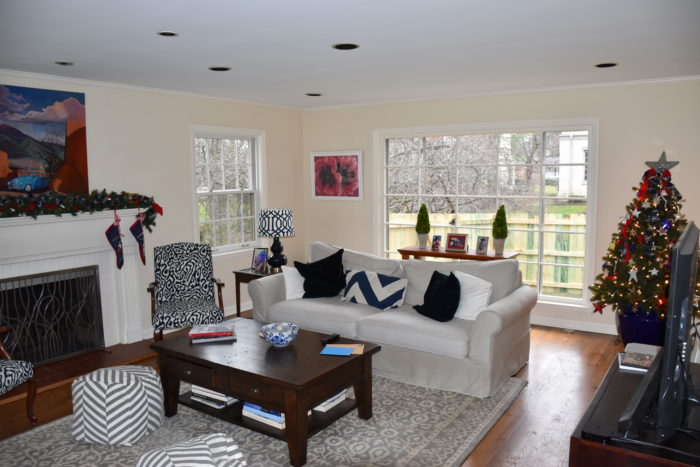 I painted the room Benjamin Moore's Plymouth Rock. It's a warm and well balanced gray. The room gets lots of natural light so the gray added a nice contrast to the formerly all cream room.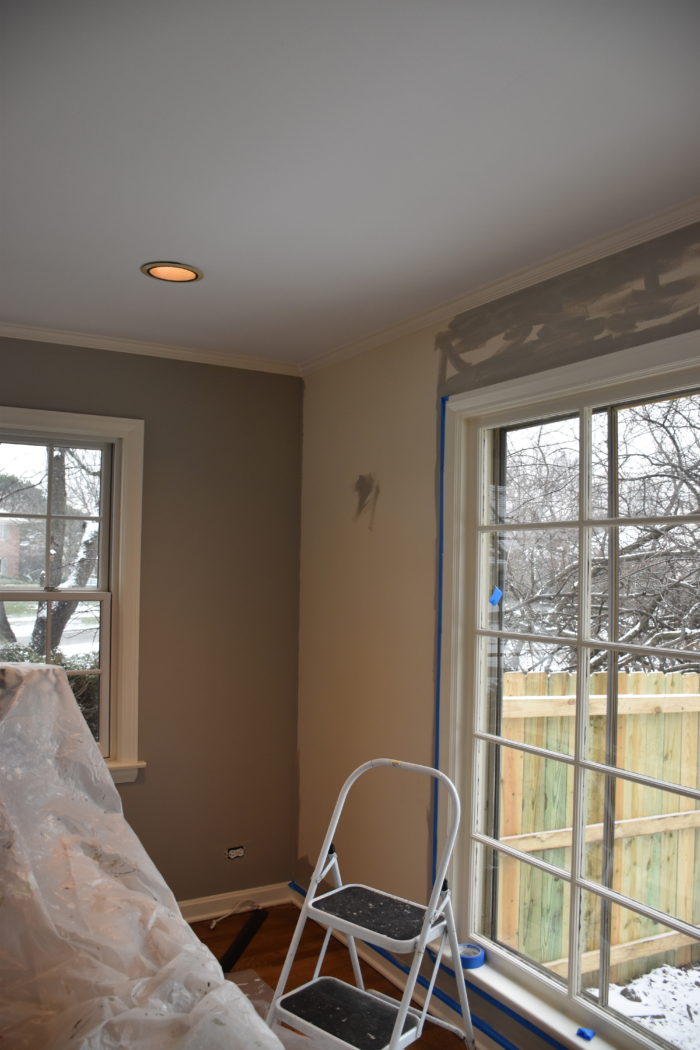 Our new living room has room for just one seating area, but the room is wider than our former living room so I took two armchairs from our old office and used them here to add additional seating. I also added new indigo velvet drapes from Pottery Barn. The drapes frame the windows and add texture and warmth to the room.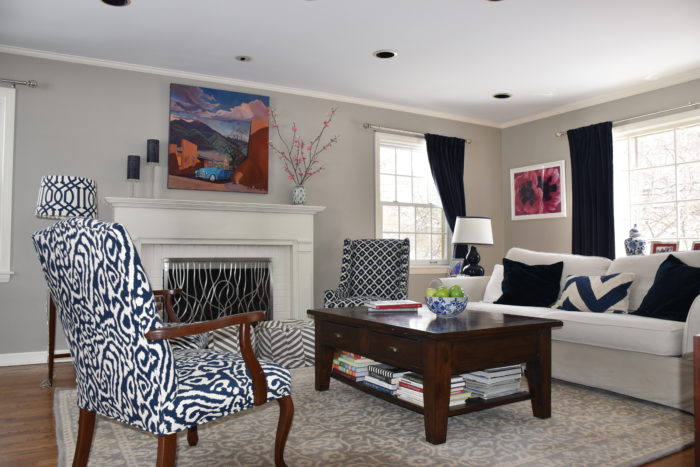 I centered the piano in the front of the room since my husband plays often and we enjoy listening to the music. The piano also provides a little privacy from the window facing the street without having to cover the view to the garden in front.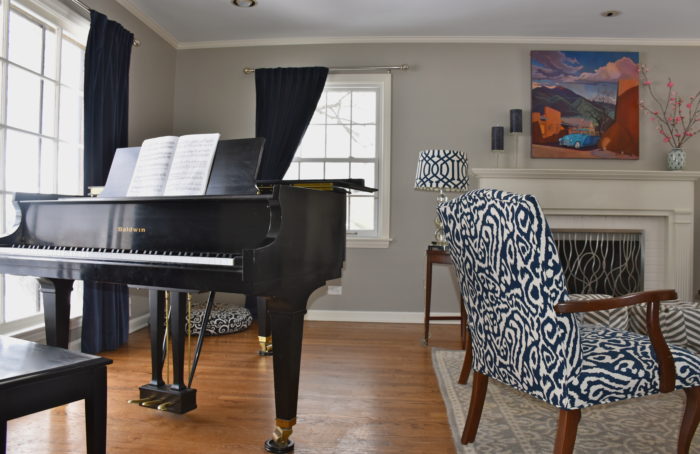 The modern fireplace screen was something I found at Bering's Hardware in Houston. I knew I needed a screen to keep curious toddlers out so I found this one right before we moved. I love the sculptural element that it adds to the room. The painting is a favorite that my husband and I got from a local artist in New Mexico. It used to be in our breakfast room, but the size and colors worked well in our new living room. We have a collection of southwest art so we were able to mix in pieces we had in other rooms in our old house. I added an asymmetrical touch to mantel with some navy candles on modern glass candle sticks. Then I used a vase I had in our old office to add some greenery and height. I switch out the branches in the vase to fit the season.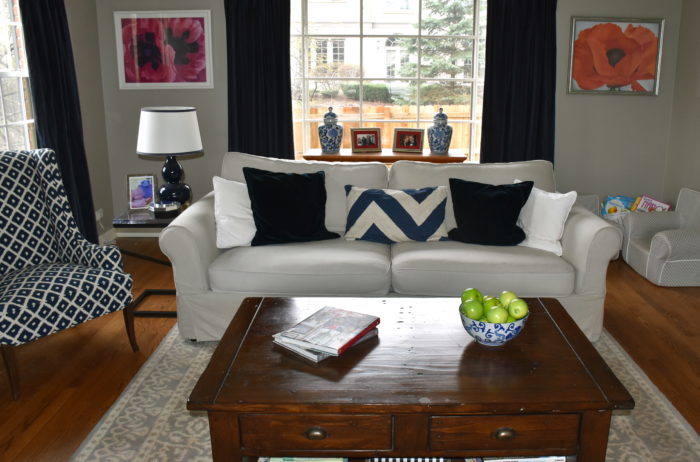 I have a small reading area for my girls tucked in the back corner. The armchairs can be moved if they want to watch television and the basket makes for a quick clean up of their books.
The new room has a few more patterns than I had originally designed for our living room, but the simple blue and gray color scheme helps keep it balanced. I was able to remix our furniture in a new way to give our living room a finished look without breaking the budget. I think the key when you are moving, is to be open to shifting things around and to give yourself so time to see where your furniture and art fit best. If you really love a piece you will find a way to incorporate it in your new home. I plan to make a few changes in the future, but for now we are loving the new look.
For more blue and white inspiration see this link to designer, photographer and entertainer extraordinaire, Carolyne Roehm's library and see how she remixes her room to fit the seasons. Even if you haven't moved recently, it will have you thinking about how a little remix can give your living room a completely new look.