I have loved being in the kitchen since I was tiny. My favorite toy growing up was my play kitchen. I loved cooking things. When I was little there were understandably rules about using the real kitchen, like not using the oven by myself. However in my play kitchen anything was possible.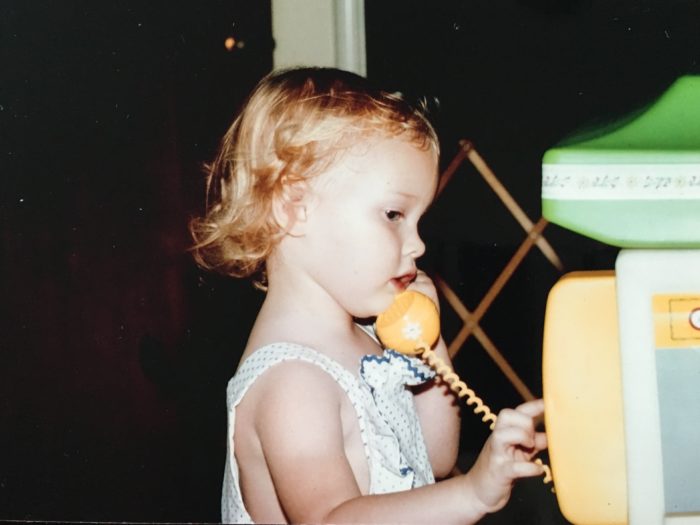 I cooked my first full meal at age seven when my mom was out of town on a trip. Over the years my dinner menus have improved but the excitement and sense of play when I cook has never changed.
When we moved to our new home it was important to me to make the kitchen my own. The kitchen was functional and I liked that the cabinets were painted white. The kitchen had some updates but the cabinets and hardware were old and the formal style and darker colors just didn't fit our family.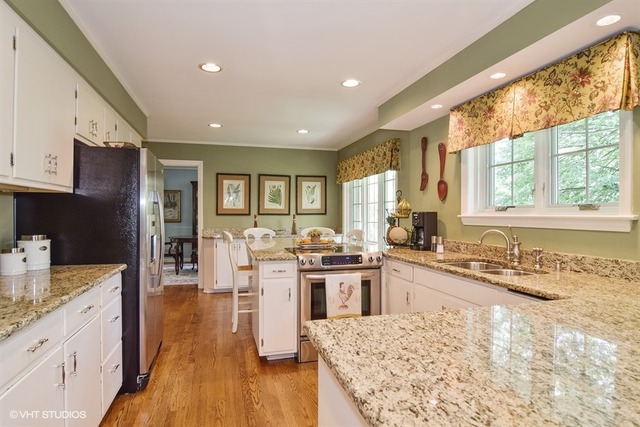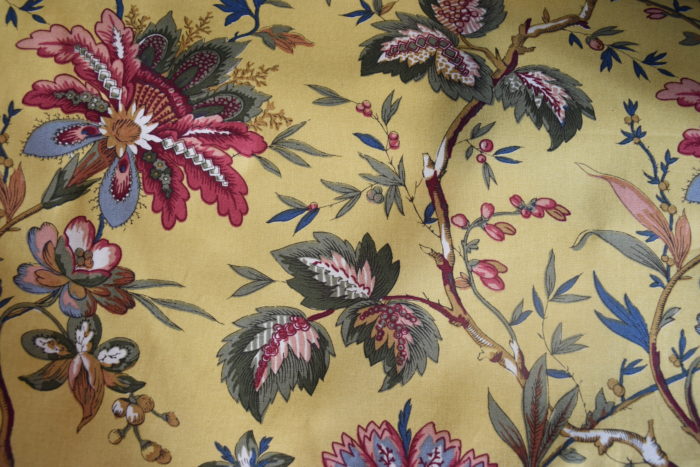 We talked about redoing the whole kitchen but there were lots of projects we needed to tackle with the house and the cost of a total remodel was too much. In the end we decided to make a few key changes. We removed peninsula that came off of the kitchen stove. The bar height seating was not going to work well for our toddlers. That left us with a hole in our floor so we decided to refinish the hardwood floor and extend the wood floor into the adjacent den/playroom.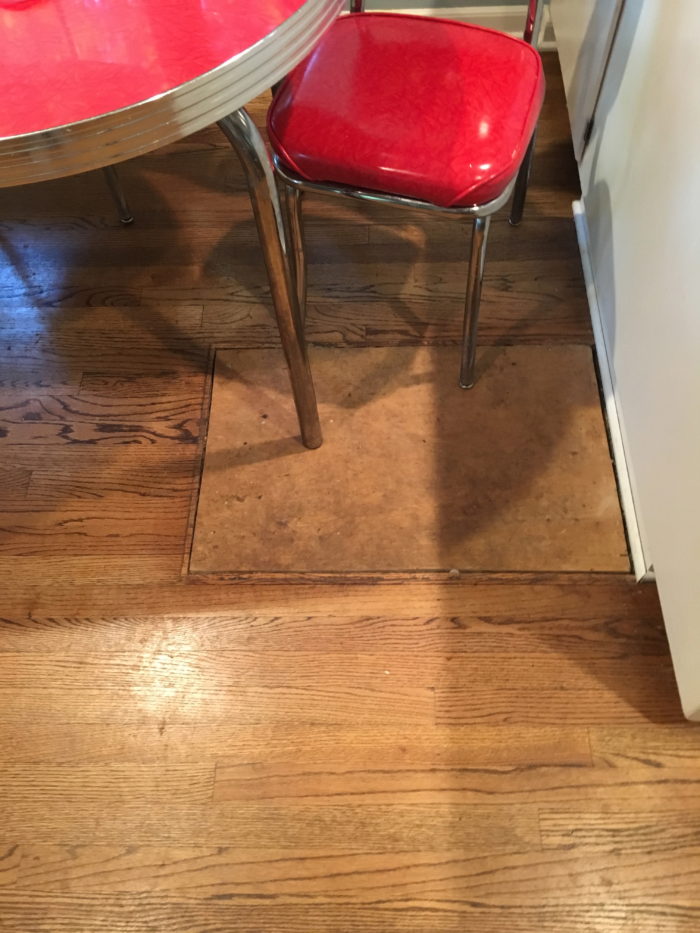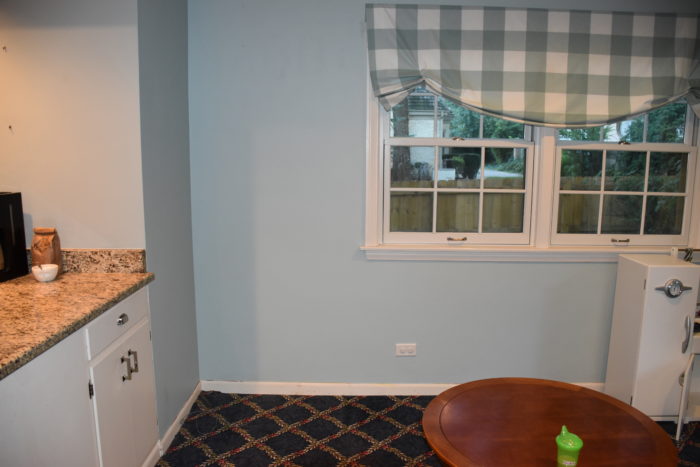 I am so glad were were able to make the flooring change. I has made such a difference in tying these two rooms together. The carpet in the back room was hard to keep clean.  This room has the only door to the backyard so the leaves, snow and mud were difficult to keep out. The other major benefit of replacing the carpet was that I was not limited to having to decorate around what we affectionately called the "fancy hotel carpet."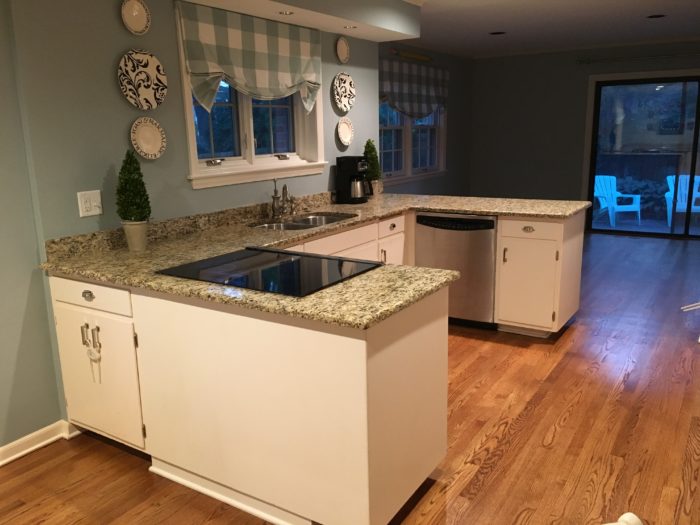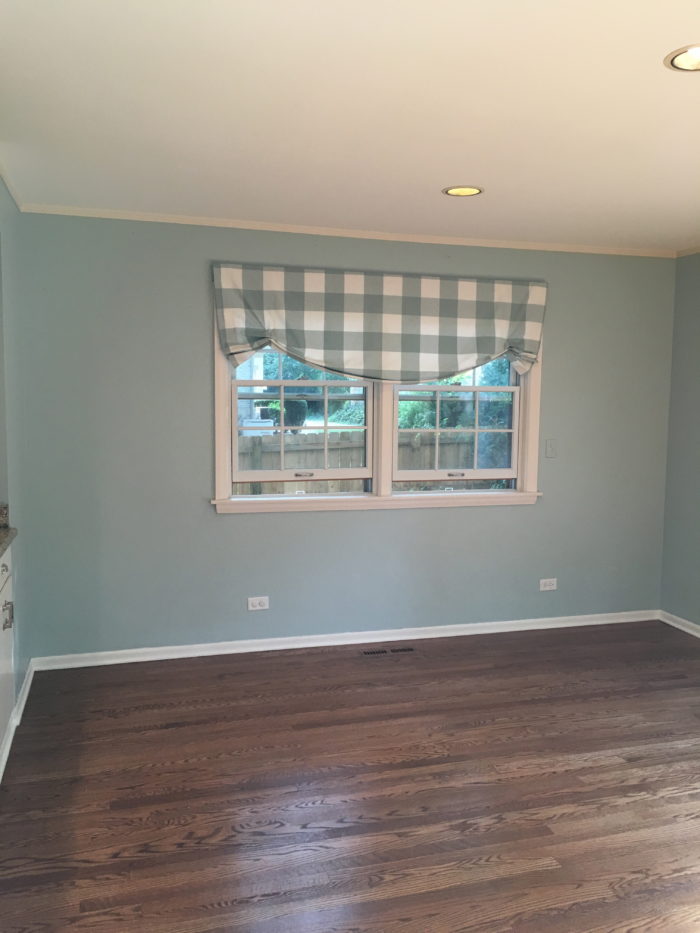 Next I turned to paint and fabric to help update the kitchen and give it a whole new feel. The paint color was the first thing I decided for the room. I knew I wanted to move on from the moss green.  I was getting paint to do some touch ups at our old house and decided to look at some colors for the new kitchen. I really liked the color Wedgewood Gray (which is really a blue green) by Benjamin Moore. It was light, but it had enough gray to make it a sophisticated shade of blue. Then I found a large scale gingham print by P. Kaufmann and I ordered a couple yards to see if it would work. I love that this large scale buffalo check has both a lighter and darker shades of blue-green which complimented the paint color and the color variation has made it easy to add additional fabrics to the playroom area without having to feel like they have to be an exact match.  My mother in law is a wonderful seamstress so for my birthday she came to help me sew the relaxed roman shades and a drapery panel for the sliding glass door in the playroom. I lined my window treatments but I used a lining that allowed some light and hung them higher to cover less of the window. This has made a big differnce in the feel of the room. On a cold gray day I wanted to see as much light as I can. I am a southern girl and I need some sunshine.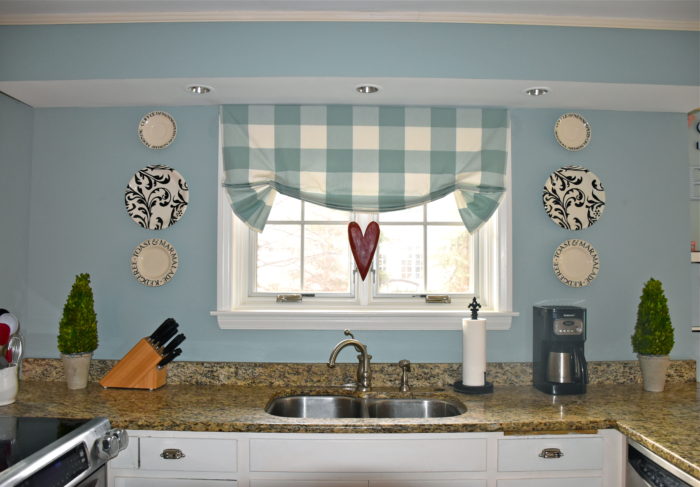 I ordered the fabric a year and a half ago and as soon as I got the window treatments up I began seeing gingham everywhere from Pottery Barn to Serena and Lily which makes me smile. This classic pattern is back and I am seeing it used in more than just kitchens. I thought about open shelves by the sink but the area is fairly narrow and I ended up liking the simpler black and white plates. I just love Emma Bridgewater pottery and during the holidays I switch out some of the plates for a subtle seasonal touch.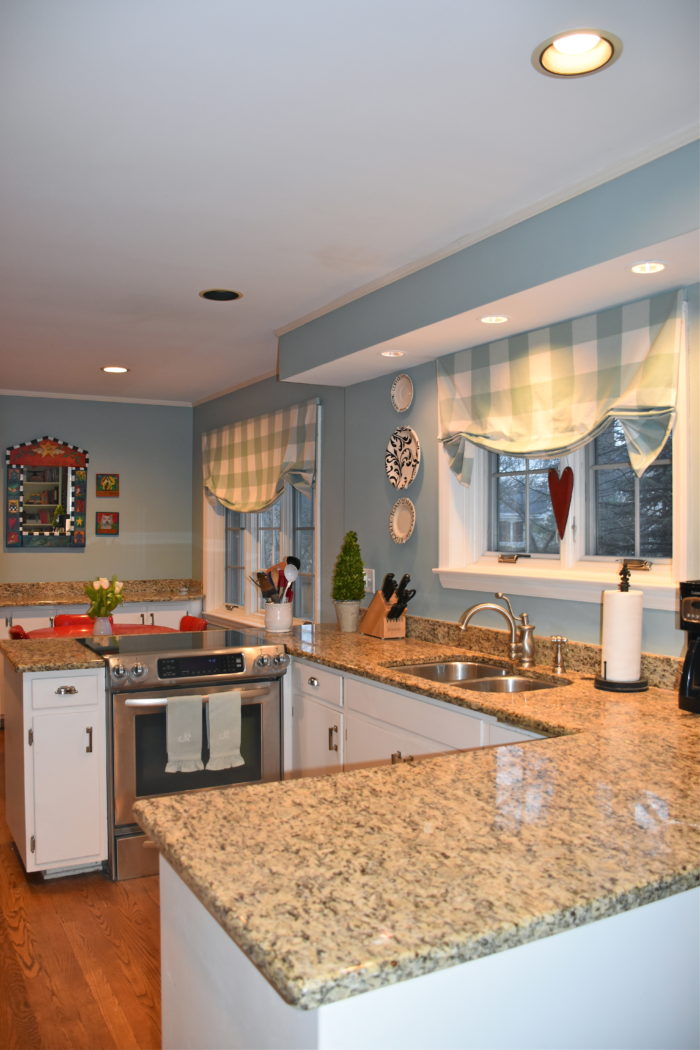 The granite pattern is a little busier than I would choose. Someday I would love to get black granite that looks like soapstone, but for now the new paint color has made a huge difference in how the kitchen feels.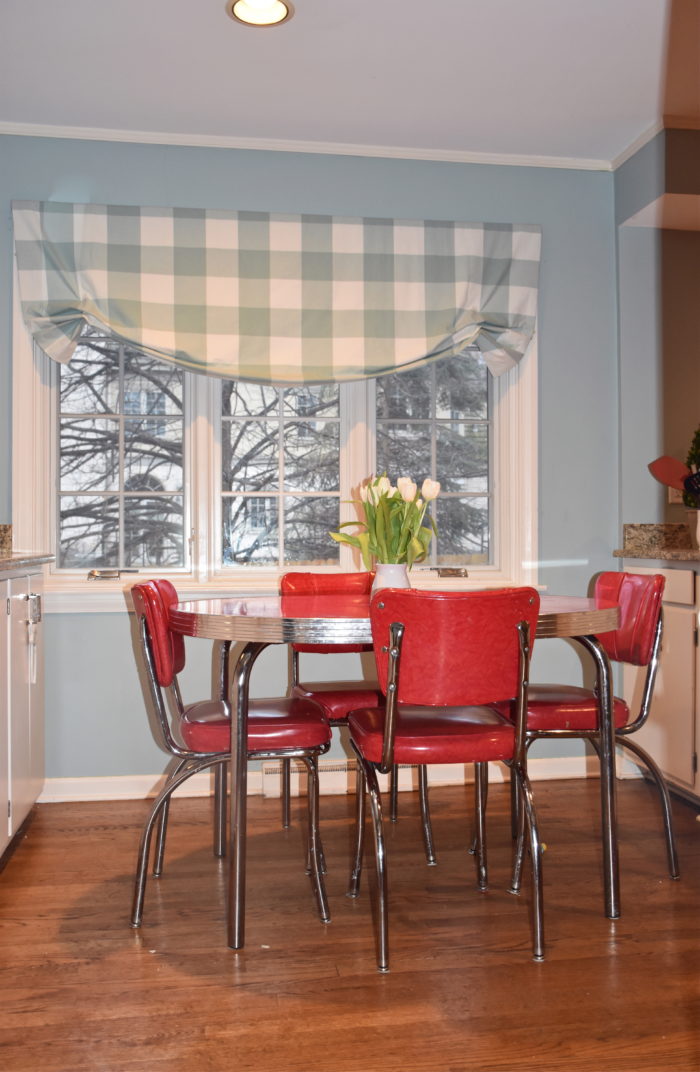 The kitchen dinette set is a quirky favorite of mine. I purchased it years ago and my husband thinks I am a tad crazy for liking it. Although I could see how a pretty french bistro chair set or a white farm style table would also work, I just love whimsy it adds. I am a big believer in decorating with things that bring you joy and this table just makes me smile.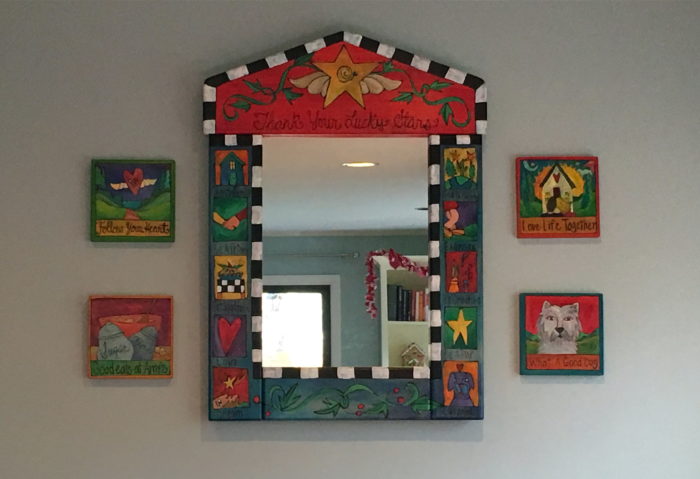 The mirror in my kitchen is also a favorite of mine. It's made by artists in Iowa at a company called Sticks. The other night I was talking to a friend in my kitchen and she asked about the mirror by my kitchen table. I got it many years ago when I worked at a folk art store in high school. I was telling her about it and she said "I love that everything in your house has a story."  That was such a nice compliment because I believe that really memorable rooms have a story to tell. So the other thing that I think is key in any room is to add special pieces that have good memories. Kitchens are hardworking rooms so sometimes their walls go bare, but I just love how a picture, a plate or a decorative mirror can add a little soul to your room.
This project has definitely reinforced the the lesson that there is great hope in paint and fabric. A little sweat equity with painting and sewing drapes made this an affordable update and it allowed us to invest more of our budget in the floors. In the end, I may not have the fanciest kitchen or stove but this kitchen has grown on me. Here are a few links to photos and kitchens that inspired me.