One of my favorite things to do is bake and I love making cakes. I like the freedom and creativity that baking gives you. You can take simple ingredients and make something beautiful and absolutely delicious.  We recently celebrated my daughter's birthday so in honor of her special day I made her favorite chocolate cupcakes. Some serious pastry chefs turn their nose up at cupcakes but I like them because they are a great way to get younger children involved in baking and decorating. Cupcakes are just the right size to get frosted easily and let little hands add sprinkles and decorations.
My daughter loves going to the aquarium so this is not the first nor do I think it will be the last ocean themed cake that I plan. When we celebrated Gabby's first birthday I went all out with a larger fish themed cake.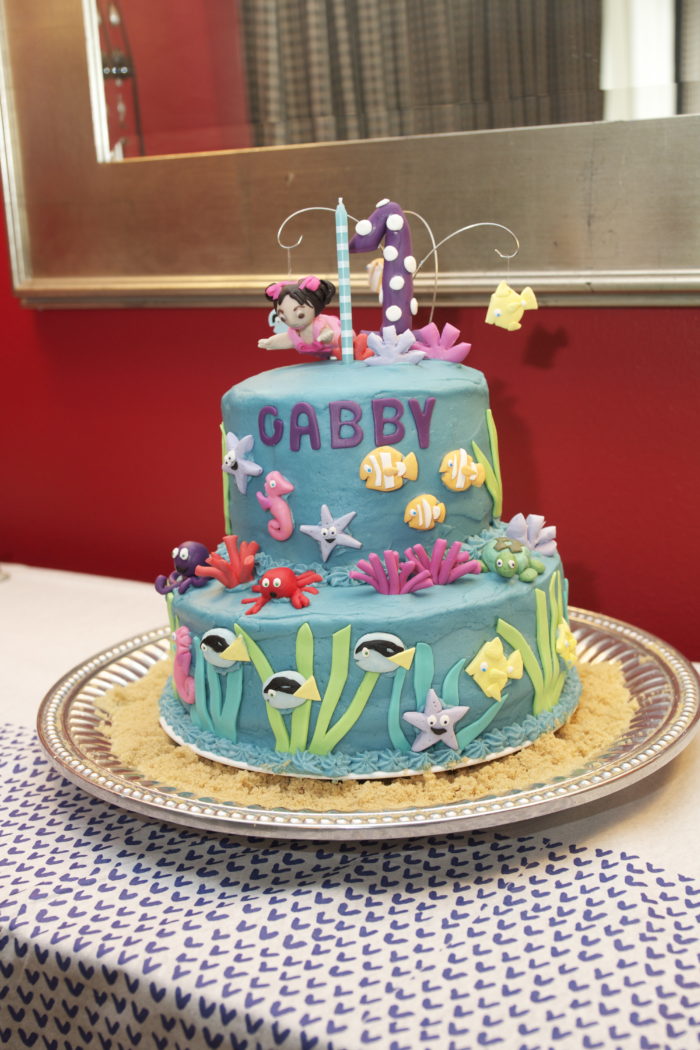 This year we were having a small dinner to celebrate after a trip to the aquarium so I decided to make white chocolate seashells to decorate the cupcakes.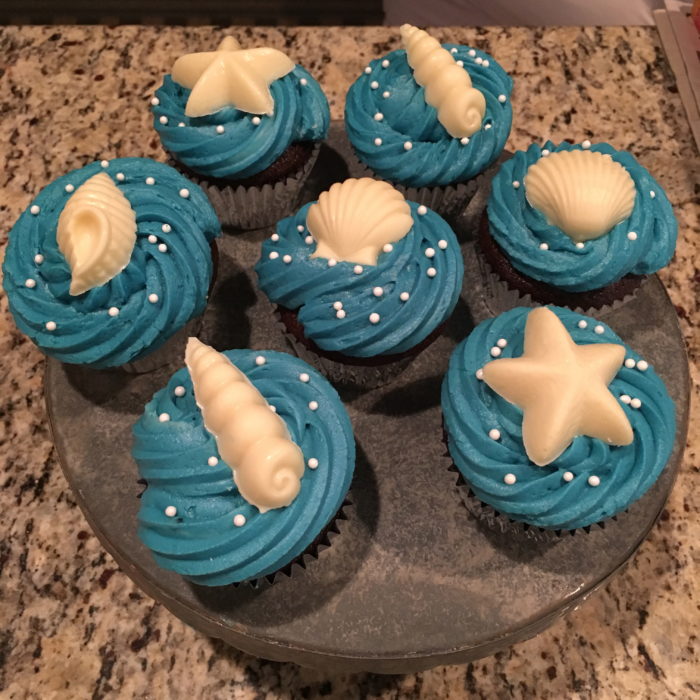 My absolute favorite recipe for chocolate cake comes from Pastry Chef Rebecca Rather. Years ago I had eaten at the Rather Street Bakery and Cafe in Fredericksburg, Texas and the food was so delicious that I purchased her cookbook.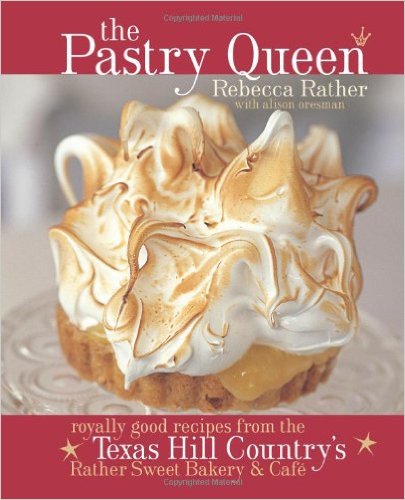 https://www.amazon.com/Pastry-Queen-Royally-Recipes-Countrys/dp/1580085628
I have since taken a baking class with her and Chef Rather is a very genuine person and a good teacher. You can tell that she loves to bake and her focus is on creating great flavors. This chocolate cake is particularly moist and light because the batter has both butter and oil in in, but the cake is still sturdy enough that you can stack and carve multiple layers without an issue. Her original recipe calls for a different frosting with whip cream and a chocolate ganache, but with these cupcakes I used my own buttercream icing.
Cake Ingredients:
1 cup (2 sticks) butter
2 cups water
1 cup canola oil
4 cups sugar
1 cup unsweetened cocoa powder
4 cups of flour
4 large eggs
1 cup buttermilk
1 TBSP baking soda
1/2 TSP salt
1 TBSP Vanilla
This recipe makes a three layer 9 inch cake. I cut the recipe in half when making cupcakes and the halved recipe makes approximately 14 to 16 cupcakes depending on the size you make and how many taste testers you have in your kitchen. Preheat to oven to 350 degrees. Prepare your cupcake pans by using a liner of your choice and lightly spraying inside the cup with cooking spray. I used the Reynolds aluminum liners since I like the look and they hold their shape well. One note when making chocolate cupcakes is that some of the lighter colored cupcake liners may not show up as well with chocolate so you may want to have an extra to liner for the outside when you are done baking.
In a heavy saucepan combine the butter, water and canola oil and set over medium heat until the butter is just melted. Meanwhile in a large bowl of your mixer add together the sugar, cocoa and flour. Then pour the butter mixture into the sugar and flour mixture and beat until smooth. Whisk in the eggs one at a time then whisk in the buttermilk. Next add the baking soda, salt and vanilla all at once. For cupcakes I use a cookie scoop to measure the same amount of batter in each cup, so they bake evenly. Bake for approximately 20 minutes for cupcakes and 35 to 40 minutes if making the 9 inch cake rounds.
Amy's Buttercream Frosting
Ingredients:
1 stick butter of room temperature
4 cups powdered sugar
2 Tsp Vanilla
1/4 cup Milk
1 small pinch of Salt
Gel food coloring in your desired color
In a stand mixer cream the butter for about 1 minute until light on medium speed. Then add in the powdered sugar, milk, vanilla and salt. Beat at medium speed until butter and sugar are blended and scrape the sides down with a rubber spatula to make sure everything is incorporated well. Then increase the mixer speed to to high until buttercream is smooth and light. You can add a little extra milk or sugar to adjust the consistency if needed. Then if coloring your icing add a small amount of gel food coloring. The gel coloring mixes much better than the old watery kind. It is becoming easier to find at the grocery store and it comes in lots of colors. I would start with a small amount and slowly add more if needed since usually a tiny amount of color goes a long way. Make sure the color is fully mixed in before icing the cupcakes.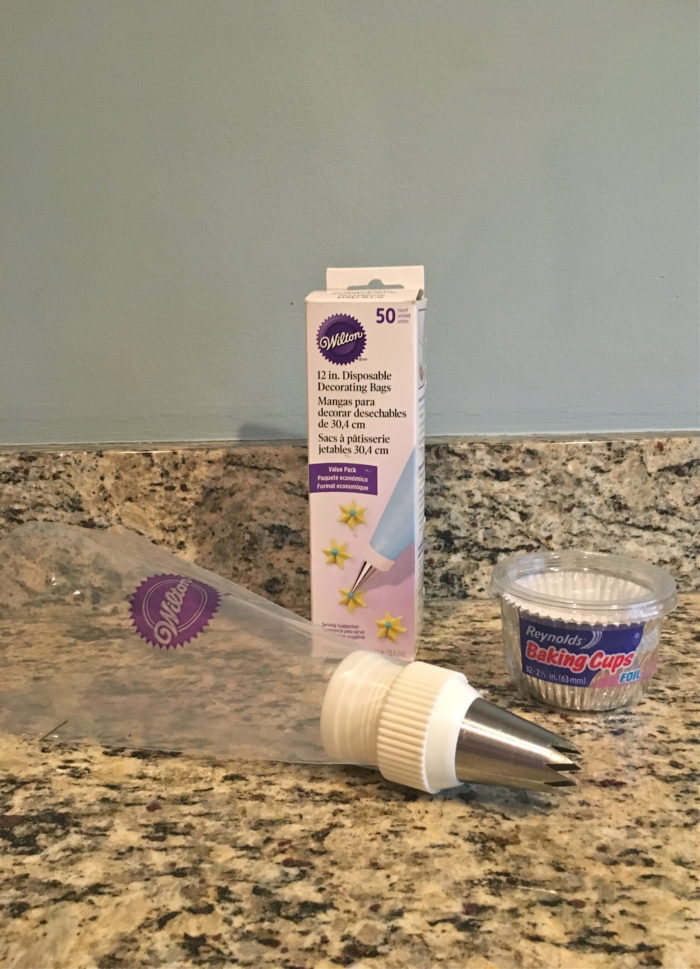 For a professional look I like to pipe my icing on the cupcakes using a very large star tip and a pastry bag. You can find pastry bags at Michaels, Hobby Lobby or your favorite baking store. The larger star tip (Ateco tip size 828) is something I found a Sur La Table. I love this larger size and I use it to pipe whip cream as well. I frost the cupcakes starting at the outside making a spiral all the way into the inside center. Then add desired sprinkles and decorations. I used a chocolate mold and white chocolate candy melts to make these seashell toppers. I loving decorating with chocolate so I will post more on these and other chocolate decorations in the future.
Since this buttercream contains milk you are going to want to refrigerate the cupcakes if you are not eating them soon. I would allow the cupcakes to come to room temperature before serving because the frosting will be softer.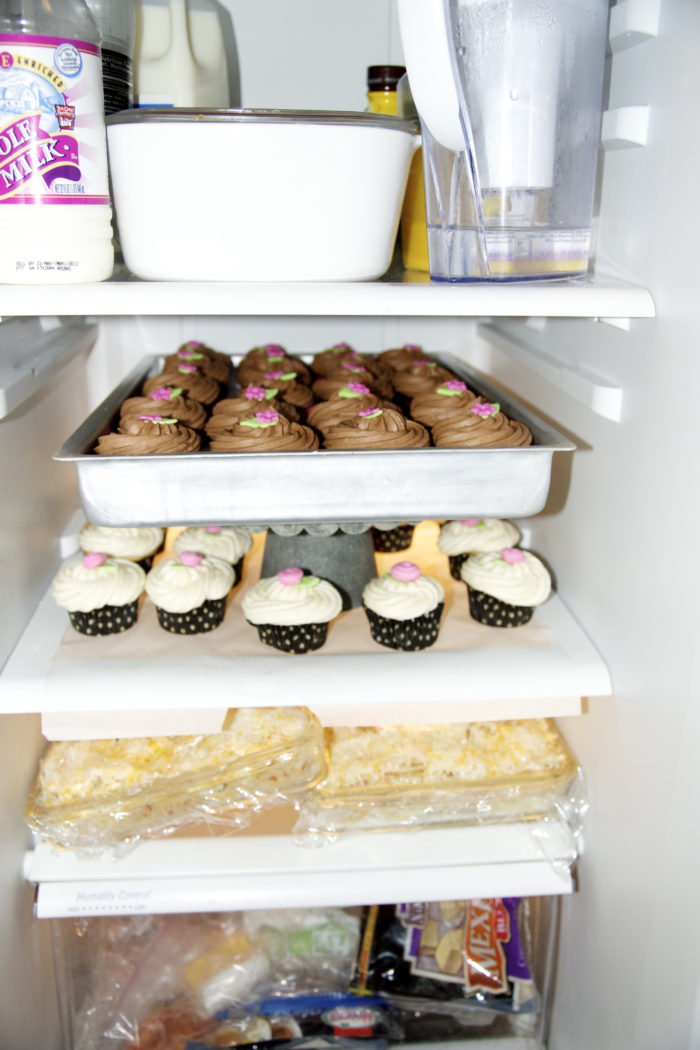 Just keeping it real. Here is my fridge packed and ready for a party. I used a cake stand here to add an extra layer of room for the all cupcakes. Happy Baking!