There are all kinds of formulas for how to achieve the right balance on you coffee table, but most of these equations don't take into account tiny tots who love to redecorate and play with any coffee table decor. Coffee tables inhabit prime real estate in most living rooms. They are often the centerpiece of furniture grouping, so well-placed accessories can create a focal point and help you add color and interest to your room. So, as the third and last part of this series on decorating with children and pets, I thought I would style five different coffee table groupings that have a sophisticated look with kid friendly accessories.
Classic Casual/Traditional Decor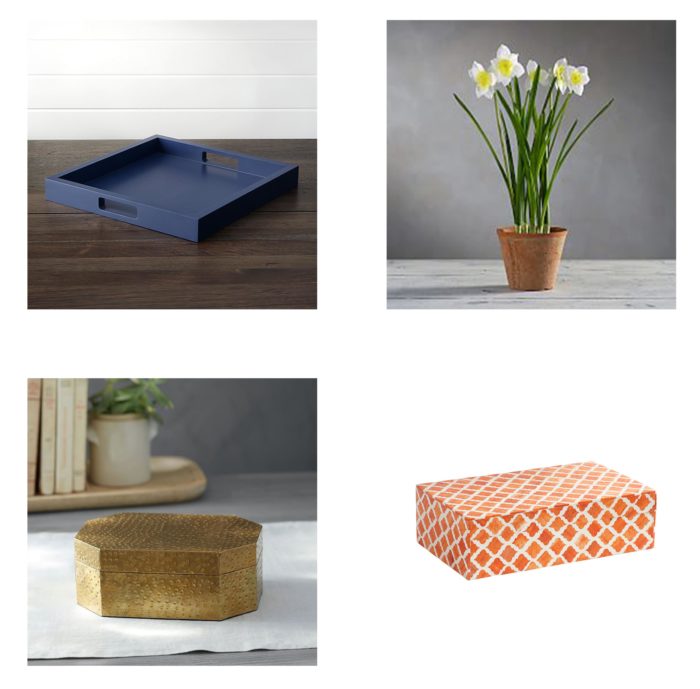 This look is versatile; you could easily change it to fit your home's color scheme. The first thing I added to this grouping is a tray. Trays can make a great base for your coffee table. If you have a large table, a tray can help anchor your accessories to keep them from getting visually lost. The other added benefit is that if you need to clear the table or make some room, all you have to do is pick up the tray. I like to put a few favorite books or magazines in the tray and then add a box to store things like remotes. As a finishing touch, I like to add something with height and balance to the other side of the table. Often times people use vases or candles, but to avoid any danger or issues with glass or broken candle sticks, I like to use potted silk flowers because they tend to be hardier and less messy. There are some very realistic silk plants that can add some height and color to your table without worrying about dirt, water or leaves getting everywhere. I also included two box options to show that you can customize the look to match your decor. If you have a more traditional look then the brass box might be right, or if you want to add a little color something like this orange box might add the some interest.
Sources
The Casual Country Look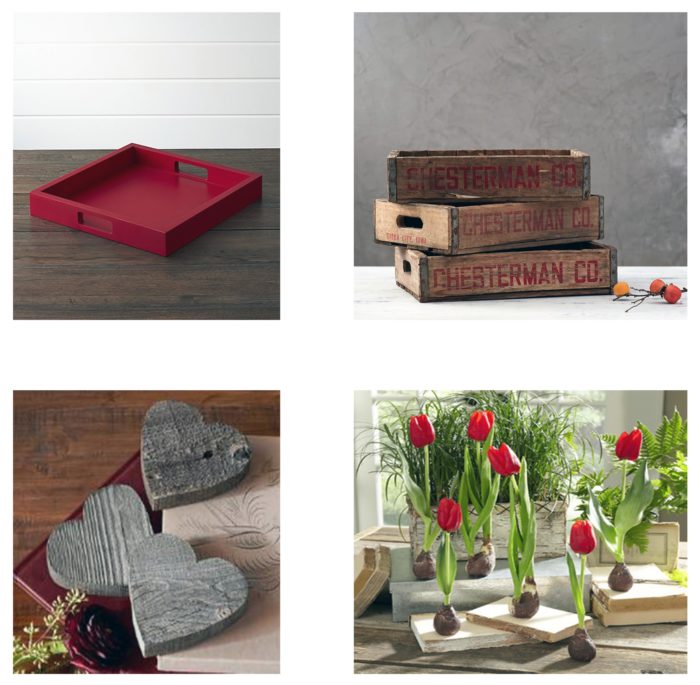 The great thing about a country or vintage look is that distressed items usually only get better with time and use. Here, I have two different tray options. The vintage soda crate is a fun conversation item, but if you want something a little less distressed you could use a solid painted tray. I usually like to use something to top any stack of any books or magazines I place in a tray or on a table. Sometimes I use a decorative box to do this, but other times I like to add a decorative or sculptural item. I like these wooden hearts because they add interest and texture. They aren't breakable so little ones can play with them without worries. Finally, I could see adding some silk tulips in a pot on the other side of the table. It adds color and height to the table and pulls the whole look together.
Sources
The Glamorous Table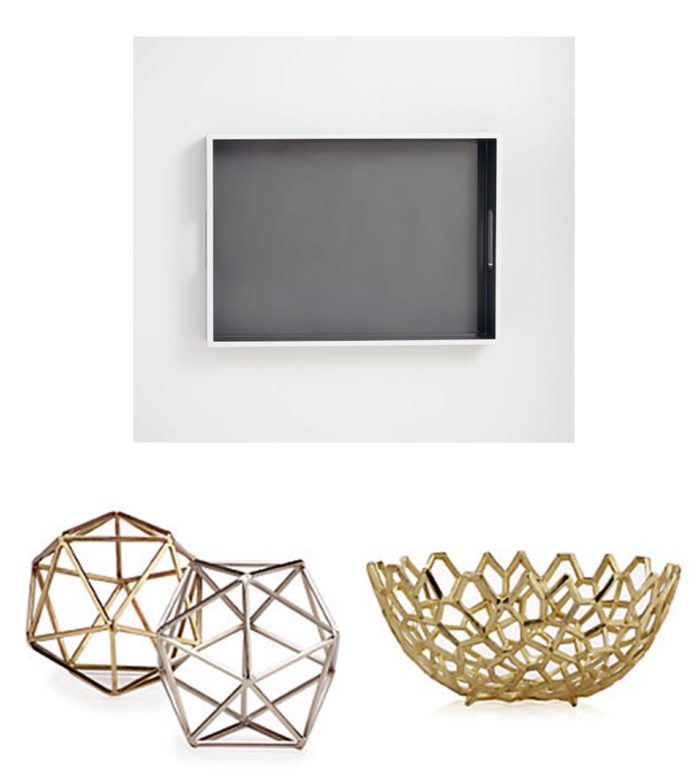 Glamour and small children don't have to be mutually exclusive. This lacquered gray tray is a nice base for books. Then add a metal sculptural piece for interest. On the other side of the table you can balance the look with a gold metal bowl filled with faux pears or green apples. This adds color and a organic touch, which complements all the metallic finishes.
Sources
Coastal Inspired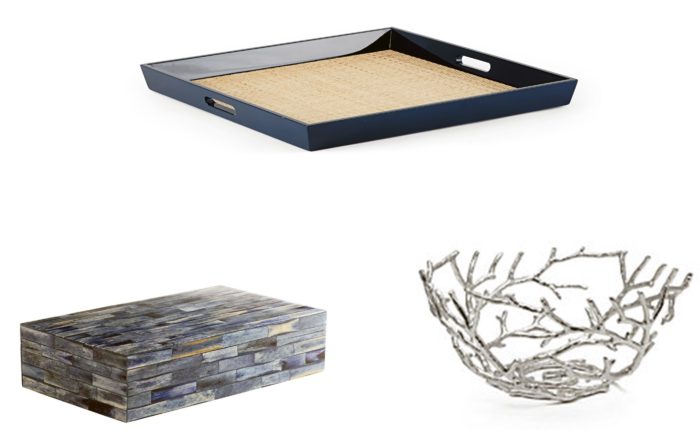 This blue tray has a woven rattan lined base which gives it a costal look. Pair it with a blue bone box which resembles shells and a coral inspired bowl and you have a classic pairing. I happen to like costal decor but some accessories like coral and shells can be a bit fragile for children, so by using a bowl that looks like coral (but is made of metal) you can have a coastal look with less worries. I would fill this bowl with apples, pears or lemons to add a bit of color to your table. Target and Home Goods both have a good section of realistic faux fruit and reasonable prices.
Sources
Modern/Eclectic Mix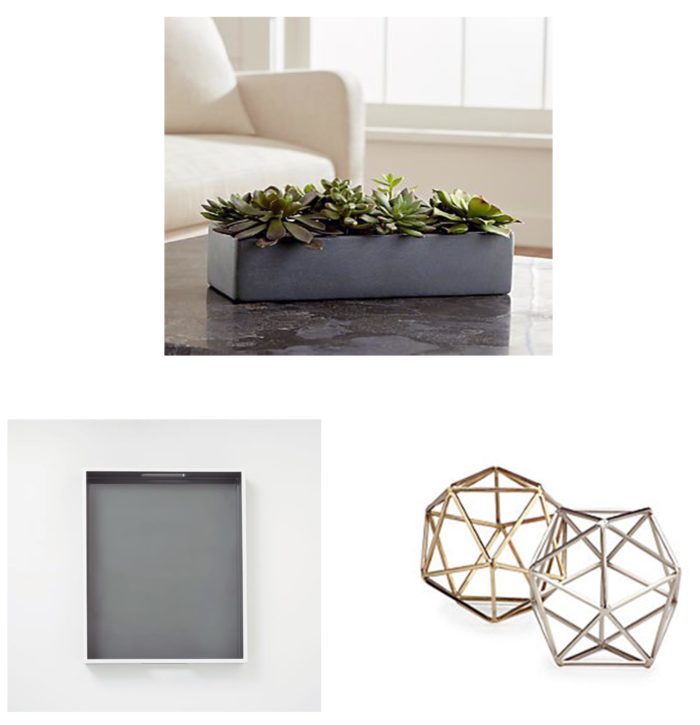 If you want a more modern look, then check out these sculptural looking succulents. The plants look realistic, but you don't have to worry about anyone eating or picking at your plants. Add a lacquered tray for a little glamour. This tray also comes in an indigo blue or a turquoise so you could change the color to fit your decor. The geometric sculptures add a graphic interest to the table.
Sources
Coffee tables are a wonderful place to add a little personality to a room. You can easily customize or curate a look that can make your table a focal point in your room. Pick a theme for the books or magazines you display like: travel, gardening, design, architecture or photography.  Then top those books with a box or sculptural item that matches that theme or brings out a color in your room. Finally, add a bowl of fruit, a potted plant or flowers to add height. It was fun it put together all of these different styles. So hopefully this inspires you to create a custom look of your own.