My first magazine column, called Holiday House, appeared in Life in the Woodlands last week since it's a small magazine with a limited distribution I thought I would share it here:
Maybe it's because my mother is the queen of Christmas or because I love gardening and watching the seasons change or because I tend to be an optimist who is always looking for something to celebrate, but no matter the reason for as long as I can remember I have always loved the holidays. Family coming together, sparkling lights, and the smell of something baking in the kitchen, those are the moments I love. My young daughters will tell you that I am always decorating our home from one holiday to the another. At five and six they love to help and always want to know what we are celebrating next.
Sometimes we all need to take a break from the busy day to day to embrace the fun of the season and spend a little time with family and friends. My column The Holiday House will feature some of my seasonal favorites from the garden to the table. Ideas and recipes to share with the ones you love.
Each year October has me thinking of childhood memories of Halloween, from pumpkin patches to costumes and trick or treating with my sister and brother. In our house it also has us thinking about chocolate. These mini chocolate cakes are fun to make and decorate. The chocolate ganache is easier to decorate with than regular frosting and if you are pressed for time you could even use a small plastic spider ring. So have some Halloween baking fun, because the only thing frightening about these little cakes is how fast they will disappear.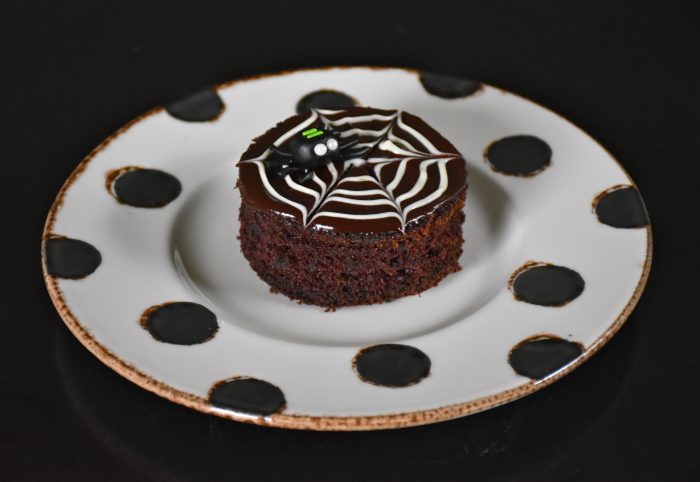 Halloween Chocolatines
Makes one 9 x 13 inch sheet cake which when cut makes 6 individual chocolatines
1 stick of butter
1 cup water
1/2 cup canola oil
2 cups sugar
1/2 cup cocoa powder
2 cups flour
2 eggs
1/2 cup buttermilk
1 1/2 teaspoons baking soda
1/4 teaspoon salt
1 1/2 teaspoons vanilla
Chocolate Ganache 
5 oz semi sweet chocolate chopped into small pieces
1 tablespoon butter
1/3 cup of heavy cream
Spider Web and Fondant Spiders
2 oz white chocolate
1 small container of black fondant
Dragees or sprinkles for decorating your spider
1 plastic pastry bag
Toothpicks
Preheat to oven to 350 degrees. Prepare your cake pan by lining it in parchment paper and greasing and flouring the sides or spraying them with Baker's Joy.
Then in a heavy saucepan combine the butter, water and canola oil and set over medium heat until the butter is just melted. Meanwhile in a large bowl of your mixer add together the sugar, cocoa and flour. Then pour the butter mixture into the sugar and flour mixture and beat until smooth. Mix in the eggs one at a time then mix in the buttermilk. Next add the baking soda, salt and vanilla all at once and mix one final time. Pour your cake batter into your prepared pan and bake for approximately 30 to 35 minutes.
Once your cake has cooled remove it from the pan and then place your sheet cake on a flat smooth surface. I cut my individual cakes by using a wide mouthed glass. My glass had a three and a quarter inch diameter, but you could use a jar, glass or cookie cutter of a roughly similar size. I found it helped to lightly spray the inside of the glass and edges with butter flavored cooking spray.
Next in a small sauce pan over medium low heat your chopped semi-sweet chocolate and your butter. Cutting the chocolate into smaller chunks helps it melt evenly. Meanwhile heat your cream in the microwave until it is warm, about 40 seconds. Then keep an eye on your chocolate. Give it an occasional stir as it melts and as soon as it does pull your pan off of the heat and slowly pour in your warm cream while stirring your chocolate mixture. You want to stir until the chocolate and cream come together and you get a glossy looking mixture.
Then while the ganache is still warm spoon a small amount on each cake and spread it evenly using a separated spatula or a butter knife.
Then while your chocolate ganache is still warm heat 2oz of white chocolate in a microwavable bowl. I heated mine for 30 seconds and then stirred it and then heated it for another 20 seconds. You want the chocolate to melt but you want to make sure it does not burn. Then take a plastic pastry bag (they are easy to find at any craft store) and fill it with the melted white chocolate.
Then cut a small hole at the very tip of your bag and then you are ready to pipe your spider webs. To make your web pipe a white chocolate spiral on each cake. Then while it is still warm take a tooth pick and lightly drag it from the center out to form a web.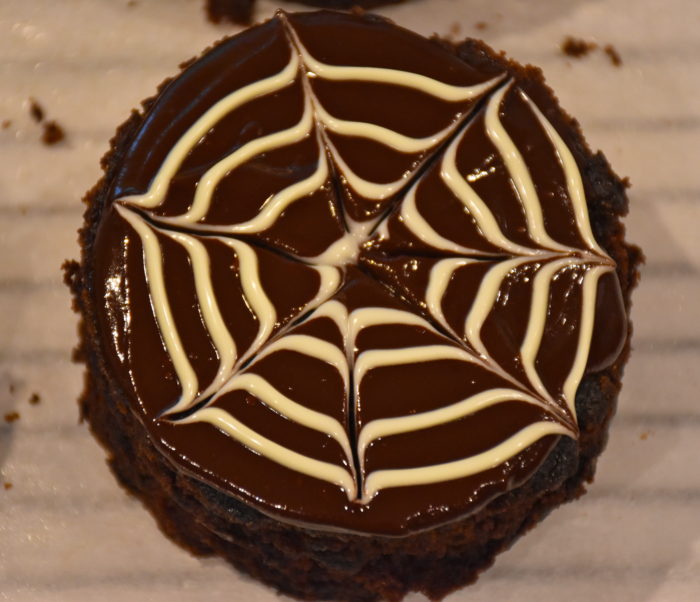 To make the spiders roll six little balls of black fondant. Then roll out some long thin snake like pieces. To make your spider legs cut four even pieces of your rolled snakes using scissors or a knife. Then make a bow tie like middle by pinching your legs together so you had eight legs with four on each side. Then put the little balls on top on each set of spider legs. I used some colored sprinkles to make stripes on our spiders and I used some white dragees to make eyes. Your chocolate cakes will do best when kept in the fridge. So share something delicious with your family and friends.