Ruth Reichl's latest memoir, Save Me The Plumbs, is filled with all the delicious details that readers have come to expect from her writing. It tells the story of her time as the editor of Gourmet magazine; from the first moment she was mesmerized by its tales of exotic dishes at the age of eight to the unexpected twist of fate that years later lead her to become its editor. It's a story about how she and her staff shaped the food writing world, but most importantly it's a tale of creativity, courage and resilience in the face of change. Reichl's humorous and honest reflections will have you feeling like you are right there living it all with her and it will have you savoring every page.
As always Reichl, ever the foodie, shares recipes for memorable meals along the journey. My favorite was a late night dinner that she shared with her son, Nick. The worry and stress of her new job fades as she steps into her apartment to cook Spicy Chinese Noodles. This recipe is delicious, full of flavor and simple to make. It's the kind of meal that will have you slurping and loving every bite. After making this recipe several times I have made a few adaptations so it can feed a family of four. I also decided to added some Asian pear. I find the crisp texture and slightly sweet flavor adds a nice balance to the spicy noodles.
Spicy Chinese Noodles-Serves 4
1 (10 oz) package of Lo Mein noodles or spaghetti
2 tablespoons finely grated or minced fresh ginger
3 scallions, sliced thinly
1/2 cup of finely diced Asian pear (Optional)
1 teaspoon sugar
3 tablespoons Chinese black bean paste with garlic
1 tablespoons Chinese black bean paste with chili  (Note: if you have young children or someone who is sensitive to spicy foods then just use 4 tablespoons of the garlic bean paste instead)
1 pound ground pork
1 tablespoon of peanut oil or canola oil
1 teaspoon sesame oil
Cook the noodles in boiling water until al dente (every noodle brand is slightly different so check your package for the cooking time) and drain and set aside
Meanwhile as your noodles are cooking, peel and then mince or grate your ginger and chop your scallions and pear.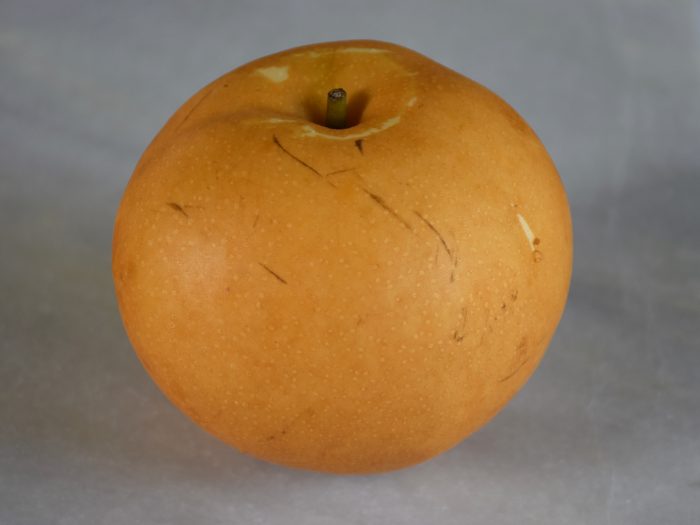 Then in a small bowl mix together your bean pastes and sugar.
Heat your wok making sure it is hot. I use an electric wok since I have an electric stove that doesn't get as hot as I would like, so I set my wok to 375 degrees. If you have a gas range you can heat your wok or skillet until water skitters across the surface. Add a tablespoon of peanut oil or canola oil if you prefer. Peanut oil is often used often in high heat cooking because of its high smoke point at 440 degrees, but canola oil still has a fairly high smoke point of 400 degrees so it is still a good choice. Especially if you have any concerns about allergies.
Add the ginger to the wok for about 30 seconds. Then add in your pork and cook while stirring until your pork is no longer pink. Add the bean sauce and cook and stir for about two minutes.
Finally, add in your noodles, green scallions, pears and 1 teaspoon of sesame oil and quickly toss them and serve.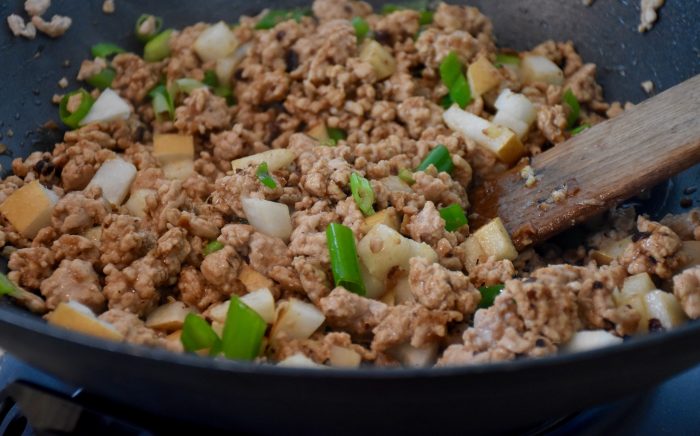 Quicker than takeout, this recipe is unbelievably good and quick. A one bowl meal for any busy night that will have you savoring each bite. Reichl knows food and this recipe and every tale in her book will leave you hungry for more.