The warm sun is flickering down through the canopy of trees and the sky is a brilliant blue. The patio and flowers beds are filled with greenery and the navy and white wicker chairs and table feel like a garden bistro. Even if it's just a folding table set on my patio, these are the moments I am looking forward to as spring is drawing near.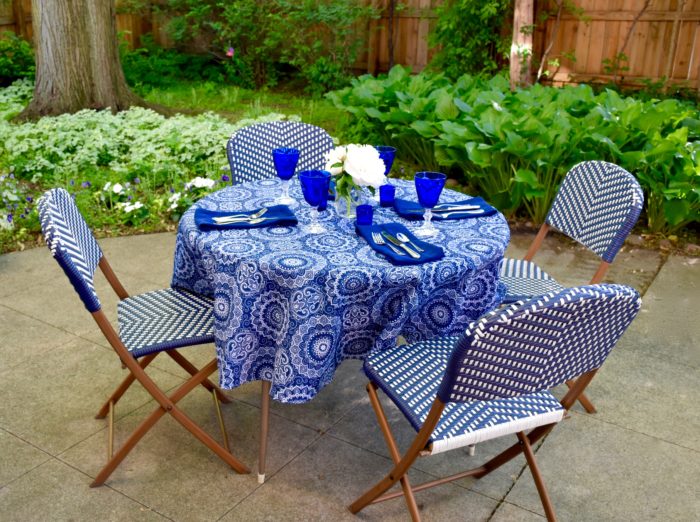 Chicago winters are long and tough on uncovered outdoor furniture, so for our small back patio I decided to go with a folding bistro table set. Easy to store in the garage during the winter snow and ice. It also leaves room, so I can make way for the scooters, bikes and sidewalk chalk murals that happen here too.
Last spring I spotted these navy and white folding bistro chairs at Target and it was love at first sight. They looked like more expensive wicker chair sets, like those at Serena and Lily. However at just a fraction of the price, these chairs were perfect for our yard. They are solid to sit on but they can be easily folded away to make room for my girls to play. I decided to pair them with a folding table I already had and it made for a wonderful garden bistro set.
Larger scale outdoor furniture certainly has it's place, but if you need a little flexibility or have just a small spot on a patio or porch then a pretty bistro chair set might be just what your yard needs.
Target's Threshold line has folding wicker chairs in navy and white and gray and white, but Frontgate has their own colorful outdoor line including this capri blue set.
Frontgate Paris Bistro Side Chair 
I also liked these white bistro chairs from Grandinroad. This Claire set is very pretty. The chairs have a great shape to them and it's hard to go wrong with a classic white. The chairs are light weight and stackable and the table folds so they could easily be stored when needed.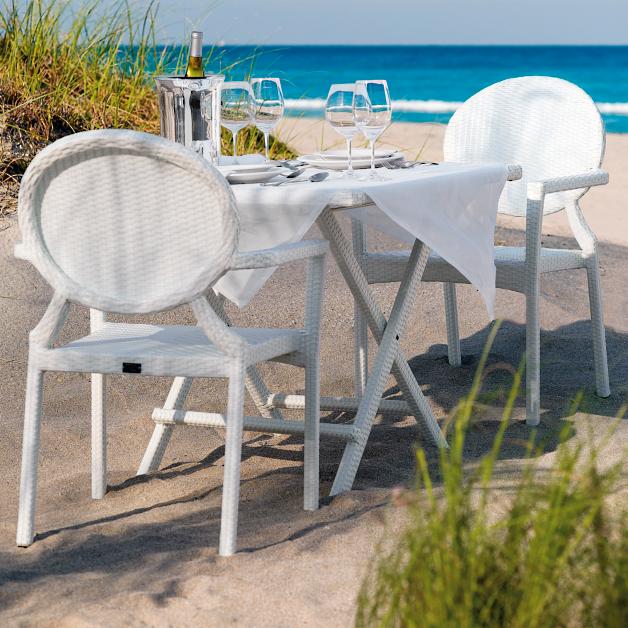 Grandinroad Claire Bistro Table and Chairs
Want add a pop of color to your yard? Then cheek out this small patio set from Home Depot. I love this bright orange, but it also comes in spring green, navy and a turquoise too. They get great reviews online and would work well in a small place or corner of your yard.
Home Depot Home Decorator's Collection Patio Bistro
Finally if you want to customize the look of your table set then Ballard designs has a classic bistro set. You can add Sunbrella seat cushions in a wide array of colors and patterns to make it your own.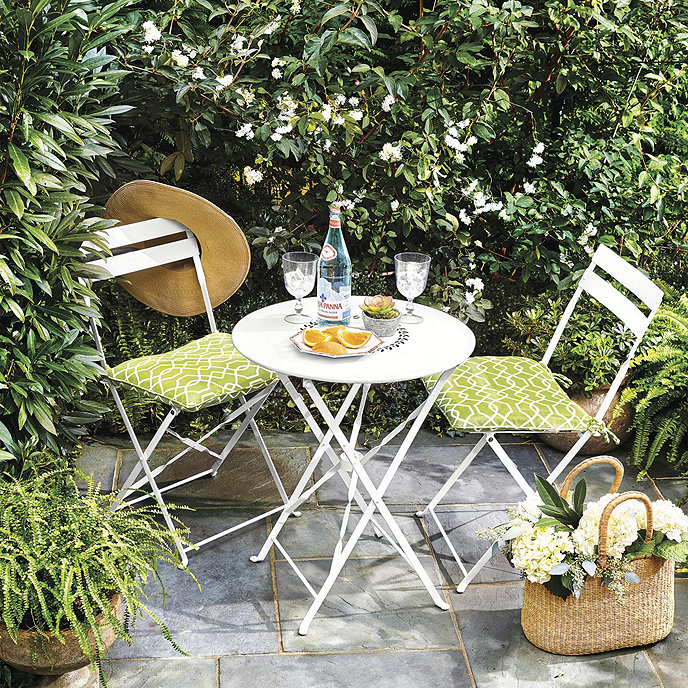 Ballard Design Cafe Three Piece Folding Table
So with spring on it's way I am already thinking about our garden. It will still be a couple of months before we can enjoy dining outdoors once again, but it will be here soon and I plan on celebrating every moment.