Crisp and buttery with a delicate center, these shell shaped tea cakes are delicious. There is a reason these light as air cakes are still beloved nearly two hundred years after they first became popular at the palace of Versailles. It's thought that King Louis XV named these tiny cakes after his father in law's cook Madeleine Paulmier. So now after getting a madeleine pan for Christmas, I am wondering why it took me so long to discover the joy of baking these little cake like cookies? I have been happily lost in the world of madeleine baking this week. I tested and tried a number of recipes and flavors until I created these lemon and honey madeleine which were my favorite.
There are lots of traditional French recipes that use a Genoese cake with melted or browned butter, but those recipes require more steps and usually call for you to chill your batter for an hour before you bake them in order to ensure that they rise well. However after trying a recipe from the Culinary Institute of America, that used a butter cake technique, where you creamed the butter and sugar. I found I liked that creaming better. The cake is still light and buttery, but you don't have to chill your batter to get that signature rise. I also tested techniques for greasing my pans and found that using slightly browned butter not only kept the cakes from sticking, but it also gave them a gorgeous golden finish. Cooking spray and greasing and flouring my pans just didn't produce that same deep golden color. So after all that testing I am sharing my favorite recipe that has elements of all of the best flavors and techniques I tried.
Lemon Madeleines – Makes 24 shells
1/2 cup (1 stick) butter at room temperature, let it sit out of the fridge for 1 hour plus an additional 3 tablespoons of butter to brush your pans
2/3 cup sugar
3 eggs, at room temperature
2 teaspoons vanilla
1 teaspoon honey
1 teaspoon lemon zest
1 tablespoon milk
1/2 teaspoon baking powder
1/4 teaspoon kosher salt
1 cup flour
3/4 cup of white chocolate chips (optional)
Note: You will need a Madeleine Pan but they are easy to find at a kitchen or baking supply store
Preheat your oven to 375 degrees
Then prepare your brown butter to grease your tins. In a small skillet over medium heat melt your butter and then after it starts bubbling keep a close eye on your pan as the milk solids in the butter begin to cook and your butter turns a light golden brown. Then take your golden butter and pour it into a small bowl to stop it from cooking further.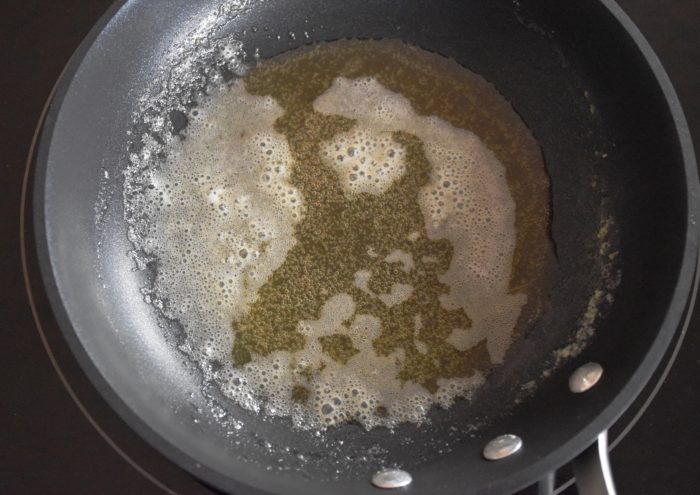 Then using a small basting or pastry brush evenly brush your pan with the browned butter being careful to coat all the ridges in your shells.
Now to make the madeleines, in the large bowl of your mixer cream or beat together your butter and sugar at medium speed for about 2 to 3 minutes. Next add in your eggs one at a time beating them at medium speed until they are incorporated in your butter mixture.
Then add in your vanilla, honey and lemon zest and milk. Finally add in your baking powder, kosher salt and flour at low-speed. Mix just until your flour is just blended in.
Place 1 tablespoon of batter into each greased Madeleine shell.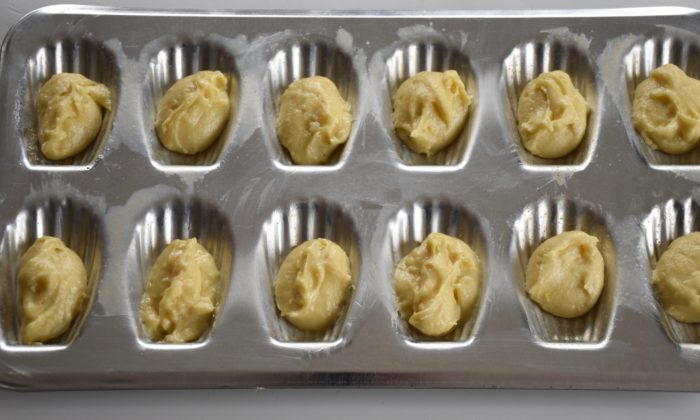 Then bake your madeleines for 10 to 12 minutes until the edges are golden brown. I found that 11 minutes was just right in my oven. You can take your madeleines out of the pan while they are still warm and if you are like me and only have one madeleine pan then you can wipe out the pan with a paper towel to get the crumbs out and brush them with some additional butter and bake your second batch.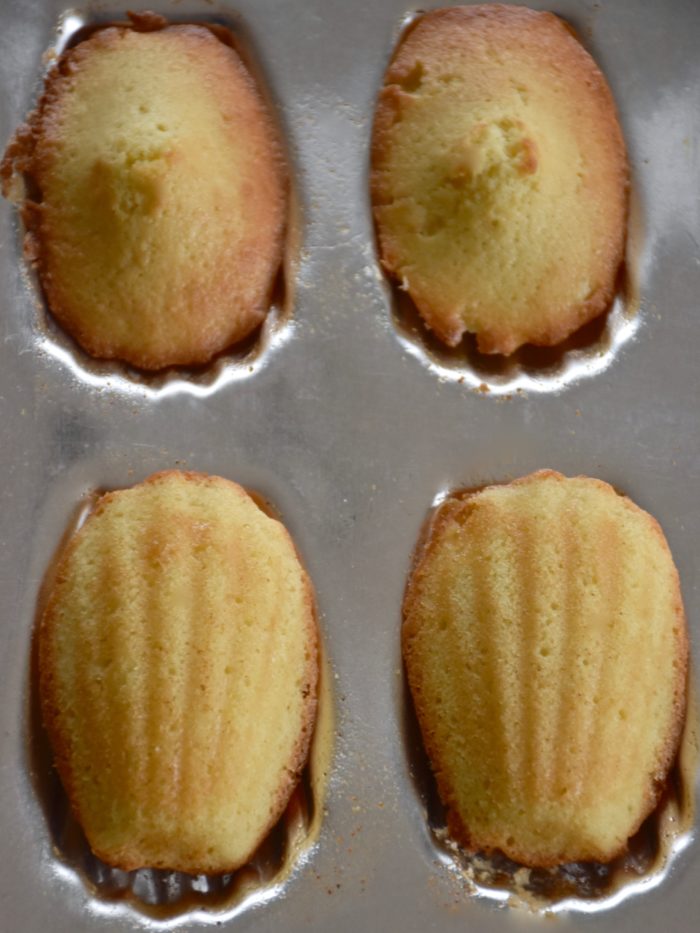 Then in a small microwave proof bowl melt your chocolate by heating it at 30 second intervals in your microwave and stirring well in-between.
Dip your madeleines in the melted chocolate and then place them on a tray or sheet pan lined with parchment or wax paper.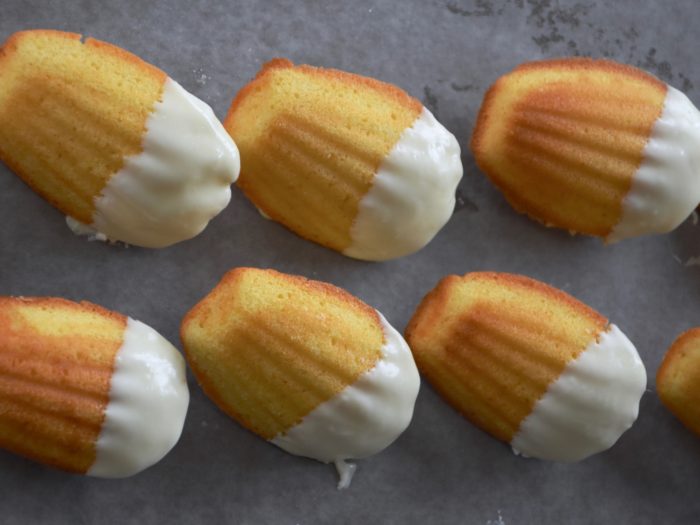 Let your chocolate set, by placing the madeleines in the fridge for 20 to 30 minutes.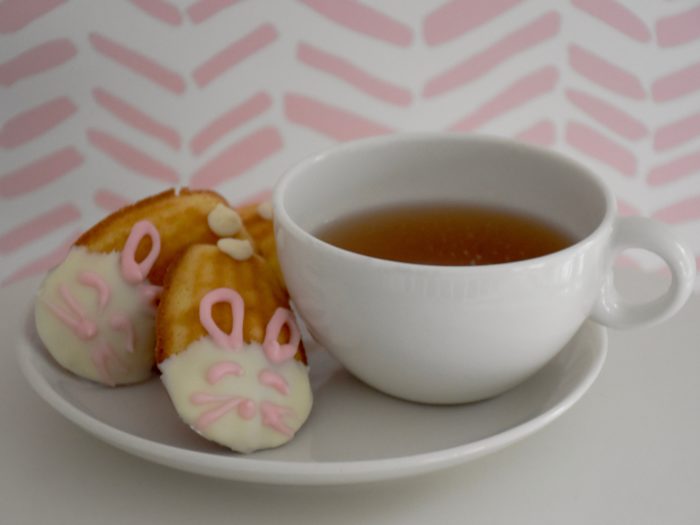 Want to add a little festive touch? Then you could melt 1/3 cup of pink candy melts or color some of your white chocolate with an oil based food coloring (used to color candy)  to pipe and create some little bunny madeleines. These little bunnies were inspired by Kim Joy on the Great British Baking Show. I admire her creativity and my girls absolutely loved these pink bunnies.
So no matter how you decorate these madeleines, they are fun and easy to bake. This recipe may put an American twist on a French classic, but the result is a light and delicious little lemon cake that is would be wonderful with tea or coffee as a sweet treat.