Sometimes it feels like there is always something crazy going on in our house. I had to take a little break from blogging because we had a family wide stomach bug, followed by a little one with a double ear infection. Then to top it all off this weekend our puppy, oblivious to the laws of gravity, took a flying leap towards the coffee table and sadly ended up with a broken leg. So life and cooking have not been normal around our house. Now with my family on the mend, I am sharing one more weeknight meal. Spaghetti Carbonara, my ultimate last minute dinner. Delicious and easy to cook in just 10 minutes. It's one of my go to dishes when life gets too crazy to cook.
Spaghetti Carbonara (serves 4-6)
1 pound of spaghetti
2 tablespoons of kosher salt
1 (3oz) package of prosciutto, sliced into thin strips
1/3 cup reserved pasta cooking water
4 eggs
1 1/2 cup grated Parmigiano Reggiano

ground pepper to taste

1/2 cup frozen peas (optional)
First fill a large stock pot with water and place it on high heat. Add the salt to season the water and bring the water to a boil. Then add your spaghetti and cook it for the time specified on your pasta box as thicknesses and cooking times can vary slightly.
While your spaghetti is cooking slice your prosciutto into bite sized pieces. Then in a medium-sized bowl whisk your eggs together.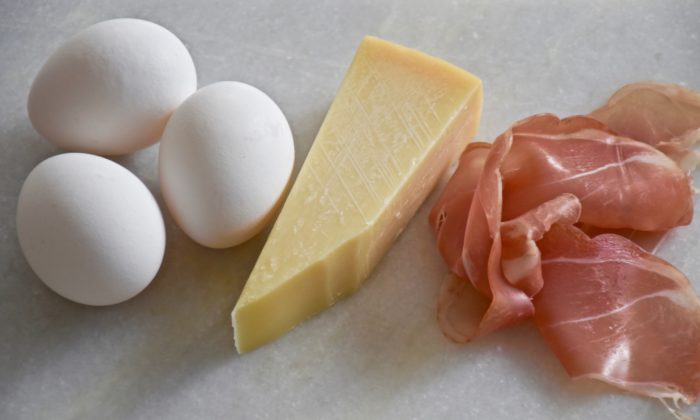 Then before you drain your pasta take out and reserve 1/3 cup of pasta water. The starchy pasta water will help cook your eggs and create a thicker and more flavorful sauce.  Drain your pasta and then return it to your stock pot, but take the pot off the heat.
Then take about an 1/8 of a cup of your reserved pasta water and whisk it into your eggs so you temper them slightly. This will help keep your eggs from scrambling when you add them to your pasta. Then pour the egg mixture and the remaining pasta water in with your spaghetti and stir them together. Then quickly add in your parmesan cheese. Finally add in your prosciutto and if you want peas. I like to add green peas if I am making a one bowl meal, but if you want a more traditional Spaghetti Carbonara then you can certainly leave them out. Finally season with some freshly cracked pepper.
I love this classic dish because it takes less time to cook then it does to get take out. It's easy to assemble and uses lots of staples that I tend to have in my fridge and pantry so it's the perfect meal for a hectic or busy night.