It's just not officially Christmas time in our house without making a batch or two of these classic buttercream frosted sugar cookies. These cookies make delicious holiday gifts and they happen to be Santa's favorite in our house. The cookie recipe is something I found in a farmhouse our family rented one time in the Fredericksburg, Texas. On a little corner table there was this book filled with handwritten family recipes. These traditional German Christmas cookies sounded like fun so I copied the recipe down. I have added my own icing and made just a few tweaks to the recipe over the years. These cookies have remained one of my all time favorites. I have been making these cookies since I was in high school and now it's fun to share the recipe and holiday baking with my girls. I like to make snowflake shapes because it makes the frosting a little simpler when baking with young kids, however with a little food coloring you could bake and decorate any holiday design. I could see pipped candy canes, Christmas trees, stars or angels. These nostalgic and classic cookies are have crisp flakey edges with a soft chewy centers and the icing adds just the right amount of buttery sweetness. No matter what shape you make these cookies are just delicious.
Christmas Cookies (Weihnachts Plätzchen)- Makes two dozen cookies
1/2 cup (1 stick) butter at room temperature
1 cup granulated sugar
1 egg
1/2 teaspoon vanilla
4 tablespoons milk
1 teaspoon baking soda
3 cups all-purpose flour
First preheat your oven to 350 degrees
Next in the large bowl of your mixer beat your butter and sugar together at medium speed for about 2 minutes. Then add in your egg at low-speed mix until it is incorporated.
Then add in your vanilla and milk and beat a low-speed until they are mixed in and finally add in your baking soda and flour mixing on low-speed until your cookie dough just comes together.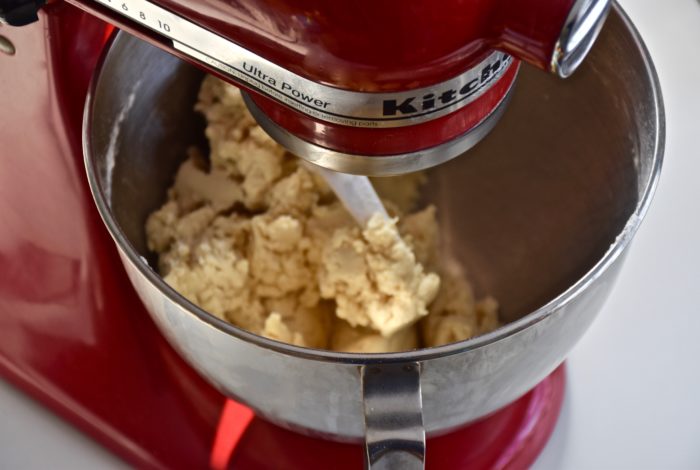 Then using a silicone pastry mat or a clean floured work surface roll out your cookie dough. I like slightly thicker cookies so I roll my dough to 1/4 inch thickness.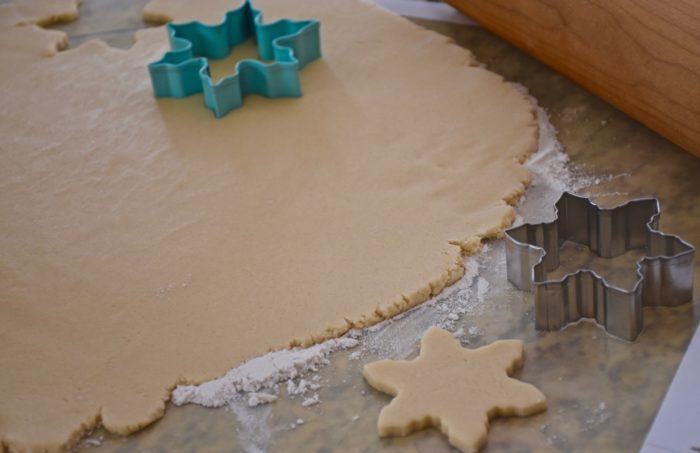 Then place your cookie dough on your baking stone or a baking pan liked with parchment paper or a silicone liner, like a Silpat.  When I am not baking with my seasoned baking stones, I like using parchment paper because it keeps your cookies from sticking.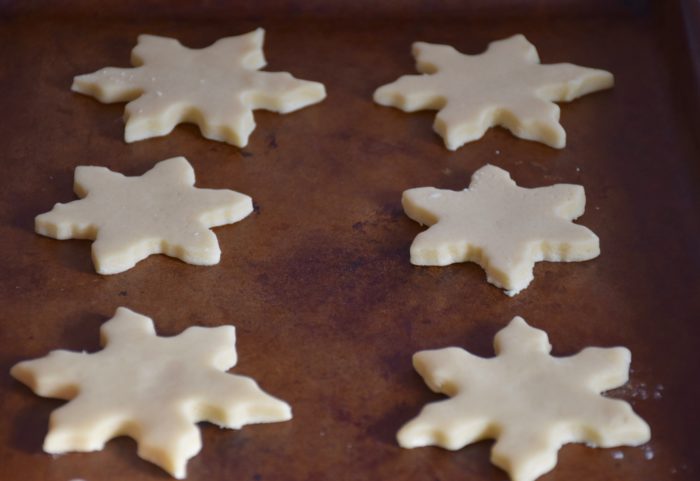 Then bake at 350 degrees for about 8 minutes.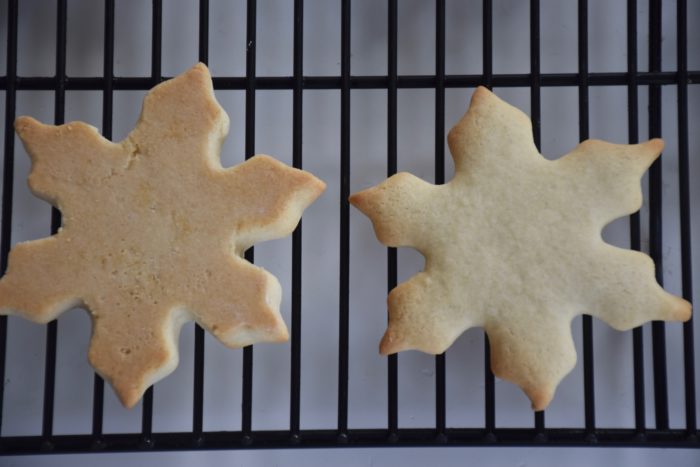 All ovens are a little different so keep a close eye on your cookies I like mine to just barely have crisp golden edges. If you want a softer all white cookie then I would bake them for close to 7 minutes. Let your cookies cool and then you are ready to frost them.
Butter Cream Cookie Icing
1/2 cup (1 stick) butter, room temperature
3 1/2 cup powdered sugar
 1 teaspoon vanilla extract
3 tablespoons of milk
1/8 teaspoon salt
White sanding sugar, dragees or sprinkles for decoration (optional)
The key to this icing is to let your butter sit out of the fridge for at least a couple of hours to get soft. Once your butter is softened  place it in the bowl of your mixer and add in your powdered sugar, vanilla and milk. Mix it on medium speed until your icing is fluffy and spreadable. I like the slightly thicker consistency of this icing in a piping bag, but if your want to spread it with a knife you may want to add a teaspoon or two more of milk to thin your icing a bit. But a little milk goes a long way when you are making icing so go slow on adding any additional milk.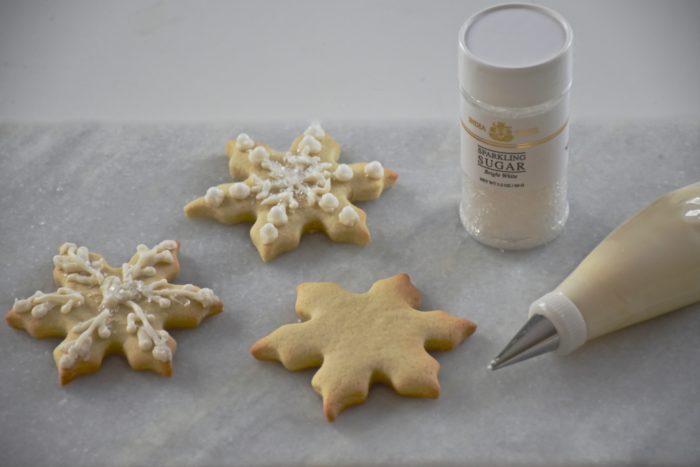 Now you are ready to decorate your cookies. Place you icing in a piping bag and then using a small round tip pipe on your snowflake designs. (You can get a small piping kit and easy to use disposable plastic piping bags at any craft store.) If the thought of using a piping back sounds scary then just use a small butter knife and spread your icing on that way.
Then once you have piped on your icing you can add a few decorations like sanding sugar or white dragees or sprinkles. Have fun coming up with your own unique patterns and designs. These cookies taste best at room temperature and can sit out on your counter for a while, but they will need to be stored in your fridge because they have uncooked milk and butter in the icing.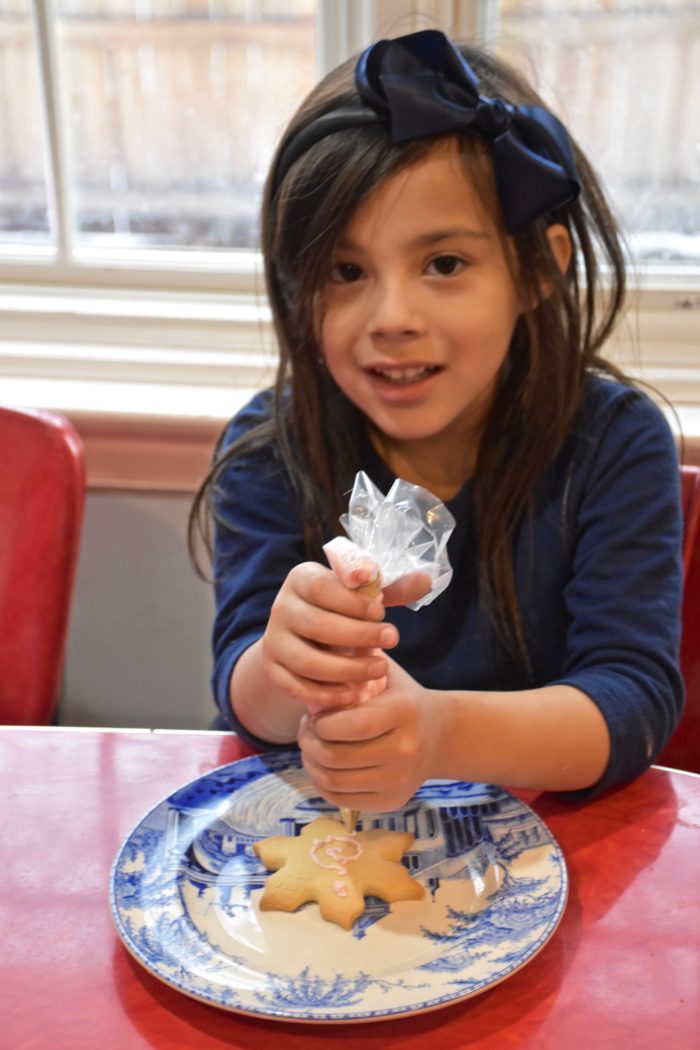 Let the holiday baking fun begin! This recipe maybe titled Christmas Cookies, but we love these cookies so much that we make it for other holidays too. Valentines Day hearts, four leafed clovers, Easter eggs or spring flowers. These cookies are wonderful all year round.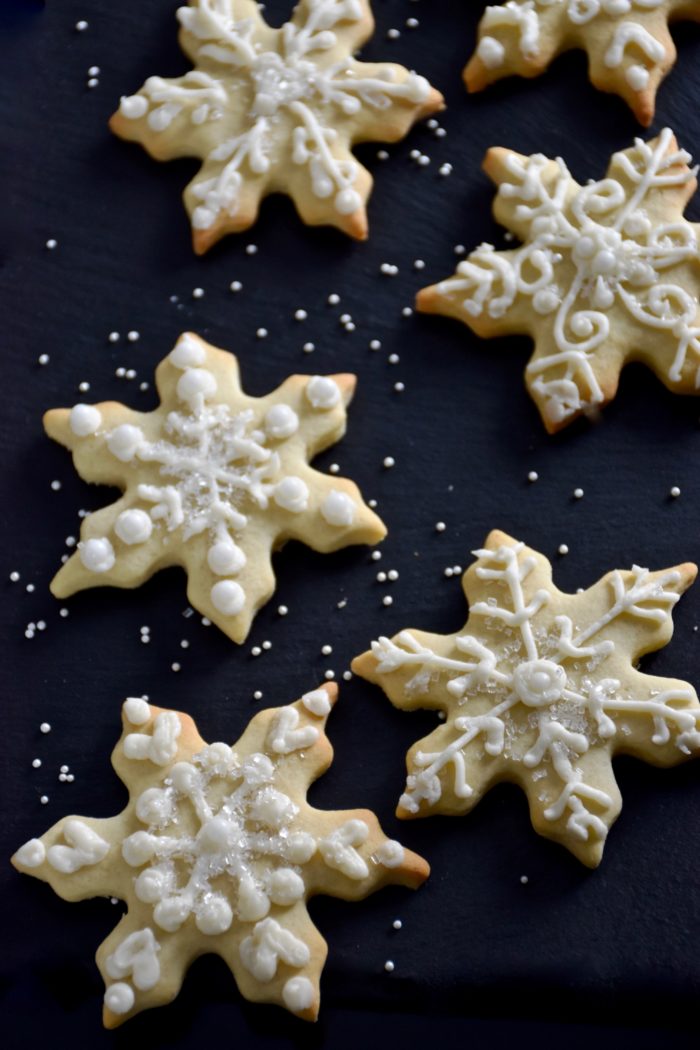 This holiday season I am doing what I love most: baking. Come back soon because I am going to be sharing more baking ideas and recipes. So whether you are baking for Santa or just want to share a sweet treat with family and friends, then give these sugar cookies a try.