The air was crisp; the sky, a brilliant blue. The familiar breeziness of fall was in the air, but the warm sun made you want to linger and forget all about being chilly. So on the first official day of fall our family joined some new friends for what felt like a great Northern right of passage: apple picking. We packed up our car with movies and snacks and headed out to an orchard in nearby Indiana.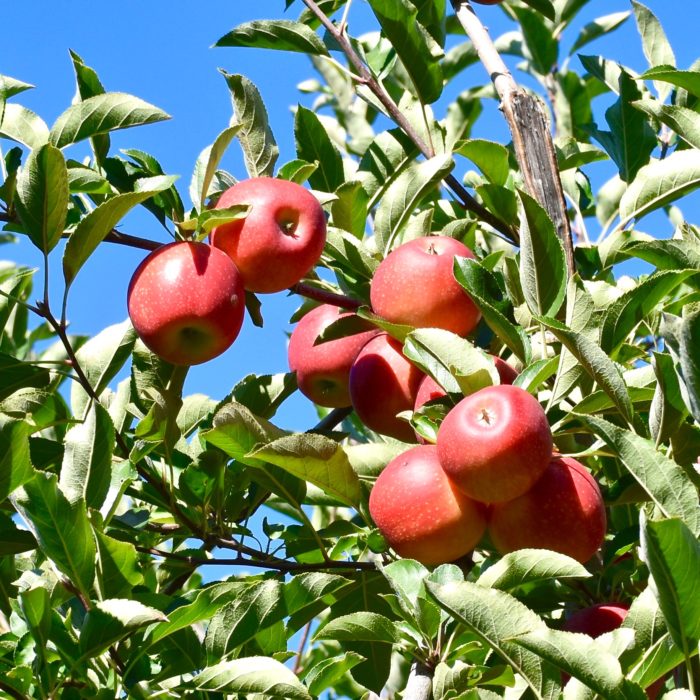 The orchard had acres of trees and there was a dazzling array of apples in more varieties then we even knew existed. Since we were naive to this new tradition we allowed our girls to pick as many apples as their large bags could hold, so in the end we came home with nineteen pounds of apples. However, I must admit that there is nothing like the taste of a freshly picked apple.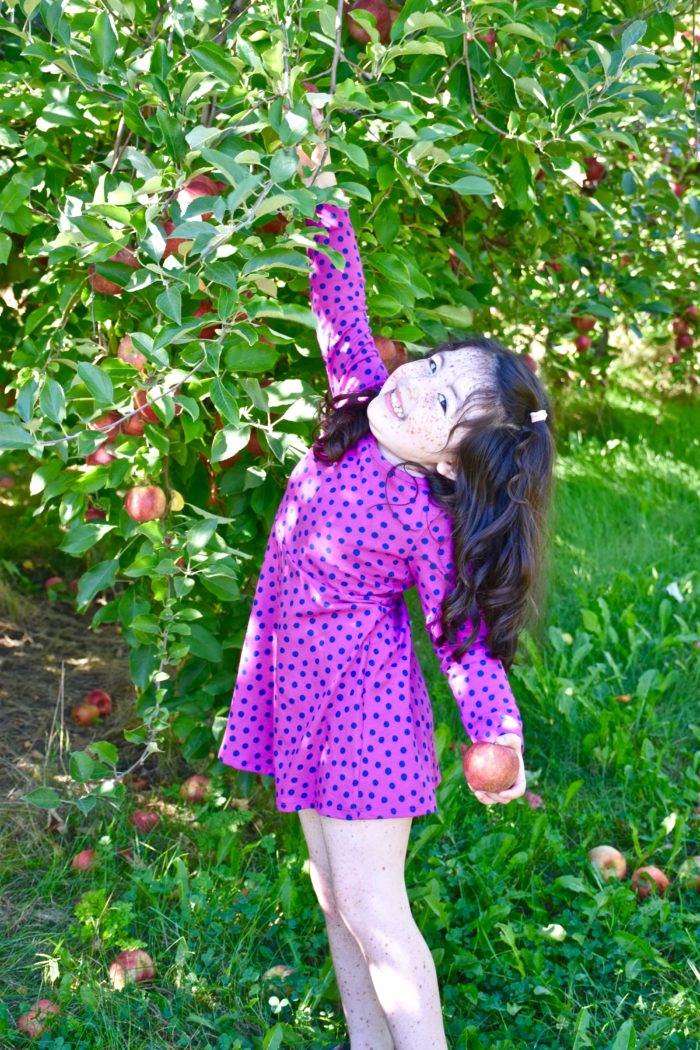 So we currently have a large basket of apples in our kitchen and we are now eating, baking and cooking our way through them. If you too have been apple picking or just want a taste of fall then I have a recipe to share with you. I love the taste of gingerbread and apples so this week I have been baking batches of apple ginger muffins to create just the right recipe. These apple streusel muffins are filled with sweet cinnamon apples and topped with a crispy oat and brown sugar streusel. They are absolutely delicious!
Apple Streusel Muffins -Makes 12 muffins 
1 1/2 cup apples (about 3 small apples), peeled cored and grated
1 small apple or 1 rounded 1/2 cup of apples peeled and diced
2 cups flour
1 cup sugar
1 1/2 teaspoon baking powder
1/4 teaspoon salt
1 1/2 teaspoon cinnamon
1/2 teaspoon allspice
1/2 teaspoon ground ginger
1/2 cup of oil
2 tablespoons molases
2 eggs
1/4 cup of sour cream
Preheat your oven to 375 degrees.
First prepare your apples. I used a mix of sweet Gala apples and Jonathan apples which a have a touch tartness to them, but you could use all Gala apples or your favorite. I peeled my apples and then cut them off the core in four segments. Since my apples were smaller it took three apples grated to make 1 1/2 cups. I used my food processor to make the grating quick and easy. Then I peeled and diced my remaining apple into small pieces. Then set your apples aside and work on the muffin batter.
Next in a large bowl of your mixer mix together your dry ingredients including your flour,sugar, baking powder and spices. Then in a small bowl or measuring cup mix together the wet ingredients including the oil, eggs and molasses. Pour the oil mixture into your dry ingredients and mix on medium low speed until the batter just comes together. Then mix in your grated apples and sour cream until they are well mixed. Finally, carefully fold in your diced apples with a rubber spatula or spoon.
Then prepare your standard muffin tins with baking papers or cups. Once you have those ready, carefully spoon about 3 tablespoons of batter into each muffin cup. I use a large ice cream or cookie scoop to make quick and even scoops. Finally, make your oat and brown sugar streusel topping (see recipe below) and sprinkle a tablespoon on each muffin top before you bake them.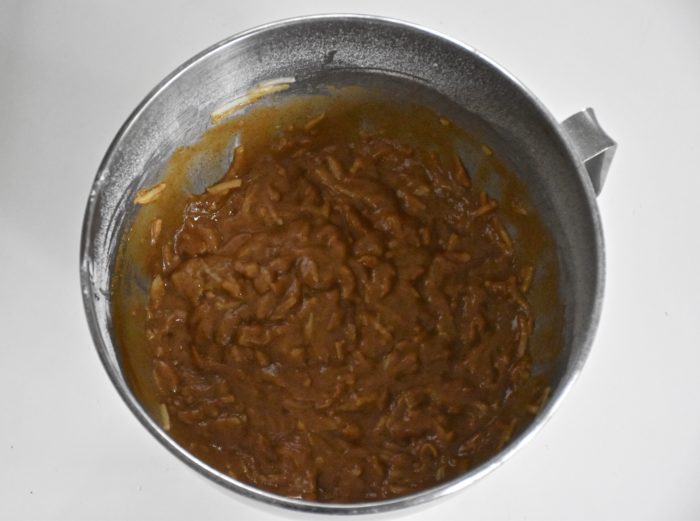 Oat and Brown Sugar Streusel 
1/4 cup quick oatmeal oats
1/4 cup light brown sugar
1/4 cup flour
1 teaspoon cinnamon
4 tablespoons of cold butter, cut into small pieces
In a medium sized bowl blend together your oats, brown sugar, flour and cinnamon. Then with your fingers, a pastry blender or a food processor cut or lightly knead in your cold butter. You want to get a fine but crumbly mixture.
Then sprinkle about a tablespoon of your streusel topping on each muffin before you bake them. I had just a little of the mixture left over.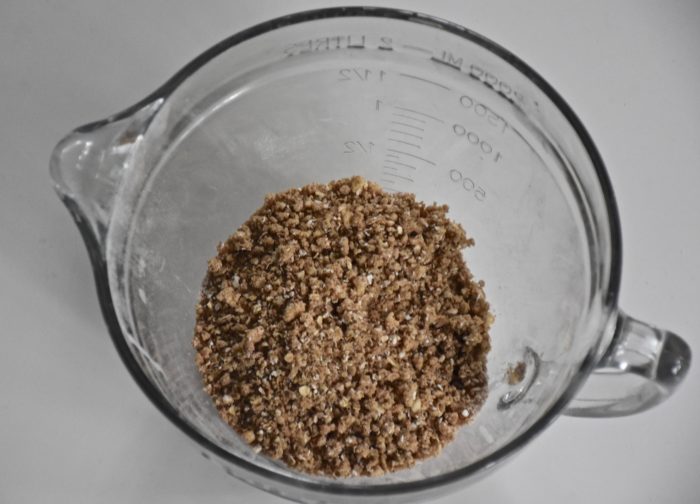 Bake your muffins at 375 degrees for 20 minutes.
The ginger and spice from the muffins will fill your kitchen with the most delicious smell. I baked a batch before I picked my daughters up from school and the moment they walked in the back door they want to know what I had in the kitchen. Admittedly, it's a little work grating and chopping the apples, but it is completely worth it. Because no baking mix could compare with the taste of the freshly grated apples that almost melt in the batter as it bakes and the taste of sweet apple bits in every bite.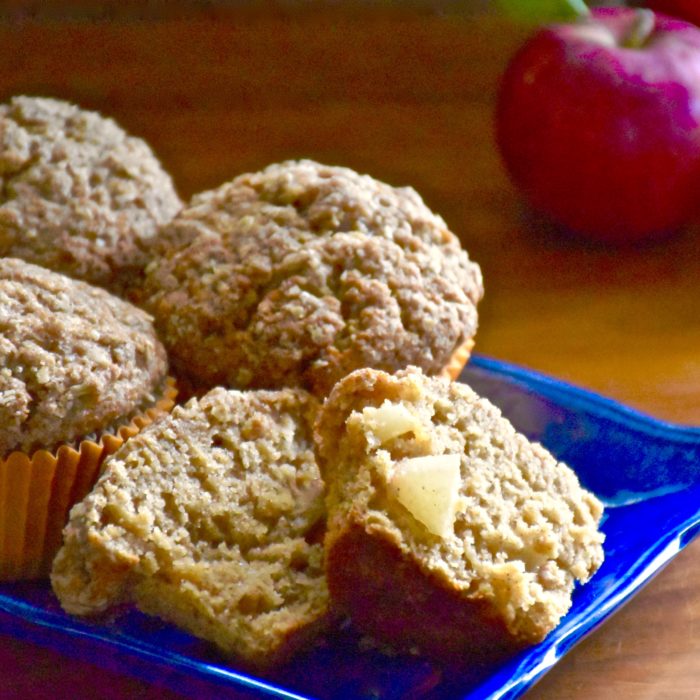 I am savoring the sunshine and these beautiful fall days. These apple muffins and a cup of coffee or tea are a wonderful way to start the morning.  There is something about the rich spiciness of the molasses and ginger with the sweetness of the apples that make this recipe just a little different that your ordinary muffin. The muffins have disappeared quickly in our house, so I hope you enjoy them as much as we have. Happy baking my friends!