One of the dishes I miss most from home is green chili and sour cream enchiladas. Although we have certainly found some good Mexican food in Chicago I have yet to find a restaurant that serves this classic Texas dish. So what's a girl to do? When I have the time I like to make enchiladas from scratch, but sometimes I want something a bit quicker for a weeknight meal. So this casserole is one of my favorite comfort foods made easy enough to enjoy any night.
Green Chili and Chicken Enchilada Casserole – Serves 6
1/2 cup of yellow onion, chopped
1 tablespoon butter
1 1/2 cups of sour cream
1 can (10.5 oz) cream of chicken soup
1/2 cup tomatillo salsa
1 teaspoon cumin
1/2 teaspoon kosher salt
2 cups of shredded rotisserie chicken
3 cups shredded Monterey jack cheese, divided
10 corn tortillas (fajita sized)
Preheat your oven to 350 degrees.
Next chop your onion and cook it in a small skillet with a tablespoon of butter. Cook your onions until they turn translucent and soft.
Next in a large mixing bowl mix together your cooked onions, sour cream, cream of chicken soup, and green tomatillo salsa. I like the La Victoria brand which has a good flavor, but is not quite as spicy as some of the other commercial tomatillos salsas.  You can use your favorite. I try to keep the chili heat index under control for my family and little ones.
Next add in your cumin, salt, shredded chicken and a cup of your Monterey jack cheese.
Finally cut your tortillas into small bite sized pieces. I like to cut mine into quarters  lengthwise and then cut them so I have about 12 bites sized pieces from each tortilla.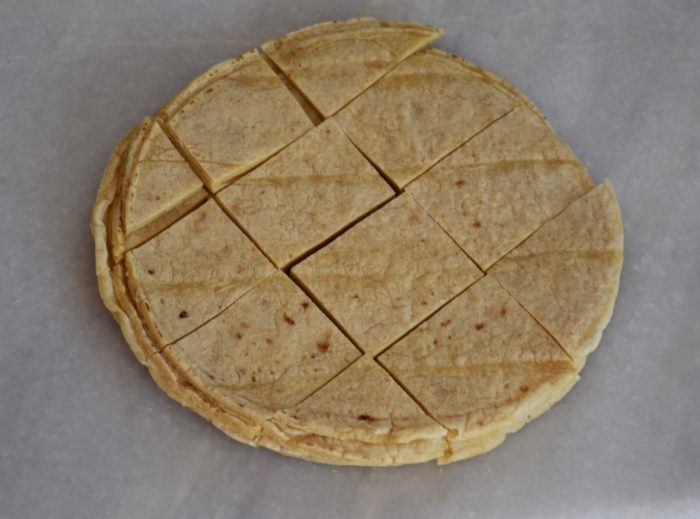 Add your tortillas into your sour cream and salsa mixture making sure they get coated and mixed in well.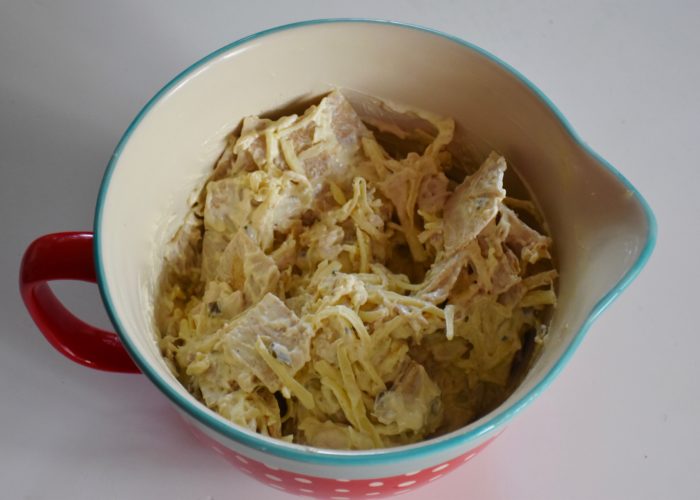 Then spread your tortilla mixture evenly into the bottom of your greased 8×8 inch baking pan. Then evenly sprinkle the remaining two cups of cheese on top and bake for 20 to 25 minutes until the cheese is gold and bubbly.
This is also one of those dishes that you can make ahead and have waiting for you in your fridge. Just add an extra 15 to 20 minutes to the baking time if it has been refrigerated.
While your enchilada casserole is cooking you can make a little fresh pico de gallo as a topping or to serve on the side.
Avocado Pico de Gallo
1/2 cup of tomatoes chopped
3 tablespoons of red onion finely chopped
1/2 cup of avocado chopped
1 tablespoon of cilantro chopped
1/2 of a lime, juiced
1/2 teaspoon kosher salt
Mix together your pico de gallo and either serve it on top or sometimes I like to serve it on some shredded lettuce as a side.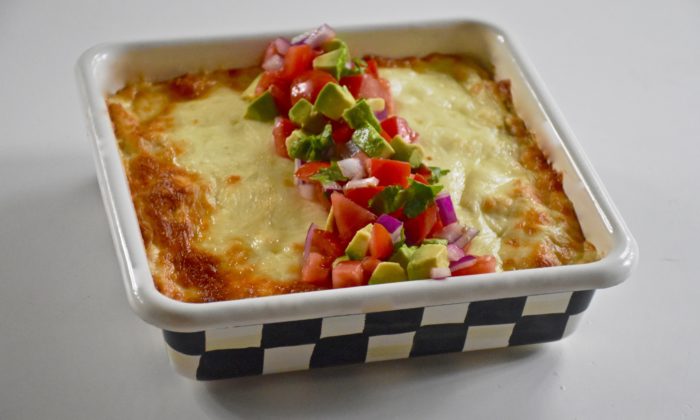 Food has the unique ability to take you places. It can allow you to travel great distances to try new flavors or go back to a time gone by. However, I have come to appreciate that sometimes the best dishes are the ones that take you home and let you share a small piece of that with others. This isn't a fancy recipe, but oh the cheesy green chili goodness! I hope you enjoy this taste of Texas as much we do.