These cookies will have your house smelling like fall and the holidays as they bake and once you taste them it will be nearly impossible to eat just one. The cinnamon, allspice and applesauce gives them a delicious spicy flavor and the butter and brown sugar create a chewy, but moist cookie. My husband had to ask me to hide the leftover cookies, because they are so good that you will want one for breakfast or just because you walked in the kitchen. I have been working on perfecting this oatmeal cookie for the past year and countless batches later I think I have just the right recipe that will be a family favorite for years to come.
Oatmeal Raisin Spice Cookies (Makes 14 Cookies)
1/2 cup (1 stick) butter, leave out at room temprature for at least an hour
1 cup brown sugar
1 large egg
1/4 cup applesauce
1 teaspoon vanilla
1 teaspoon cinnamon
1/4 teaspoon allspice
1/4 teaspoon nutmeg
1/2 teaspoon baking powder
1/2 teaspoon baking soda
1/4 teaspoon of salt
1 3/4 cup of flour
1 cup quick cook oatmeal
1 cup of raisins (not a raisin fan then I have tried these cookies without the raisins and they were were still good oatmeal cookies)
Preheat your oven to 350 degrees
First in the bowl of your mixer mix together or cream your butter and sugar at a medium high speed until they are well blended and the texture is light and fluffy. Next mix in your egg, applesauce and vanilla. Then add in your dry ingredients including your spices, baking powder, baking soda, salt oatmeal and flour. Blend on low speed until just incorporated. Finally add in your raisins.
Then I like to use a cookie or cream scoop to make sure my cookies are all even in size. For these cookies I used a larger scoop that holds three tablespoons of cookie dough. Then take your ball of dough and flatten it slightly so it looks like a little disc or mini hockey puck.
Bake your cookies for 12 minutes or adjust as needed because every oven is a little different. You will know they are done when you see the tops of the cookies crackle evenly and they will just barely turn golden on the edges. I find cookies bake better when I bake just one pan at a time in my oven.
Leave them on your pans to cool and then once they are cool you can drizzle them with the vanilla icing.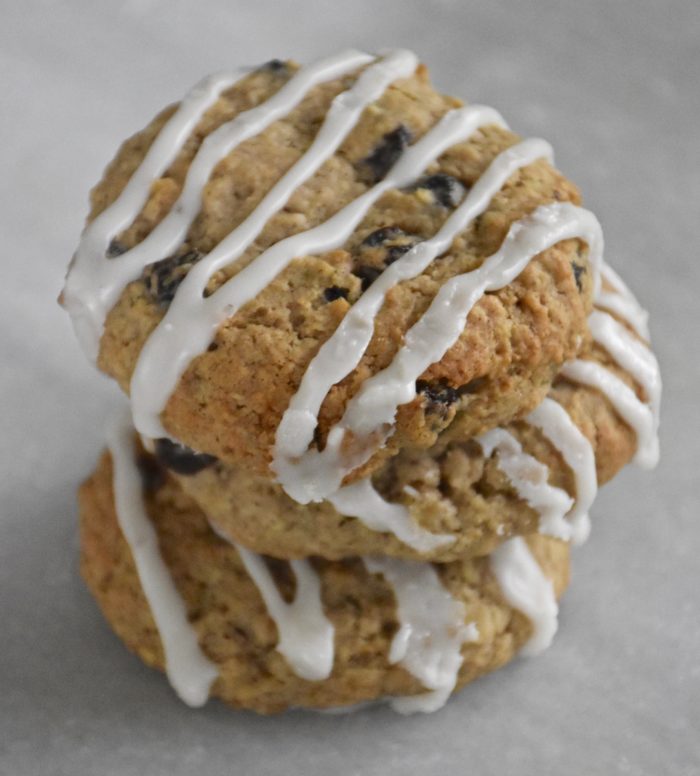 Vanilla Drizzle Icing
1 cup powder sugar
1 teaspoon of vanilla
1 tablespoon water
In a small bowl mix together your powdered sugar, vanilla and water. Then place your icing in a pastry bag and cut a small hole to evenly drizzle your icing on the cookies or if you don't have a pastry bag then use a ziplock bag and cut a small hole in the corner to make your own pastry bag.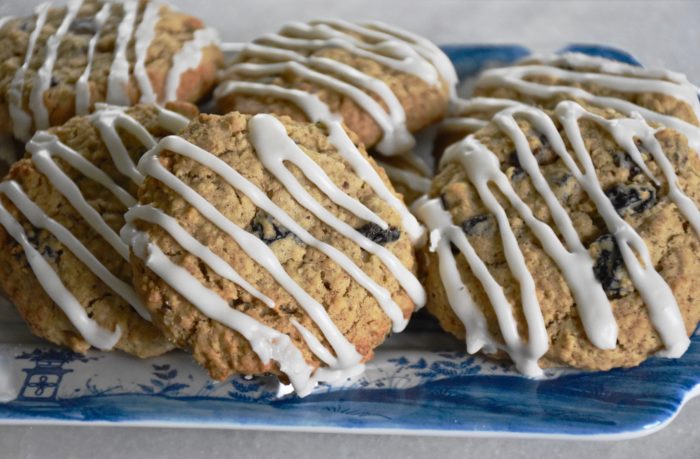 The best part about this recipe is that it is easy to bake, which makes it a great recipe to make with kids. Crisp on the outside but chewy and soft in the center these cookies will have you at first bite.