This year for my youngest daughter's birthday I decided to make something a little different that your usual tiered birthday cake. I needed to work with our temporary mini fridge situation so I decided to make mini cakes. A little more special and fun to decorate than a cupcake, but as easy to make as a standard sheet cake. My daughter was thrilled with the idea of having her own little cake to herself and I have to agree with her these petite cakes are just a little more fun. No need to trim or spend extra time covering the sides of these pink cakes, because the best part about these mini cakes is how easy much easier they are to frost and serve than a large layer cake. Summer strawberry season here and these cakes would make a fun dessert to serve and share.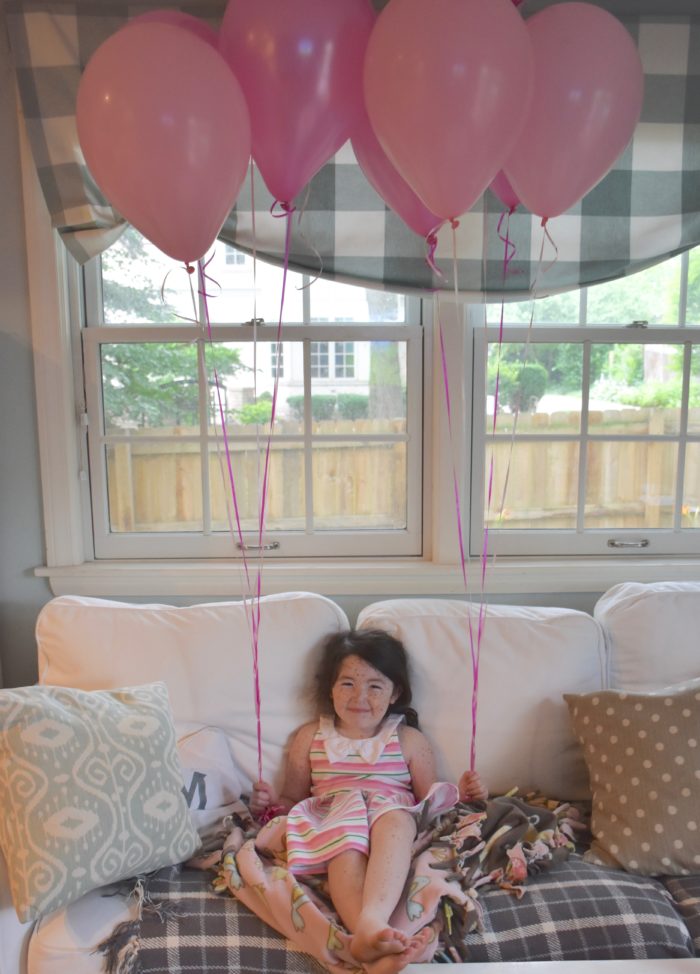 Strawberry Cake (Makes one 9x 13 sheet cake or 6 mini cakes) 
2 cups of sugar
4 eggs
2  1/2 cups cake flour
3/4 cup milk
2  1/4 tsp baking powder
1 tsp vanilla
3/4 cup vegetable oil
1/4 cup sour cream
1 (3oz) box of strawberry jello
1 cup of fresh strawberries pureed
Preheat your oven to 350 degrees
First, I like to prepare my strawberries by removing the stems and then chopping the berries in half. Then I put my berries in my mini food processor, but you could also use a blender. I then pulsed the berries till they were like a thick jam with some tiny even bits of berry. Then set the berries aside to mix in the batter later
Next using your mixer beat together the sugar and eggs on medium speed for about a minute. Then add the flour, milk, oil, baking powder, sour cream and vanilla and mix until just incorporated.
Line the bottom of a standard 9×13 inch cake pan with parchment paper and spray the sides of your pan with baker's joy or cooking spray. The pour your cake batter into your prepared pan. Give your pan a few taps on your kitchen counter to ensure you don't get any air bubbles as it bakes.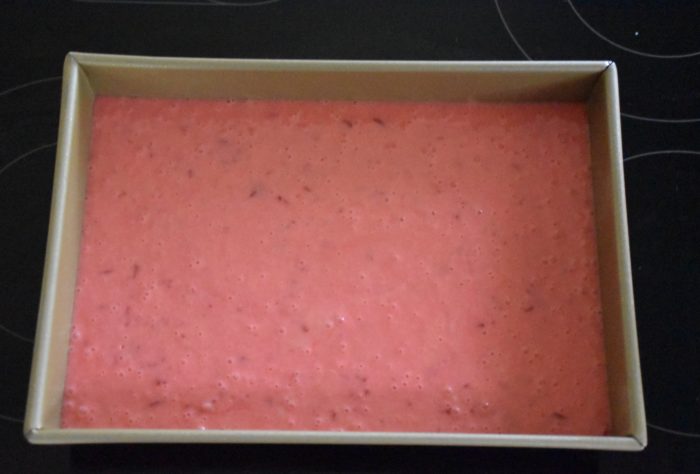 Bake the cake for 30 minutes. Keep a close eye on the cake because you don't want to over bake it. You can check the doneness by testing the cake with a toothpick. If the toothpick comes out clean the cake is done. Let your cake cool in the pan for 15 minutes then turn it out of the pan to finish cooling on a wire rack. You want your cakes to be completely cool before cut and frost them.
Cream Cheese Icing
1 Stick of Softened Butter (I usually let it sit out of the fridge for an hour)
1 (8oz) Softened Brick of Cream Cheese (I let it sit out with the butter)
1 Tsp Vanilla
4 Cups of Powdered Sugar
1 Teaspoon of Milk
In the bowl of a mixer cream the cream cheese and butter. Add the powdered sugar vanilla and milk. Mix on high speed until the icing is smooth and fluffy.
Now once you have your frosting ready you can ice your sheet cake and cut it into squares or you could do something a little more fun and cut out six circle cakes. I used a three inch diameter glass that I lightly sprayed with butter flavored cooking spray to cut out my cakes.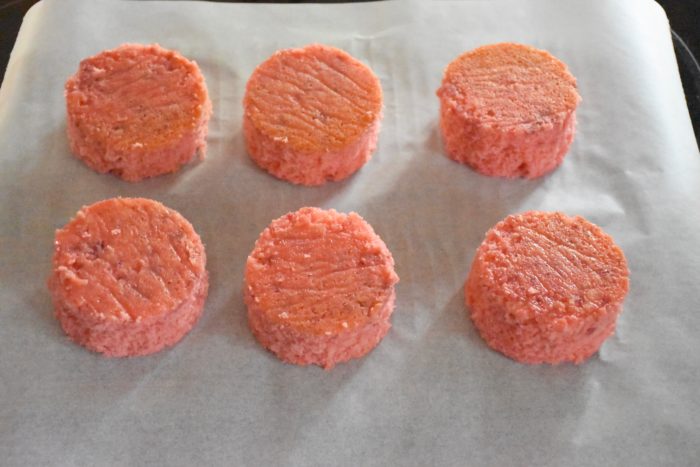 Now split your mini cakes in half like a biscuit and place some frosting in the middle to create a cake like sandwich. Then place a smooth layer of frosting on top using a separated spatula or butter knife.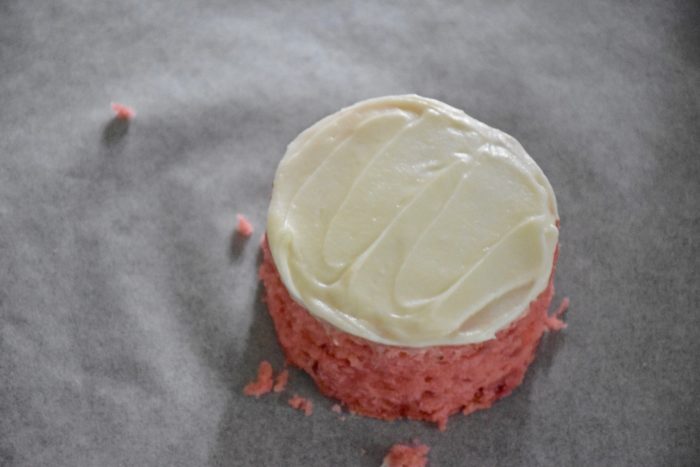 Then because our cakes were for a celebration I made some fondant strawberry decorations using three 4 ounce mini container of pink, green and white fondant. I have instructions on how to make these fondant strawberries and flowers here.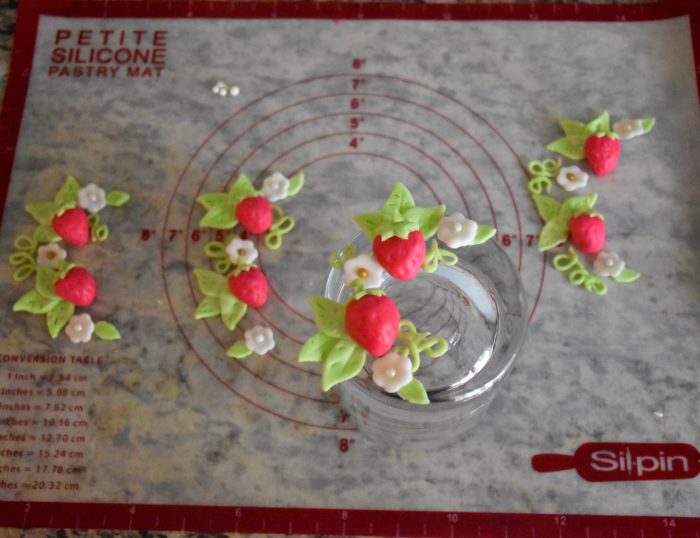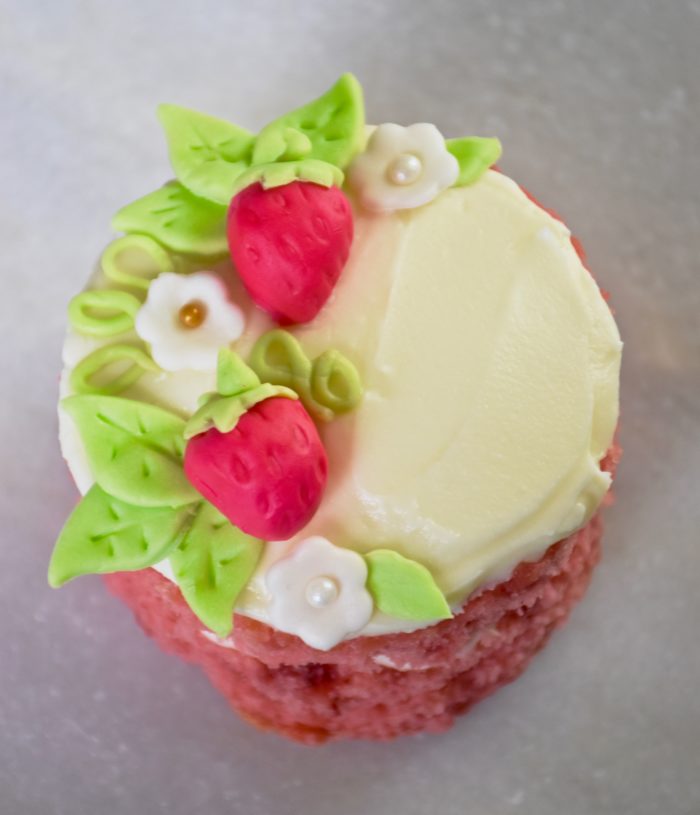 If you are short on time or you want to skip the fondant decorations then just place a fanned out strawberry on the top.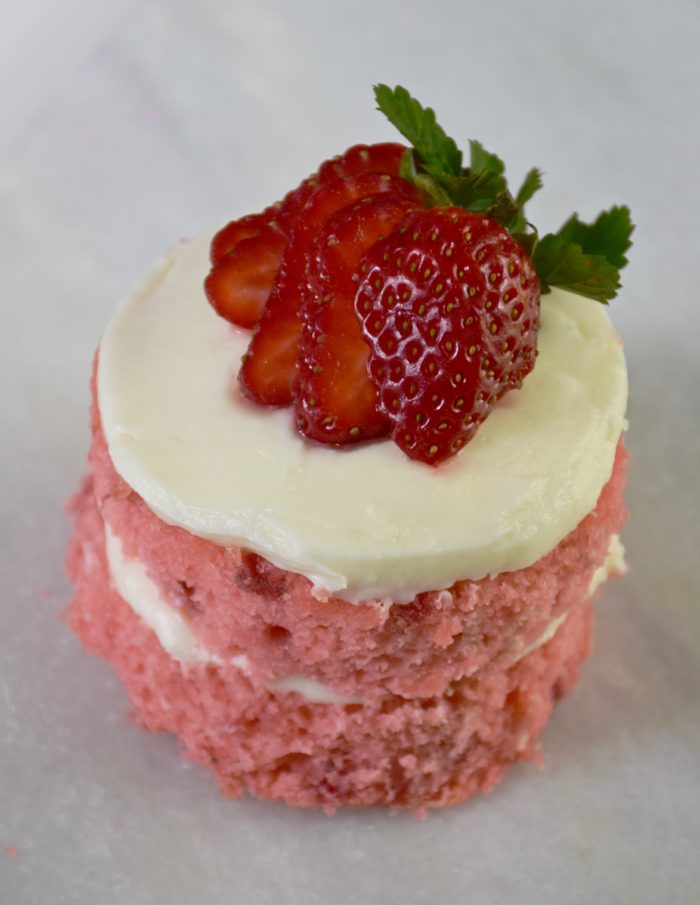 No matter how you decorate it these, it's a fun take on a classic family favorite and a great mini birthday cake. So think outside the box a bit on your standard sheet cake and try making a mini cake instead.