This weekend in a moment of tail wagging, twirling excitement we welcomed home our newest family member, our puppy Ruby. The instant we opened the back door there were squeals of joy as we introduced Ruby to our girls. There was laughter and outstretched hands calling out "Ruby, Ruby." After a long car trip little Ruby was basking in the moment and soaking in all the love she could get as she was bouncing from person to person.
Then later that evening when things had calmed down a bit, I looked over and saw my oldest daughter had climbed into the puppy's pen. She was sitting there talking to Ruby. She was teaching her how to give high fives. Always one to be friendly, she was already talking to Ruby and welcoming her to "the team." There was a certain twinkle in their eyes and you could just tell this was quite a match. We had trouble getting Gabby to sleep in her own room that first night. Afraid Ruby would be lonely or need her she didn't want to leave her new friend. Although Gabby is not know for being a morning person, when the puppy was crying out to us at 5am Gabby was the first one down the stairs talking with her.
In the days since our daughter can often be found climbing in the pen just to get extra time snuggling with her friend. She isn't bothered by Ruby's unbridled bouncy excitement and her penchant for nibbling on your toes and shoelaces. Instead with a certain sweetness, she just picks her up and says "no Ruby" and hands her a toy. You just get the sense that the two of them are going to be best of friends. We were all sad when our dog, Emmy, passed away last summer, but Gabby has deeply missed her. She takes off running at the sight of a friendly dog at the park. She has learned all the regulars names and if you would let her she would spend hours throwing tennis balls and playing with her furry park friends. At five Gabby is normally overflowing with energy, but there is a patience and calmness that she has around dogs that makes even the shyest of the bunch trust her.
At nearly eight weeks old, Ruby's inquisitive nose and sense of adventure has us all on our toes. It's been fun to watch her discover my daughters' sit and spin, who knew how much a puppy could have taking a spin. Ruby keeps coming back for more rides around and it just makes me laugh.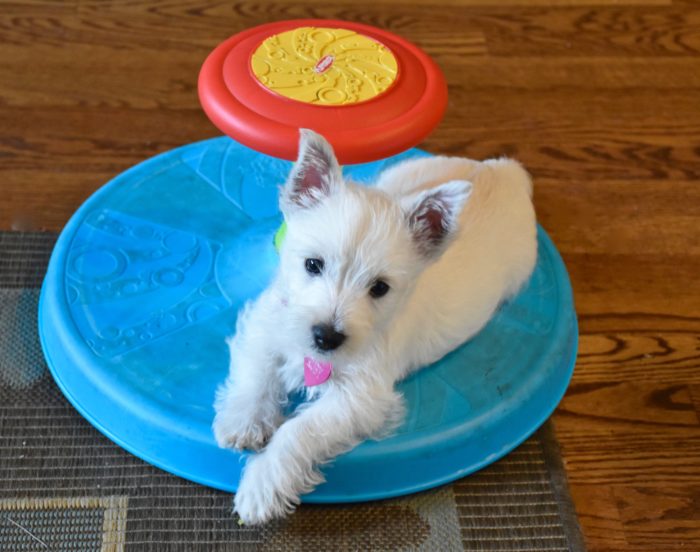 She is sweet and playful with just a touch of that signature terrier spunkiness that we all love.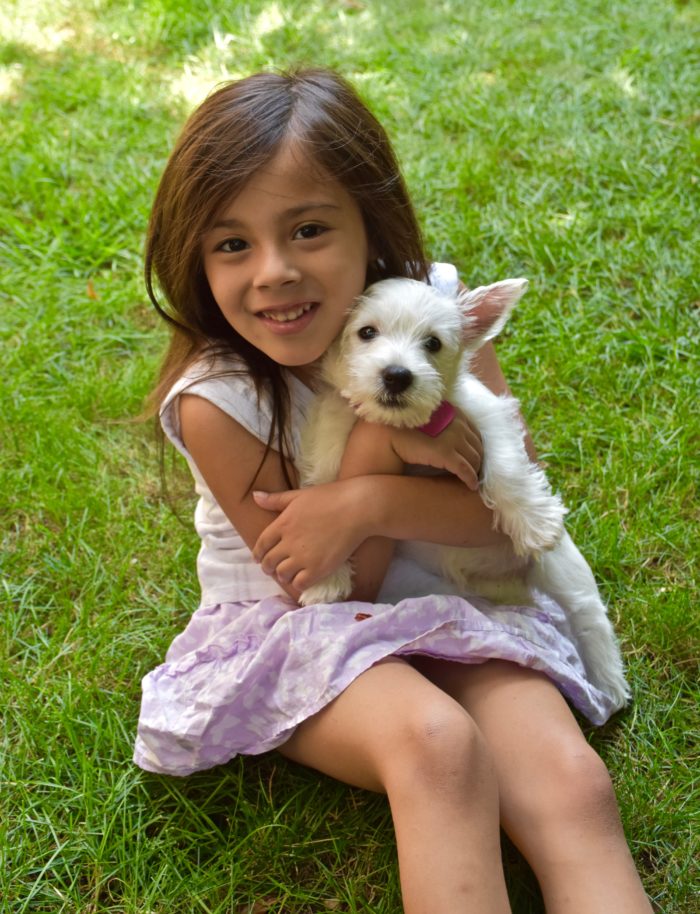 However, the best part of it all has been watching this love story unfold because there is just something about a girl and her dog.