My sister had a baby girl this past week, so I am now officially an aunt. My family and I are so excited about this new little one and we can't wait to meet her. As I have been talking with my sister this week, it has brought back so many good memories of when my girls were babies. I wasn't blogging at the time I decorated my girls nursery so I thought I would take a trip down memory lane and share a few photos of the nursery in our old home and I also got my sister to share a few pictures of her baby's room as well. We both designed neutral rooms around a favorite art pieces, but each room has its own distinctive style.
My family is an adoptive family so we didn't know enough details in advance to plan a room for a specific gender. There are lots of great bedding options out there but I knew I wanted to go with a classic blue and white that could potentially become more girly with floral details.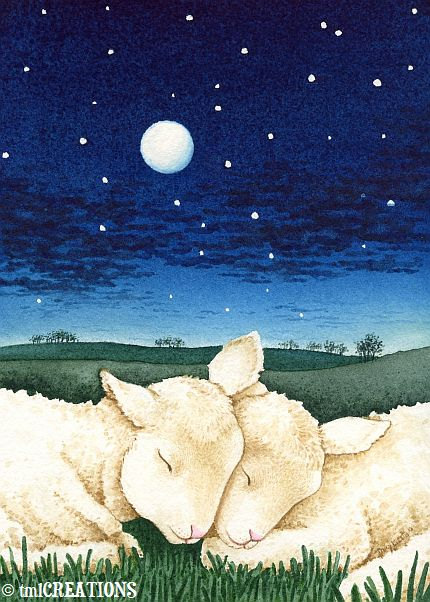 The design plan for my daughter's room came from an art print by artist Tracy Lizotte  that featured the two sleepy lambs. I was searching for art on Etsy when I found Lizotte's beautiful watercolor prints. I loved her animals and birds, but these lambs were just so sweet. Once I decided on the art the other details began to fall into place. I decided to add in some stars like the night sky and some additional sheep to round out the flock. The quilt is something I had  on the bed in my guest room, but the stars worked with the theme and I decided to hang it above the crib by sewing some small rings on the top.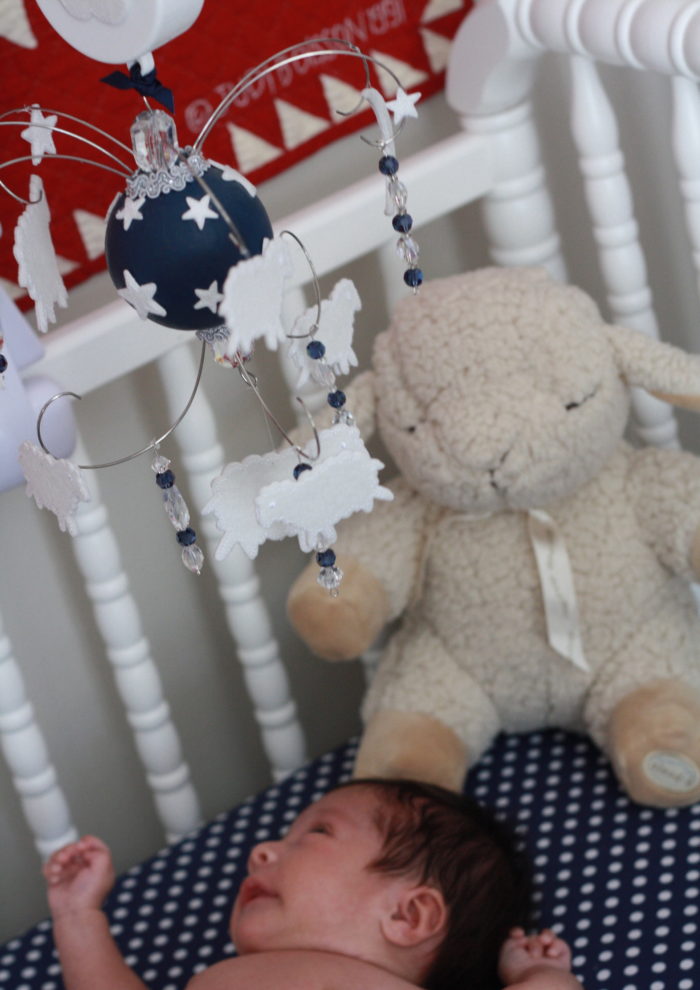 This mobile was a special project. I made it to match the details from the watercolor painting. The round base is a paper Christmas ball I painted, then to add my sheep I attached some metal cake jewel holders and I added some beads and felt sheep stickers I found from Martha Stewart. Then I ordered my own custom music box that played "Greensleeves" and a mobile arm from Amazon. The selection of music box songs on Amazon is amazing. In the end, I got just the look I wanted by just thinking outside the box a bit and using things from my craft store that had the right shape for a one of a kind mobile.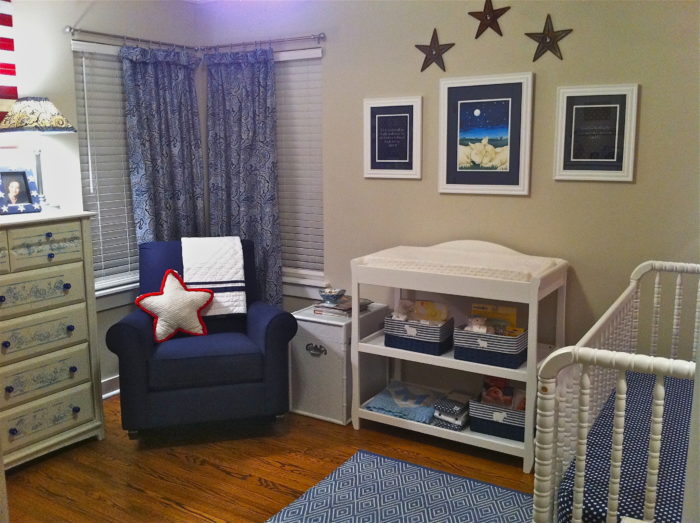 Here you can see the drapes I had previously made for our guest room, but I thought the various shades of blue in the paisley worked well in the blue and white room. I also was glad I took the time to line them with black out lining because it helped keep the room dark for bedtime.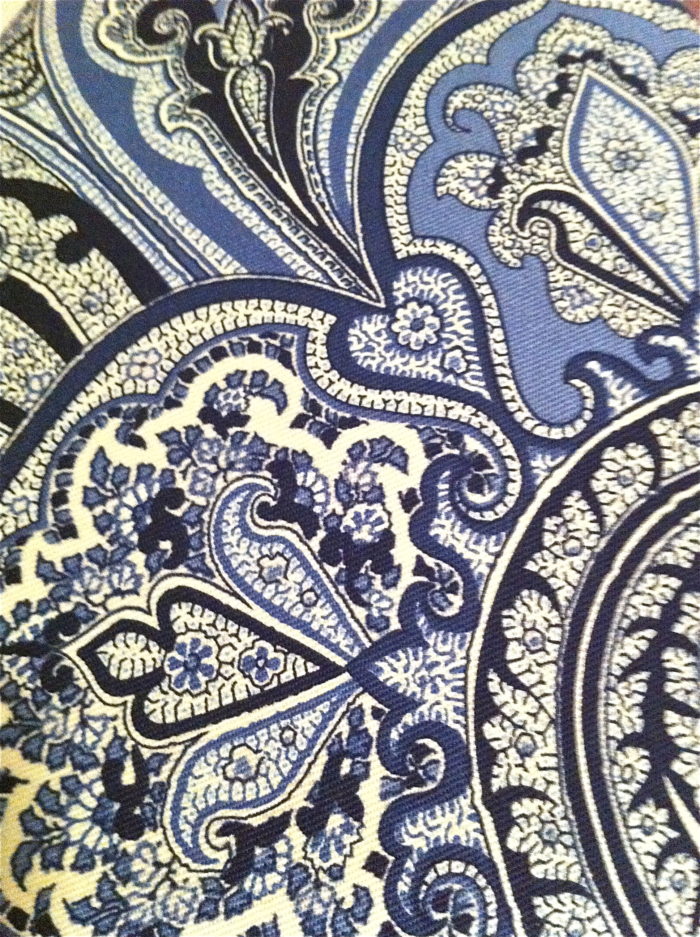 Then I sewed some basket liners out of a blue mattress ticking material and I used the same material to cover some lampshades on my star sconces.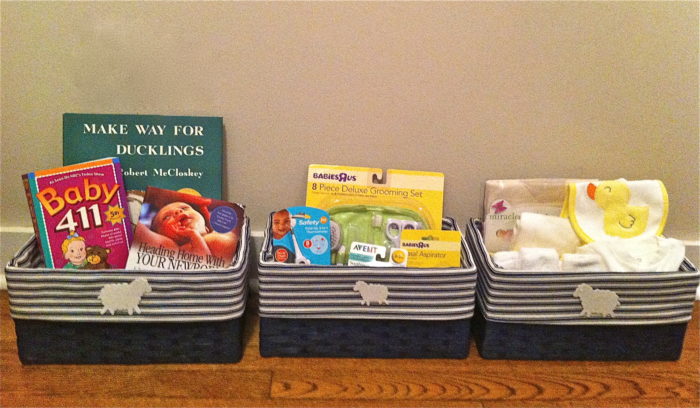 I used more felt stickers on the baskets to give them a custom look. I love baskets for storing all kinds of small accessories, book and toys. They keep all those essential items organized and close.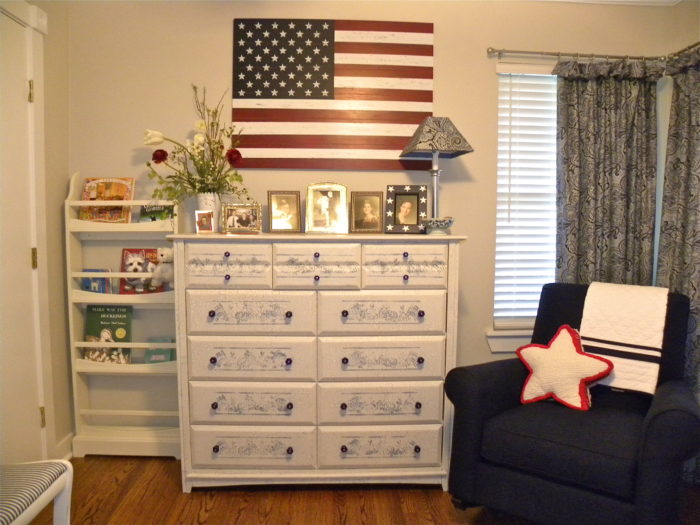 The blue and white dresser was mine.  My mom and I had painted it for my room years ago, but the colors and vintage style worked in the room.  I added a wall anchored book shelf from pottery barn kids in the corner that help me make the most of the small space between the dresser and the closet. My girls have loved that shelf because it makes it easy for them to reach their own books. I styled the dresser with a pretty flower arrangement and some photographs of family.
Then when my second daughter arrived a year and a half later I rearranged the furniture and artwork to add in a second crib, that made this nursery for work for two. My youngest daughter still has many of the pieces from this room in her new bedroom, but I am planning some updates with a new big girl bed this summer.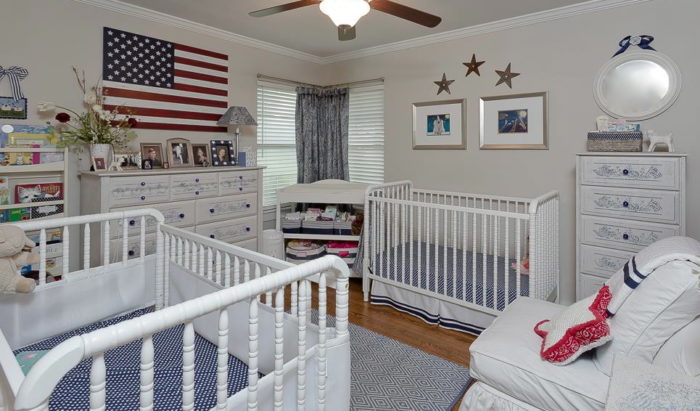 My sister has a more modern style so when she was planning a room for her baby she went with warm woods and grey accents. My sister wanted to wait till her delivery to know the gender of her little one so she planned a neutral room. Here are a few pictures from my niece's room. My sister was inspired by some animal photographs she found on Etsy at a shop called Lila x Lola. They have lots of great nature photographs in both black and white and color. They also have some abstract watercolor prints that I thought were pretty as well.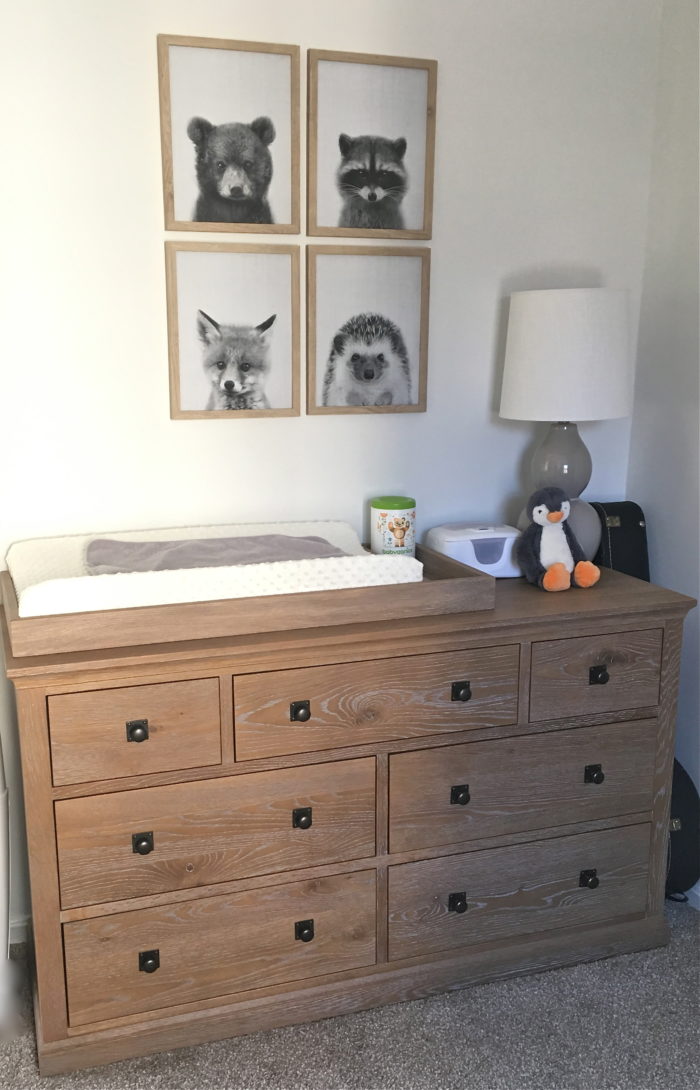 Those photographs set a woodland nature theme for the nursery and to go with the  theme my sister used a painting that belonged to my grandmother that has a flower filled meadow.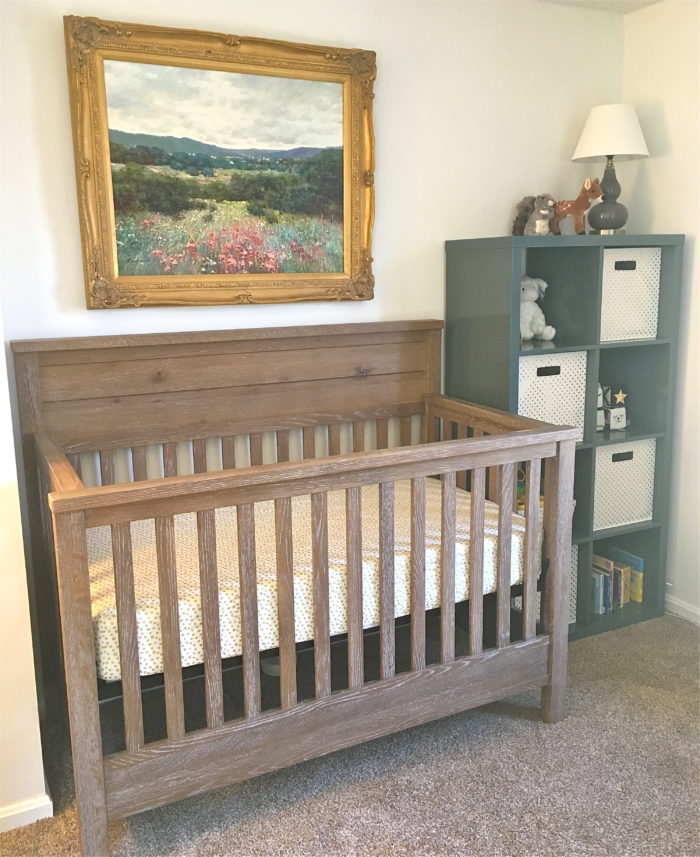 Then she used a rocker that had been in her husband's nursery with a more modern ottoman she found at Target.
I love nurseries they are the beginning of something wonderful. All the excitement and anticipation of planning and creating something new. I especially love the personal touches that say something about your family. Our journey to bring our daughter home was a long one, but decorating our nursery was a joyful part of waiting and every detail was fun to create. This week has been wonderful because my phone is filled with cute pictures and videos of my new niece. I so happy for my sister because there is nothing like bringing your little one home.