One bite of a crunchy marshmallowy sweet rice crispy makes me feel like a kid again. They are just so fun to eat. Creating these pink sprinkled rice crispy treats brought back fun memories of elementary school Valentine's Day parties. As a kid I loved making cards and decorating the Valentines day bags and the shoebox mail boxes we made at school. My girls are already talking about Valentine's Day. My oldest is especially excited about making and sharing cards, because this year she has learned to write her name. So if you are getting into the spirit of Valentine's Day and you want to make something festive then give these easy sweet heart crispies a try.
Sweet Heart Crispies (Makes 12 Hearts)
3 tablespoons of butter
4 cups of miniature marshmallows (one bag will be enough)
6 cups of Rice Krispies cereal
3 packages of candy melts in Valentines Day inspired colors
Sprinkles
First line a cookie sheet or tray with a piece of aluminum foil sprayed with butter flavored cooking spray or use a silicone mat so you have a flat nonstick surface to shape your treats on.
Then in a large microwave safe bowl melt your butter
Then add in your marshmallows and microwave them for one minute.
Then using a rubber spatula mix the melted marshmallows and butter and stir in your Rice Krispies two cups at a time. Stirring well to make sure they all get evenly coated in the marshmallow mixture.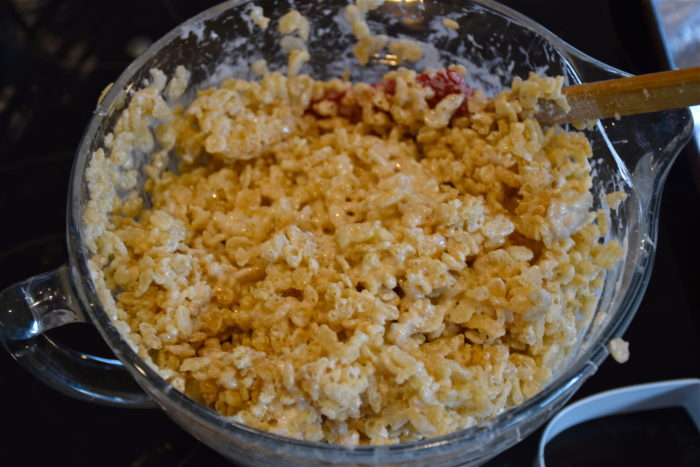 Then I take a 3 1/2 inch heart shaped cookie cutter and spray the inside of it with butter flavored cooking spray. Then spoon enough Rice Krispie treats to fill the cookie cutter up to the top and then use a spatula to level off the top. Then carefully lift off your cookie cutter and let your heart shaped treat cool and firm up.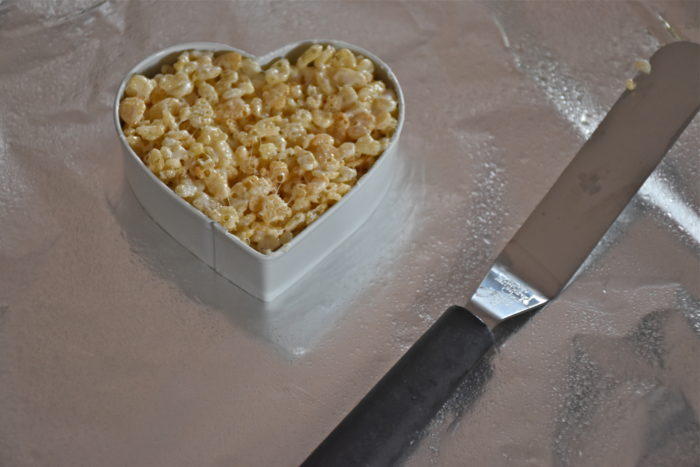 Keep working until you have made all of your hearts. I made eleven because I had some taste testers in my kitchen, but your should be able to make twelve.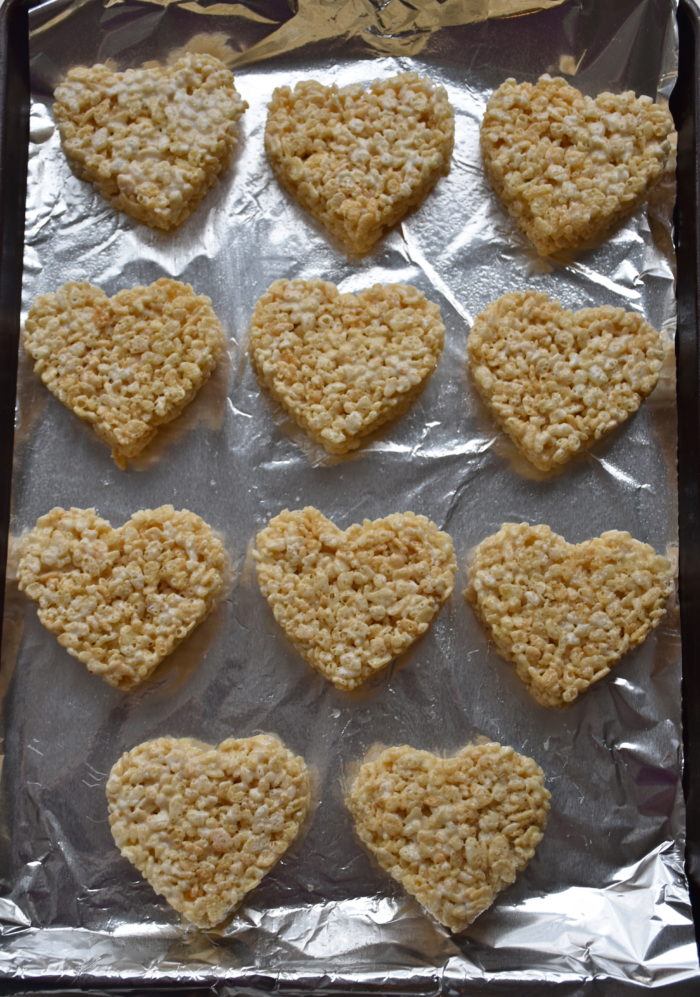 Now it's time for the fun part, decorating your hearts. Choose three different colors of candy melts, which you can find at the craft store. These candy wafers are easy to work with because they are not as temperamental as chocolate. You will need to use half of each bag or 6 ounces of each color for this recipe.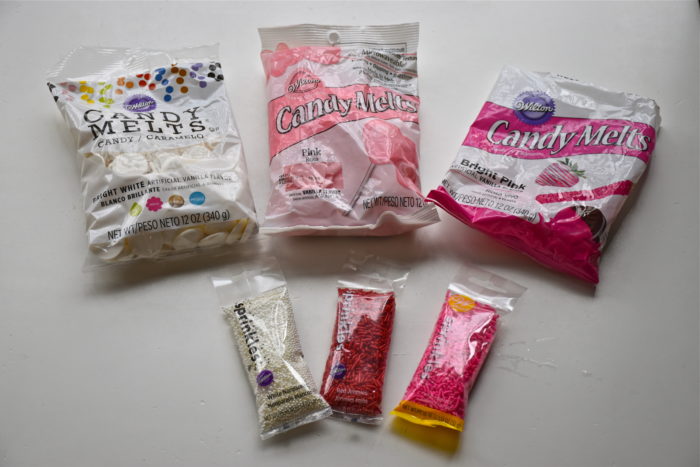 Get three microwave safe bowls ready and pour each of your colors in a separate bowl. Place each bowl in the microwave on normal power for one minute then  stir them and continued to microwave them for just 30 seconds at a time stirring in between until they are just melted. You don't want to over heat it. Then use a separated spatula or a butter knife to spread on a smooth layer of candy on each heart. Don't worry if as you are working your melted candy gets a bit cool.  You can reheat it for 20 to 30 seconds to get it melted again if needed. 

Then if you want to add some writing or drizzles of other colored candy on top the put some of your melted candy in a plastic pastry bag and either use a round tip or just snip a small hole in the tip. The pastry bag makes decorating easy. Then get creative with your decorations. Finally, for extra fun add on some sprinkles.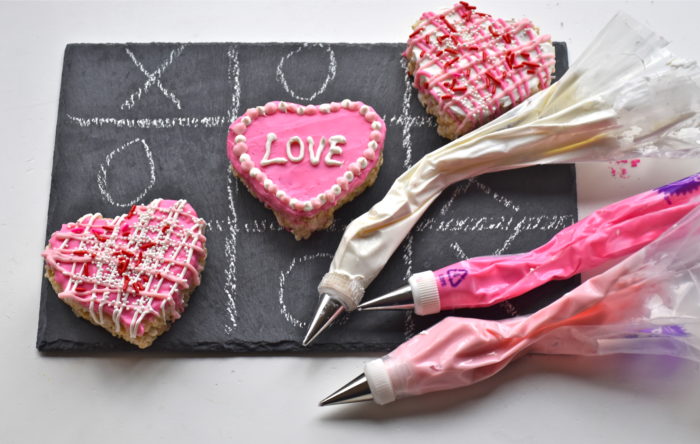 These Valentine's Crispies were a huge hit with my daughters. The pink candy and the sprinkles really put this dessert over the top. So if you are looking for some old school Valentines day fun then make a batch of these easy no bake treats to share with your family and friends.