As I reflect on a new year I know some of my greatest insights have come from moments of great change. I have come to trust that that it's not the difficult times that define us, but what we choose to do with them that matters. This week marks the one-year anniversary of my blog, Maison McCauley. I was a little nervous to begin writing last January, but after a life changing cross-country move the time seemed right.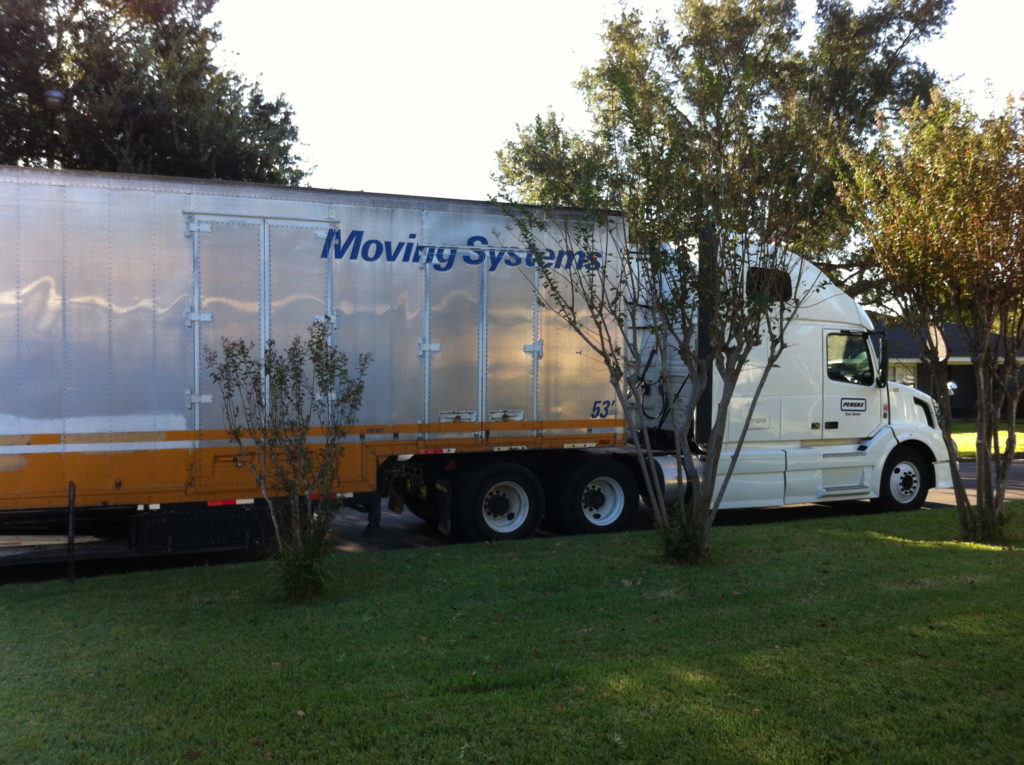 In an effort to find my footing and embrace change I decided to begin sharing some of my projects, recipes and thoughts. What began as a creative outlet and a way to share my life in Chicago with family and friends has become over this last year something more. I began writing last year as my new year's resolution. I promised myself that I would write two posts a week for a year to see where it would lead me. Somewhere along the way, I realized that writing this blog has become in some ways like a love letter to my girls. It has been a chance to write about life and share with them the importance of living creatively, being true to yourself and being courageous enough to share what you love with others.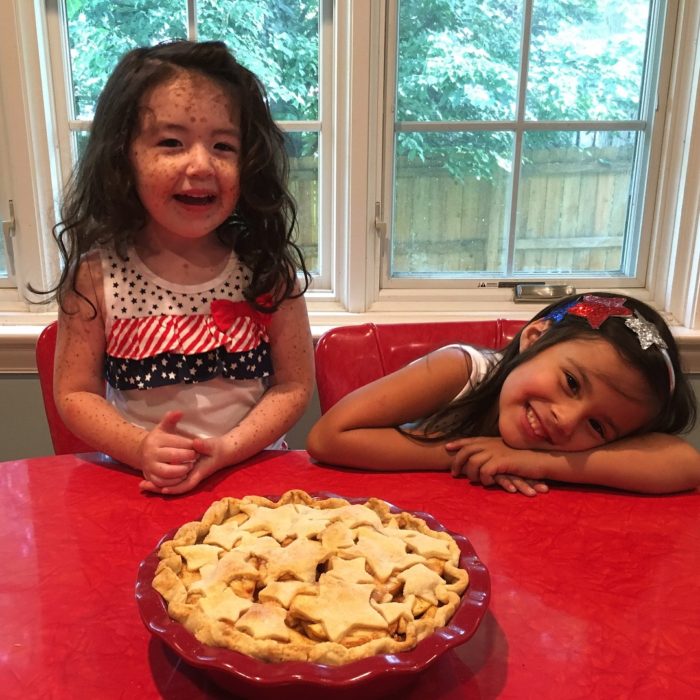 The truth is that although I am the one writing each week, my girls and my whole family have all been apart of this. Their encouragement and thoughts have shaped what you see and read. My daughters and husband are the ones I cook for, my taste testers, and my cheerleaders when they like something new. So today I thought I would share with you a few behind the scenes photographs of what it is really like to write a food and design blog.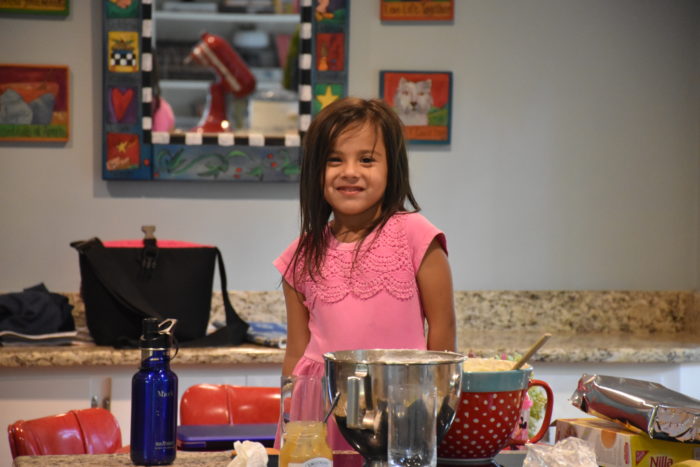 Writing a food blog means there is usually some kind of creative mess happening in my kitchen. This is my kitchen table when we were making the final version of Bourbon Banana Pudding. My computer is on the table, my camera case is out and the kitchen definitely needs a good cleaning.
Here we are trying to get some better lighting to photograph our dessert. My daughters are eating the left over Nilla wafers while trying to get in the photograph. No one said this job was easy.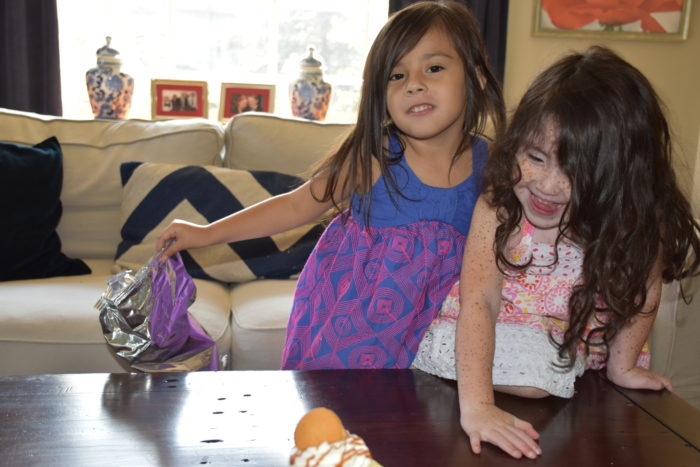 Daughters dressed as unicorns will get into your ribbon stash and make themselves a glamorous outfit while you are writing a post about about wreaths.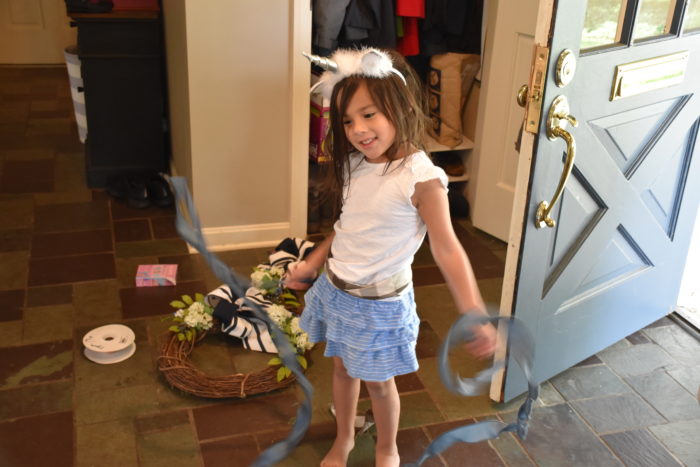 My youngest loved those painted pumpkins so she wanted to have her picture taken  next to them.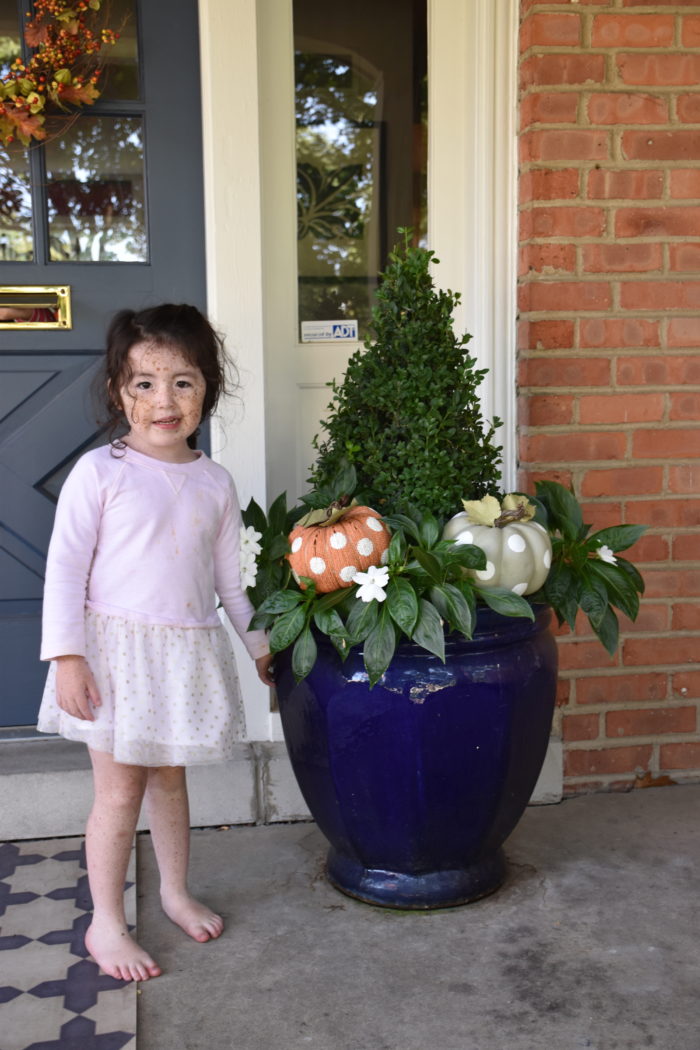 I take breaks when writing about window treatments and photograph my girls jumping on the furniture and having fun instead. These are the great moments behind every post and the best part of my very different life as a blogger.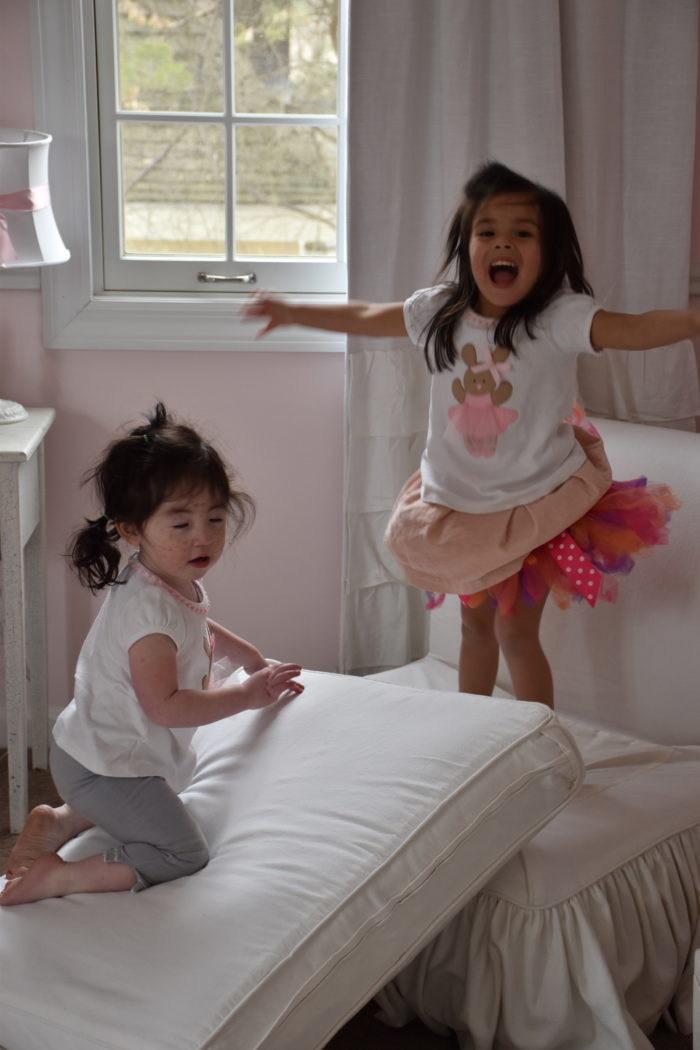 People often ask me what my family's favorite recipes are, so I you should know that the Chocolate Chip Cookie recipe is definitely my girls and I think my sister's favorite recipe this year. My oldest daughter LOVES to make these cookies!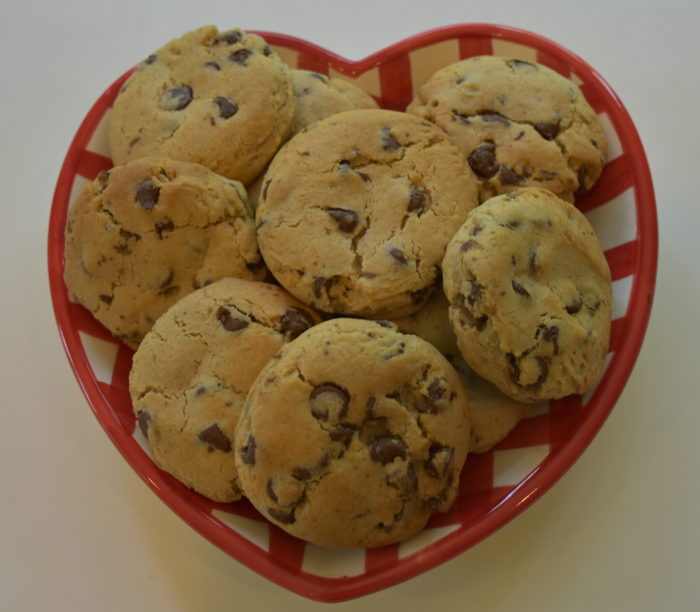 When I asked my husband what his favorite recipe was he was excited about a new chicken recipe that is still in the research and development phase (I will have to share that one sometime soon), but his favorite published recipe is the Salmon in Puff Pastry and then his next favorite is the Cedar Plank Salmon Tacos.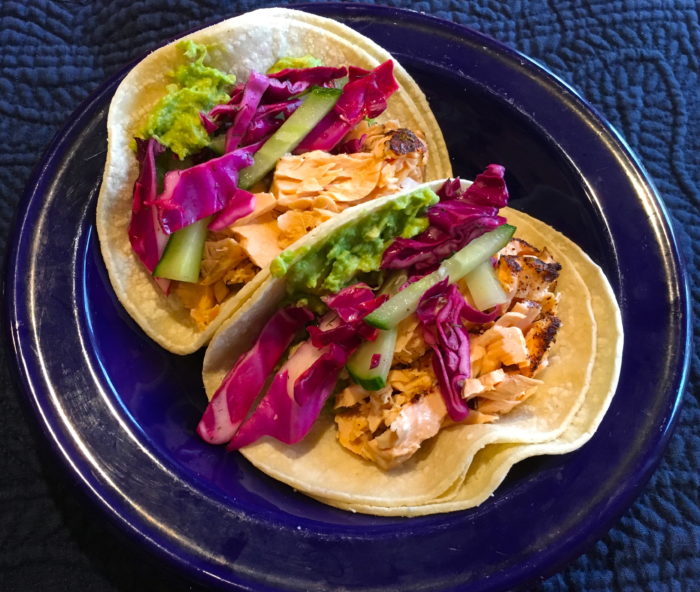 My personal favorite was the Halloween Chocolatines, because not only were they delicious, but that photograph helped land me on the front page of The Pioneer Woman's recipe blog, called Tasty Kitchen.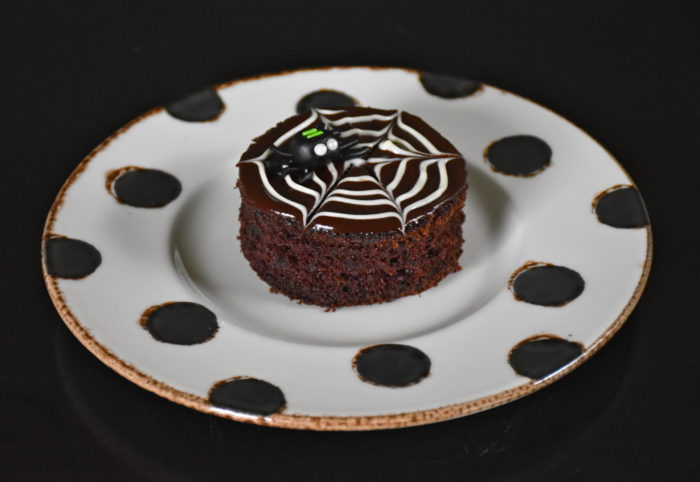 It also caused me to think differently about food photography. However my top refering post on Tasty Kitchen was my Peach Cobbler, so if you found me through Tasty Kitchen I am so glad you are here.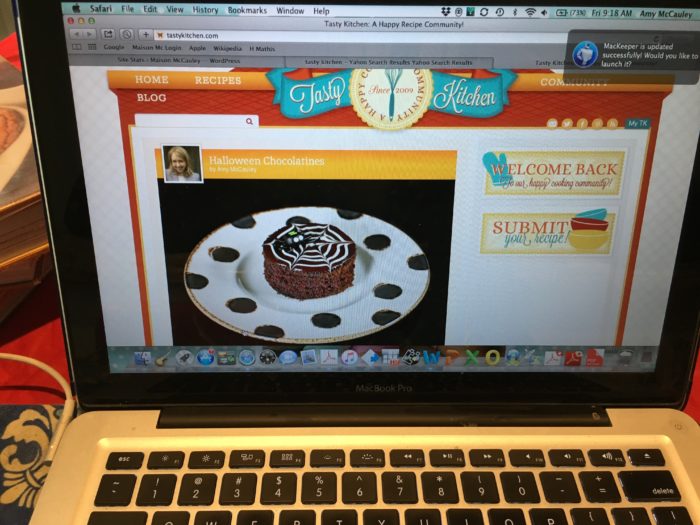 I have learned over the year that you all love posts about pillows, wreaths and blue and white home decor finds. I am working on sharing more great sources soon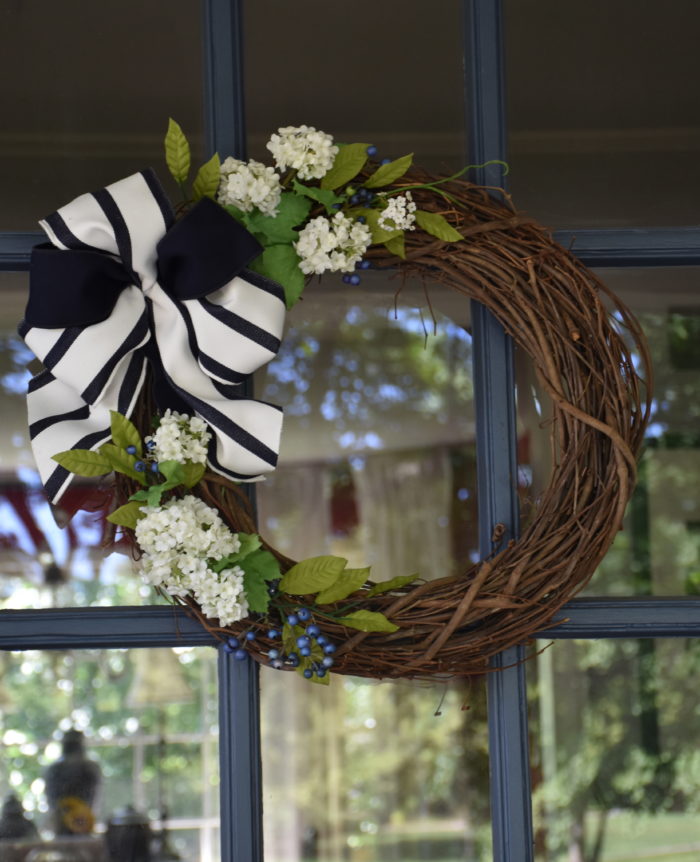 Finally, as I was working on this post in a strange turn of events I learned that my law school somehow published that I had died this year. Yikes, you leave a profession for two years and suddenly it seems possible that they believe you are truly gone. Thanks to everyone who looked into the matter and found me alive and blogging here. As much as I loved and was passionate about what I did before, oh what a gift it has been to step out and do what I really love each day. So my dearest readers thank you for reading and coming back each week. It's been quite a year. As I look back on over 100 posts, I am so glad that I took the leap to begin writing. In the coming year I hope to share more with you, to be a good friend to you in the kitchen and most importantly to inspire you to trust your own creativity and share what you love.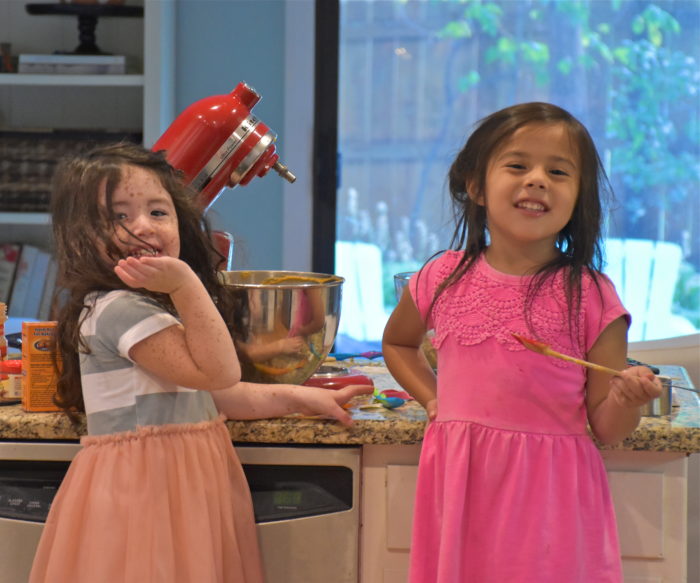 Last but not least a special love note to my girls who have been there to create every recipe. You are too little to know that not every mommy is in the kitchen this much, but I have absolutely loved sharing every minute of the fun with you.