This salad is the dish that always disappears when we serve it at a party. My sister's baby shower was no exception, this was the one dish that had absolutely no leftovers. My mom is the one who gets all the credit for thinking about including it as a brunch side dish years ago. It's delicious, healthy and it goes great with egg dishes or small sandwiches, which are typically on the menu at any brunch. The bite sized pieces also make it a great party dish since no knives are required. It's a hardy salad that can also serve as a main course for vegetarian guests. However, don't let that stop you from serving it at dinner too. I recently made it for a pizza dinner with a friend and I make it as a main course for dinner with some grilled chicken or with some pita bread and hummus. If you are trying to eat healthy in the new year then this is a great salad to try.
If you have never made your own salad dressing before let me assure you that it is easy to do and definitely worth the extra effort. In this dressing I used two types of vinegars and two oils, because I feel like it gives you a more balanced flavor. Olive oil can have a strong and sometimes overpowering flavor when used in salad dressing so I like add some canola oil as well. The sherry vinegar is also a wonderful addition because it adds some acidity with a faintly sweet aftertaste which makes it a nice balance with the more acidic red wine vinegar. The dressing can be made ahead of time and it will keep for up to two weeks when covered and stored in the fridge.
Chopped Greek Salad (Serves 4 to 6)
1 large cucumber quartered and sliced into bite sized pieces
1 (12oz) container of mixed cherry, grape and cocktail tomatoes (my package called them "Wild Wonders")
1/4 cup pitted Kalamata olives
1/4 cup thinly sliced bite sized red onion
4 oz of feta cheese cut into bite sized cubes
1 heart romaine lettuce chopped into bite sized pieces
Chop all of your vegetables and toss them in a large bowl with the dressing right before you plan to serve your salad. If you are entertaining with this dish and want to get a head start on the prep work then chop your veggies and cheese and store each separately in a small zip top bags so you can quickly assemble your salad before your guests arrive.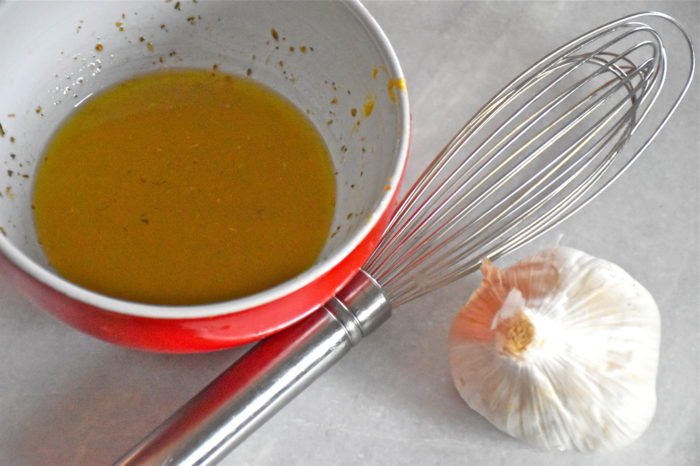 Greek Salad Dressing
1 tablespoon sherry vinegar
1 tablespoon red wine vinegar
1 teaspoon dijon mustard
1 clove of garlic minced
1 teaspoon of dried oregano
1/2 teaspoon of kosher salt
1/4 teaspoon pepper
1/4 cup extra virgin olive oil
1/2 cup canola oil
In a small bowl whisk together your vinegars, mustard, garlic, oregano, salt and pepper. Then slowly drizzle in your oil as you whisk and continue to whisk it until the oil is fully incorporated.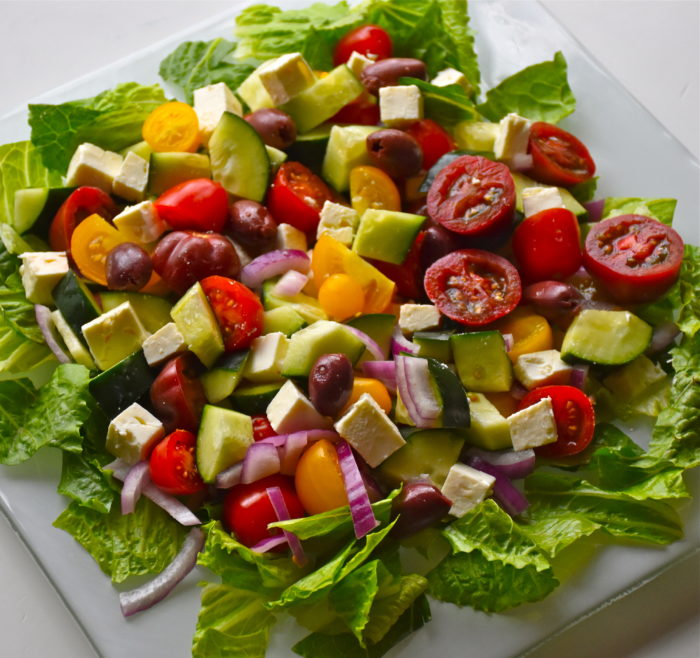 So if you are looking for a party dish or a salad to share with friends then try this Greek Chop Salad. It's tried and true delicious party food in our house. Finally, I will leave you with one more entertaining and food styling idea. If you are serving this salad at a party then think about serving it on a platter instead of a bowl. Salads with gorgeous vegetables look great when all the beautiful colors aren't hiding behind a bowl.