My sister in law, Ashley is a wedding and event planner at Keely Thorne Events. She has impeccable taste and a gorgeous home. Some of the events she has planned including this glamorous destination wedding featured on Vanessa Jaimes Floral Design have been highlighted online or published. 
Ashley recently hosted a lovely baby shower for my sister. Our family is excited because my sister and brother in law are expecting their first baby. As always, Ashley planned a beautiful event filled with so many pretty details that I thought I would share and few photos and entertaining ideas.
Here is the pretty entryway to her home and living room. I love how the console table makes a statement in their entry with the beautiful blue and white vignette. the small blue and white garden stool is the perfect place to set a drink at a party.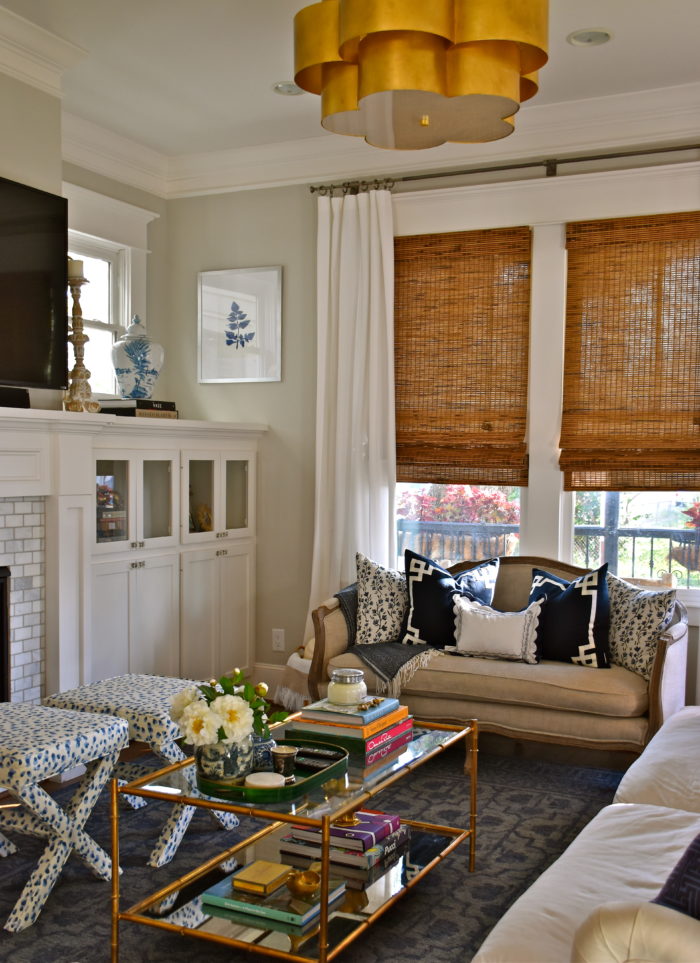 Think about adding in garden stools, small benches and chairs so you have extra places for guests to set their drinks and places to sit.
Here is another view of the living room which is right off the front. Here you can also see the fireplace which was featured at the top of this post. Ashley decorated it with a clothesline of sleepers, onesies and bibs.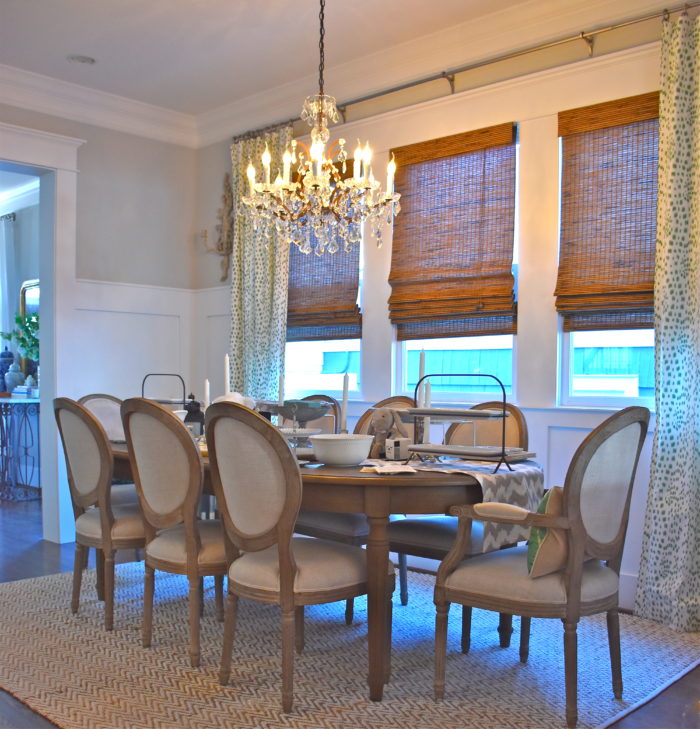 Ashley's home is a new construction that was designed to look like a traditional row home. I love how she has incorporated classic antique features like this crystal chandelier. She has has added so many antique touches and unique lighting fixtures to give her home a warm and old world look. This is the dining room as we were setting up the last minute food and details.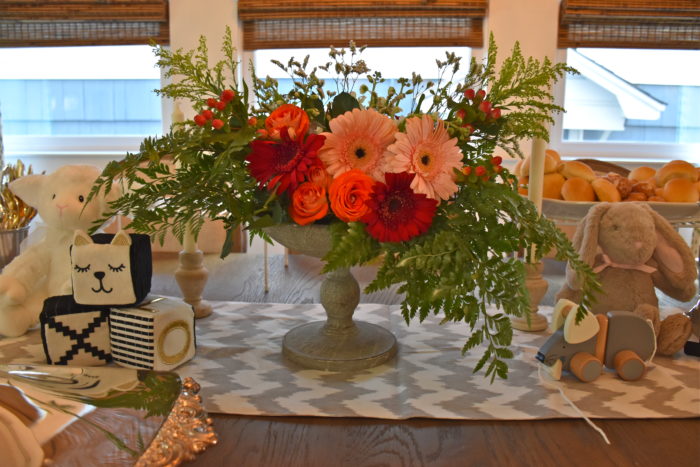 A pretty and well chosen container filled with floral oasis foam can make your blooms look like a gorgeous one of a kind arrangement.
Ashley arranged these pretty gerber daisies and roses. I love how she gave them a bit of height and had the greenery cascading down the sides of her footed bowl. The table also had some animal themed toys which helped give the table a baby shower feel.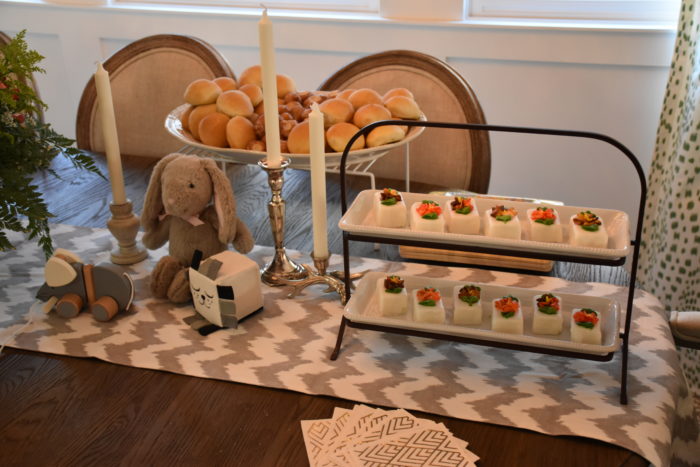 Use cake stands, glass blocks or pantry risers add height to your buffet table and give your event a catered look.
Ashley had stands ready to help raise the food up on the back of the table which is a great idea that gave the buffet table some height. The table was filled with some of my sister's favorites including delicious petit fours from a local Houston bakery called Moeller's.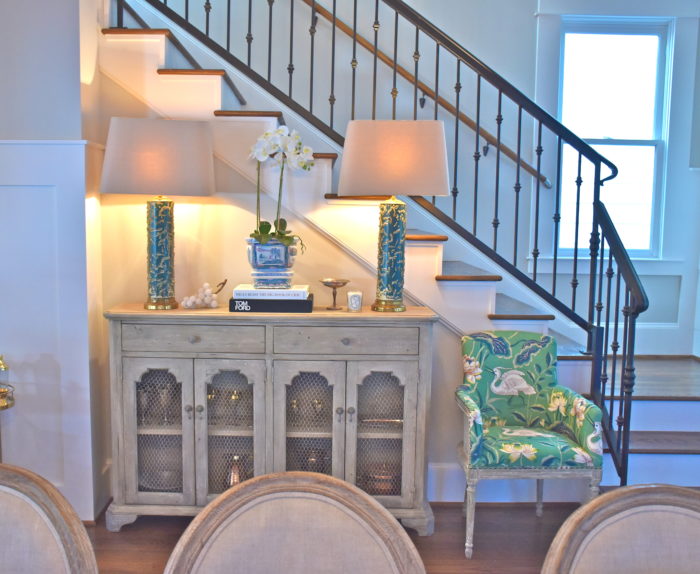 On the other side of the table in a little nook by the stairs is the buffet table and a show stopping accent chair in green.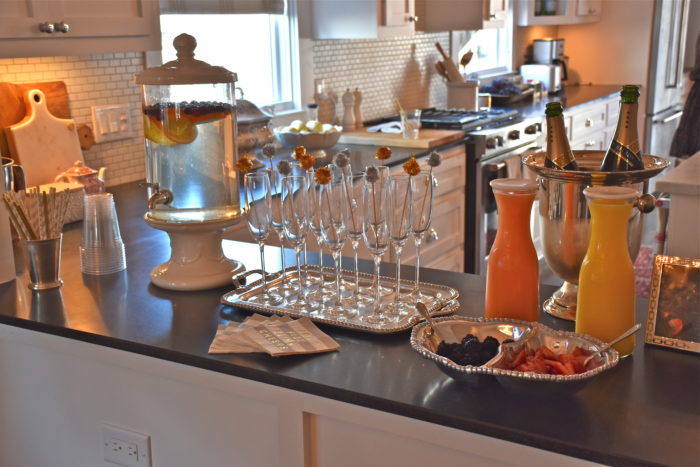 Use trays and some whimsical glass details to set an inviting beverage bar.
These little silver and gold pom poms add a festive touch to the champagne glasses. I love how she has them grouped on a silver tray. These glasses give this juice bar an elegant and festive touch.  A bowl of berries that can be mixed in your juice and some flavored water make a pretty and delicious brunch styled beverage bar.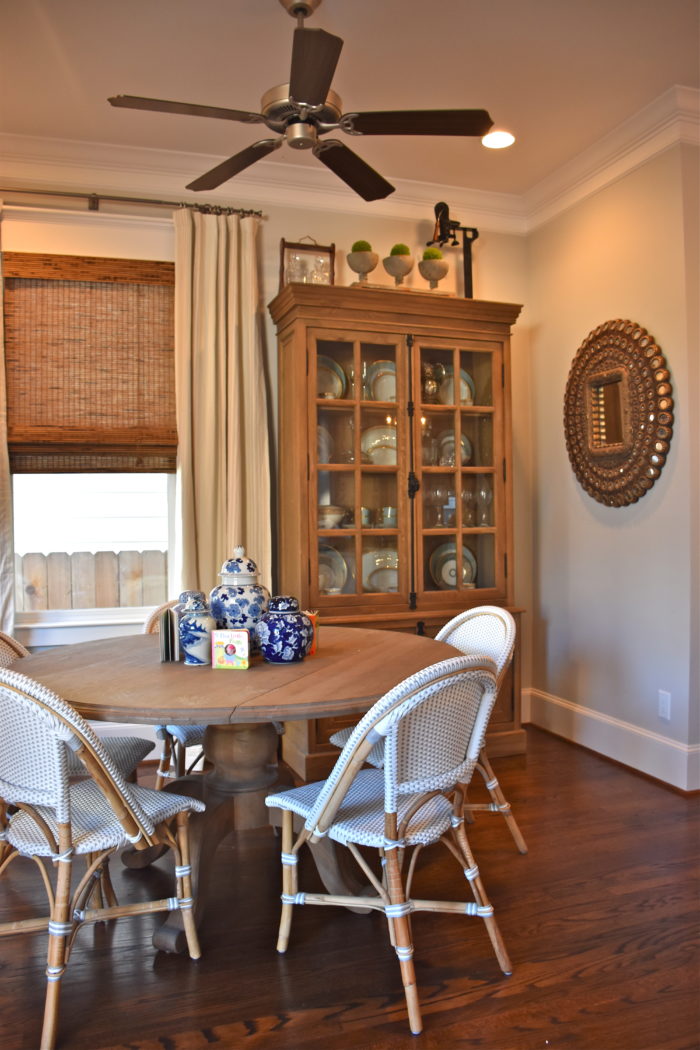 Use things that have a dual purpose for decorations. Gifts like colorful children's books, toys or cute baby clothes make great decorations. 
Even the breakfast table got baby shower touches with baby books mixed in with her collection of blue and white ginger jars.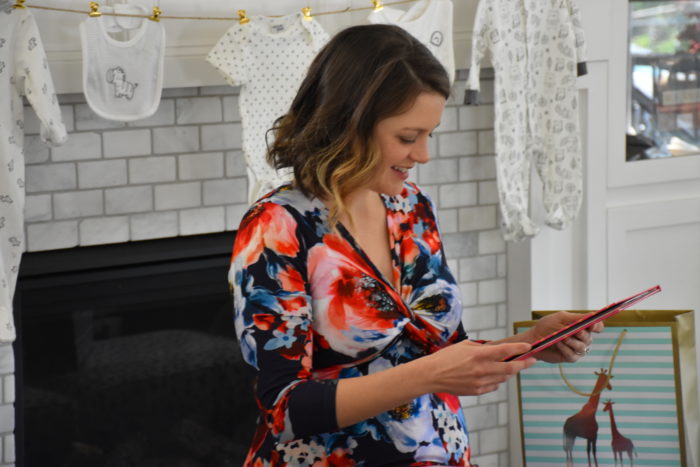 My sister had the great idea to ask everyone to bring a favorite book to build a library for her baby. She got so many thoughtful books that she is sure to have fun reading to her little one. Here she is reading one of the books she was given as a gift.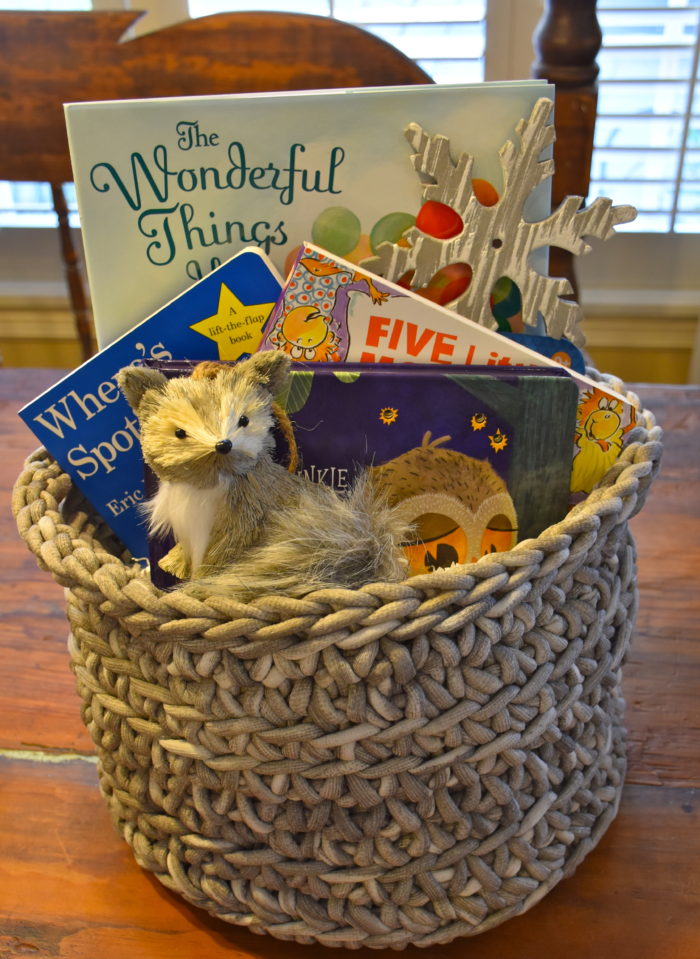 Use decorative baskets or bins that can double as storage for the nursery as a special wrapping or a container for your gift.
One of my favorite baby gifts to give is a themed book basket. I had fun creating a grey woodland themed basket with some of our favorite books that will match her nursery. I found a woven fabric basket from Pottery Barn Kids that would be good storage for books or all kinds of other nursery essentials and a cute little decorative fox. I filled my basket with shredded white paper and I wrapped my basket in a cellophane bag. I topped it off with a birch bark inspired ribbon and a gift tag made from a holiday ornament. So think beyond the gift bag when you are putting together your gift.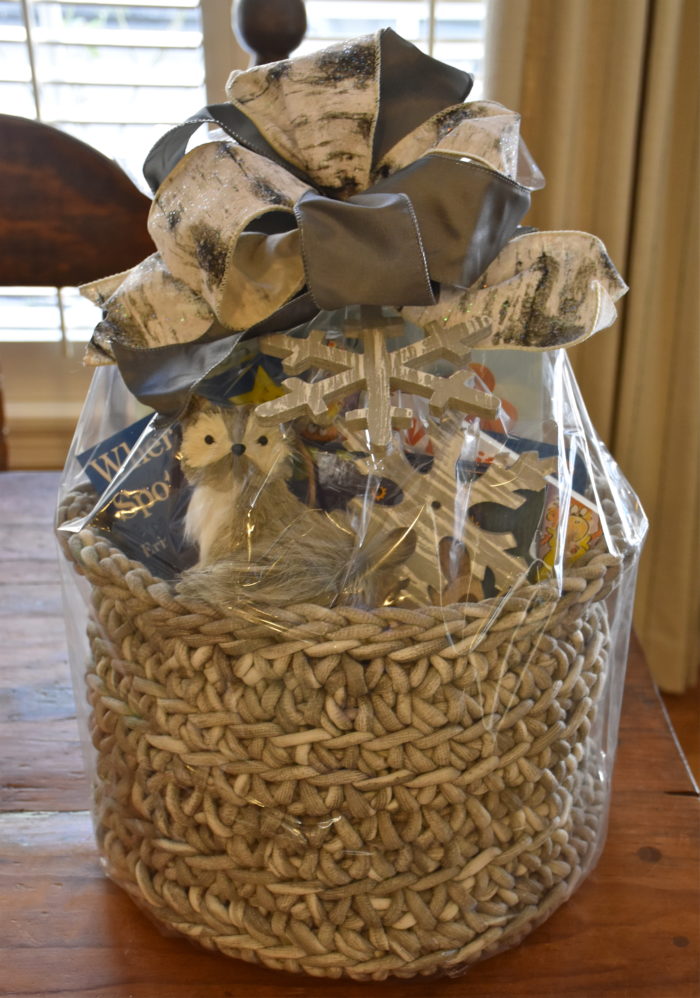 I hope you enjoyed this small peak into the baby shower fun and that you enjoyed seeing the gorgeous home of my brother and sister in law. Come back on Sunday because I am sharing a hit recipe that we love to serve at our parties.