Ok, the classic holiday song might not go exactly like that, but the holiday season is officially in full swing at our house. I started this holiday season trying to feel organized. I knew we were going to be out of town for Thanksgiving so I decided to tackle the outdoor lights before we left town and take out a few decorations. However, the last two weeks feel like they just whizzed by. This Friday I officially started worrying about all the Christmas and birthday shopping I had left to do. In our house I call the month of December "the season of giving" because my husband's birthday is two weeks before Christmas and my daughters birthday is right after Christmas, so I seriously had to get started. All I can say is thank goodness for online shopping and Amazon.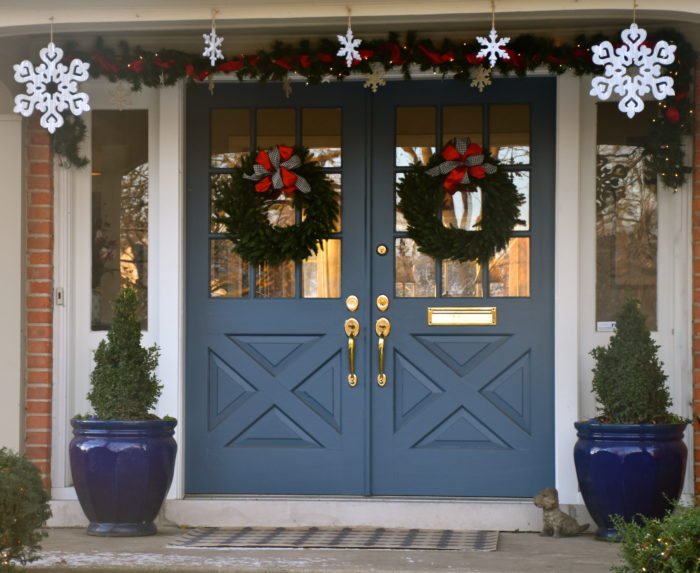 However, it snowed today and things slowed down a bit. So I am grateful to take a little time to take in all the lights and pretty decorations and spend some time with my family. My girls were excited to wake up to the snow. Even a small snowfall is cause for celebration in our house. So we got out all decked out in our puffy coats and spent some time outside throwing tiny snowballs and just having fun. So with our first snow this week, I must say it really is beginning to feel like Christmas.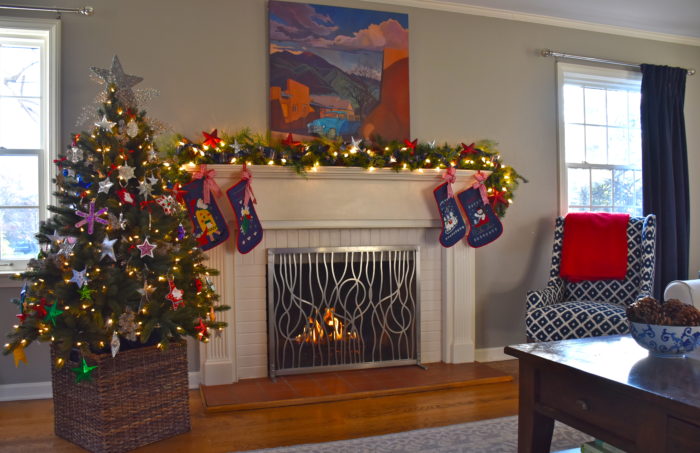 This year my girls helped me decorate our tree and I decided to remix some of our decorations up a bit. I love how our house feels at Christmas. There is just something about all those twinkling lights, ribbons and decorations. I love Christmas trees but I have to say that my favorite decoration around our house are the garlands. So this year I added some new touches of greenery and ornaments to give our house a festive feel.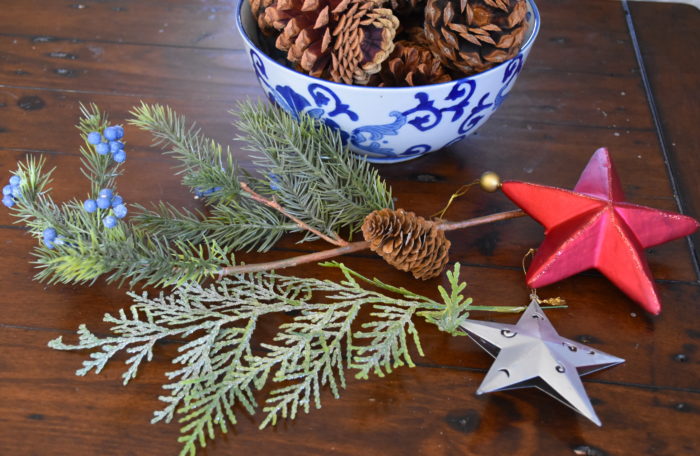 A few new branches with some blue juniper berries and some ornaments I had really went a long way to add something special to our mantle. The hand stitched stockings were inspired by my grandmother who was so talented at needlework. She started quite a tradition with her beautiful stockings, so when I had my own home I decided to make my own stockings. Mine are not quite as fancy as hers but they are always one of those things I so look forward to hanging each year.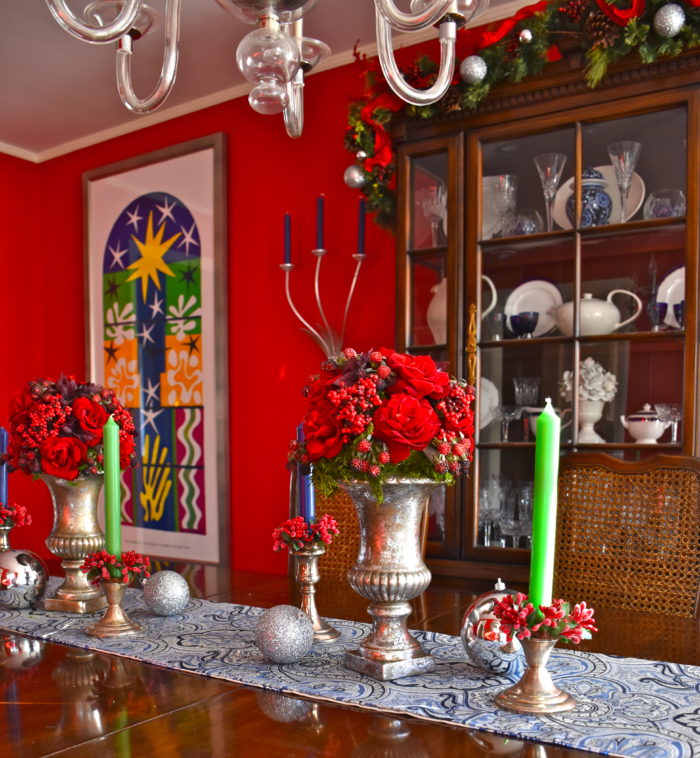 I found room for some garland in the dining room too. I just love having a red dining room at Christmas. All the sparkly silver touches make this room feel festive. This was a basic garland I got at target years ago that I used to use in my office, but here in our new home I added some small silver ornaments from Hobby Lobby and some glittery red leaves. When I am thinking about adding in some extra pieces to my garlands I always try to mix up the scale of the things I am adding.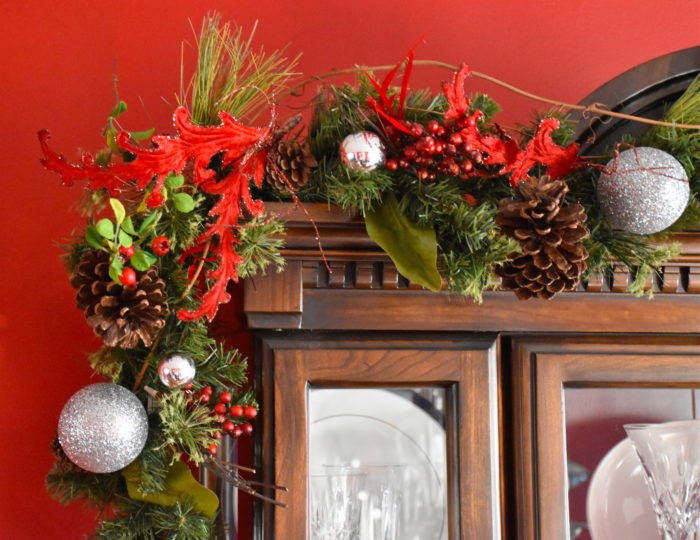 As you can see no room in the house is complete without a garland. Even the kitchen got its own unique blue christmas garland with touches of robin's egg ribbon and black and white stars.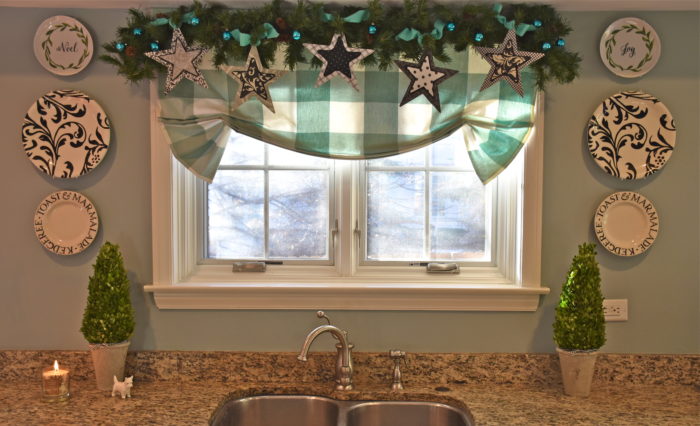 The black and white paper stars were something I made several years ago for a larger Christmas tree that we had in the past. I think one of the reasons  I like garlands so much is that you can use them to feature a small collection of ornaments. I happen to have a thing for stars, but you could use any collection of ornaments that you love.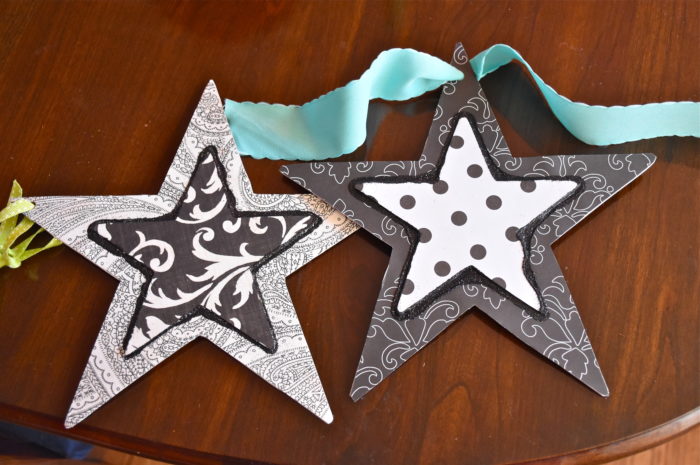 I made these stars out of some cardboard cut outs I found at party city. I bought a set of large and small stars and then I covered them in black and white scrapbook paper and I trimmed the edges with black glitter. I punched a single hole in the top so I could hang them with ribbon. Those stars were a fun project so I was glad to be able to use them in my kitchen.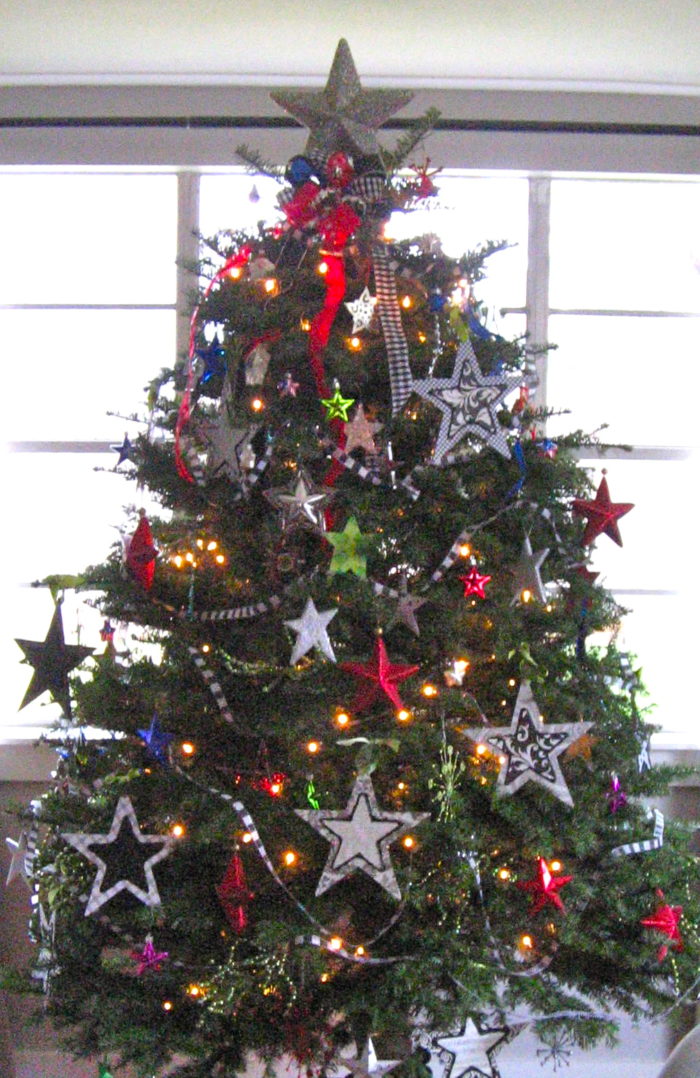 Just for fun I found a picture of one of my trees from Christmas past where I used my stars. If you look closely you can also see the red stars I used on my mantle too. It's fun to be able take the older decorations you love and mix them up to deck the halls with some beautiful garlands.