I like letting my home evolve and change to fit the season. One of the things that I like to use most to give my rooms a new seasonal look are flowers. There is just something about the sculptural element that a bunch of branches or group of apples or pumpkins can create. The picture above is my living room all dressed up for fall. I have a simple blue and white vase on my mantle and I routinely change out the arrangement to fit each season. The yellow aspen leaves are realistic silk branches that will last all season. I found them at Pottery Barn last year. Then on my coffee table I made a small fresh arrangement using some leaves, berries and hydrangeas from my garden. Then I purchased a few sunflowers to add in something special. I made several of these arrangements in inexpensive mason jars and I placed a couple in my dining room as well.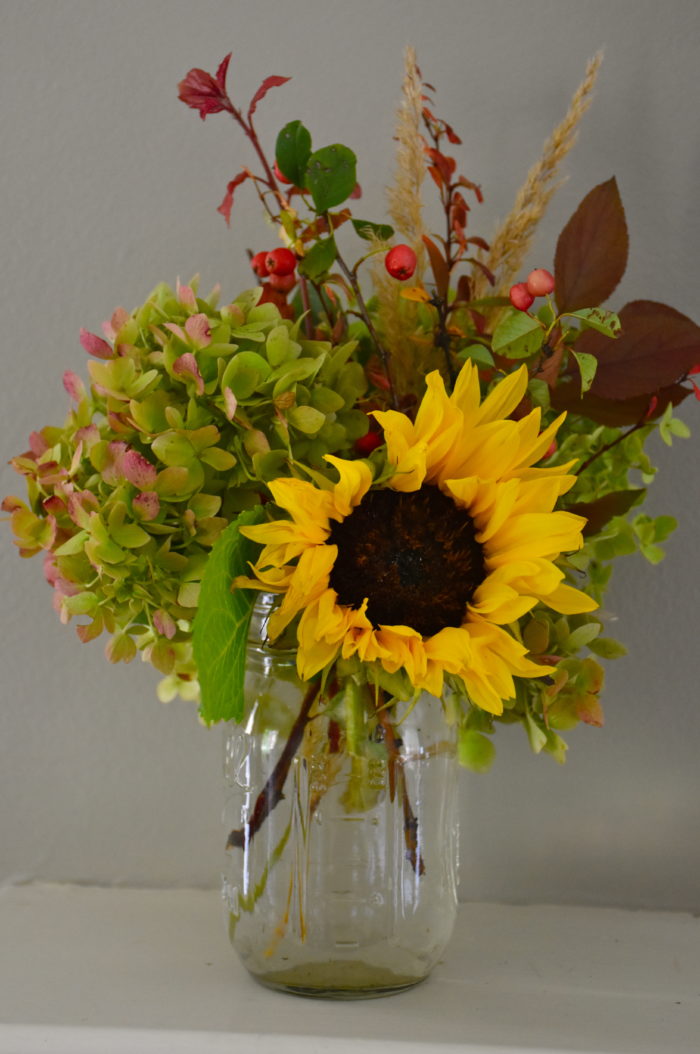 When I am looking for flowers to make arrangements I usually stay away from the grocery store premixed bouquets. Instead I tend to head to the section where they sell individual flower types by the bunch. It allows me to customize my look and pick blooms that fit my vases. Here is a closer view of the arrangement so you can see the base of the arrangement is made of two hydrangeas blooms and a sunflower. Then to add a bit of height in the center I put some grasses and berries in the center.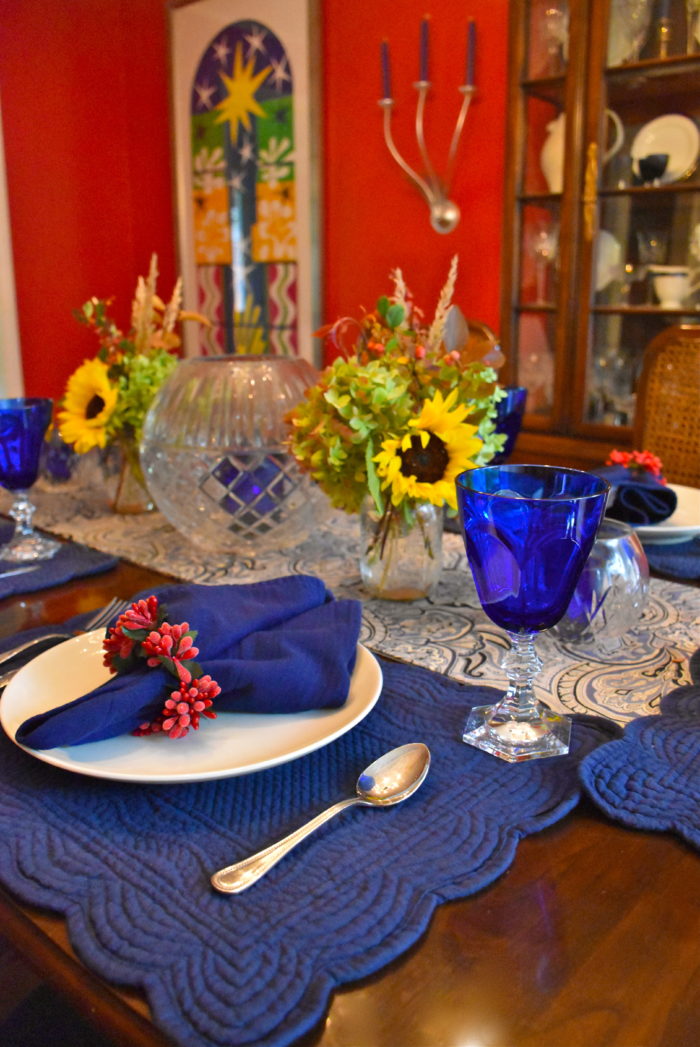 Here is a look at those same arrangements on my dining room table set up for a dinner with friends. I decided to repeat the idea of the red berries with my napkin rings. I usually use these a Christmas time, but sometimes details like that just work. This just shows that you can use what you have and pull together a pretty seasonal look for your table.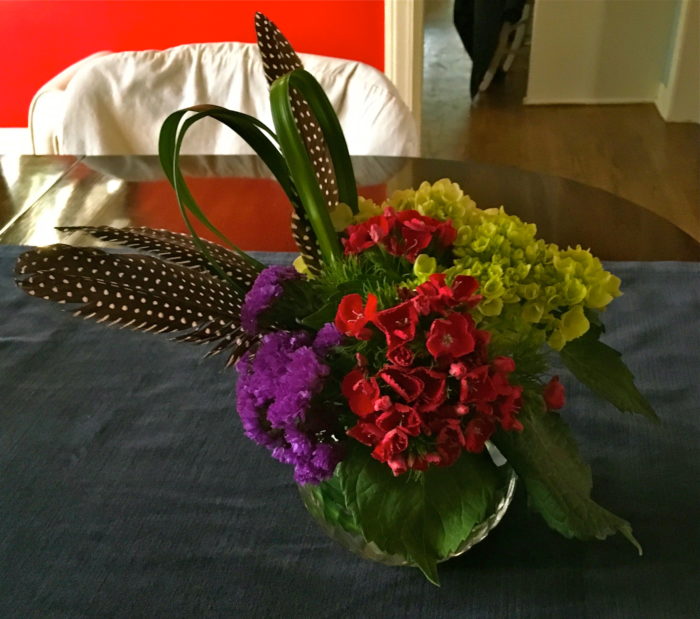 If you want something a bit more formal then here is an arrangement I made for my dining room last fall. I took a small rose bowl and added three different flowers, green hydrangea, red dianthus and purple statice, in a tight grouping. I added some texture and visual interest by taking three bear grass leaves and tying them into large loops. Then for a fun Thanksgiving touch I put some turkey feathers in the side of the arrangement. I made two of these and had them on either side of my table with candles in between. I made my arrangement in colors that worked with my red dining room, but you could make something similar in colors that fit your linens or room. Another combination I love is blue and green hydrangeas with a cluster of orange roses. I tend to make smaller arrangements for my dining table so my guests can see each other.
Here is a last minute arrangement I created for a dinner with a friend. I used the last of my hydrangeas and flowers from my garden. I decided it mights be fun to add a pumpkin to each place setting. These little pumpkins are easy finishing touch. If you had a larger party you could easily turn them into a place card holders by using a knife to cut a small slit to hold your card in place on top. I have also used green apples or pears and then I cut some double sided paper leaves on the fold so I could write my guests names on them and them glue them to the stem of my fruit.
As Thanksgiving approaches, adding a few fall floral details can make your home feel festive in no time. All of my arrangements were made using inexpensive grocery store blooms and things you can find in your produce section of your store. So whether you are looking for ideas to setting your Thanksgiving table or for a pretty arrangement you could give as a hostess gift. Then think about one of these simple fall arrangements. Want a tutorial for another pretty pumpkin centerpiece? Then check out the step by step project my friend Shayla put together at Design Finch.