Sometimes it's nice to have a dinner you can prep in advance and then have it waiting for you. That's what I love about making this crock pot potato soup. It's delicious and filling on a cold day and its easy to assemble after work or a fun afternoon with family and friends. This recipe evolved from an old recipe from Gourmet Magazine. I loved the idea of homemade potato soup, but I didn't love how long it took to make and my family wasn't quite as crazy about the seasonings they used. So I decided to work on my own version that I could make in the crock pot and I tailored the flavors to fit my family's tastes. This soup could even become an easy vegetarian dish if you used vegetable stock and just left out the bacon. This is the perfect meal to make when you have guests in town or a busy day with little time to cook. The flavors are so good that I have even shared it at a dinner with friends. It's definitely a crowd pleaser. I love to serve it with cheddar chive scones or with some crusty french bread.
Crock Pot Potato Soup (Serves 6)
4 tablespoons butter
3 medium potatoes diced (approximately 6 cups)
2 carrots diced
1 medium onion chopped
2 stalks celery diced
2 cups chicken broth or vegetable stock
2 cups water
1/2 cup cream
1 teaspoon salt
1/4 teaspoon pepper
5 slices of bacon cooked and crumbled (optional)
1 cup shredded cheddar cheese
3 green onions sliced on the diagonal
6 tablespoons sour cream
First chop all of your vegetables and have them ready to go. Then melt four tablespoons of butter over medium heat in a deep skillet. Next add in your potatoes and season them with salt and pepper. Cook your potatoes over medium heat until the potatoes just begin to pick up a bit of golden brown color.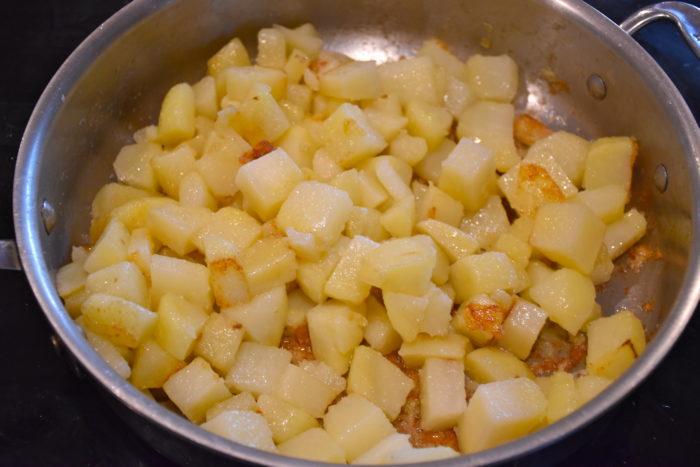 Then get your crock pot ready. Put your potatoes in the crock pot and then add in your onion, celery and carrots. Next pour in your water and chicken broth. You want to make sure that the water covers all of your vegetables. Then place the lid on your crock pot  and turn it on low. Let your soup cook for at least five hours. I have tested it and it can be left to cook for up to eight hours if needed.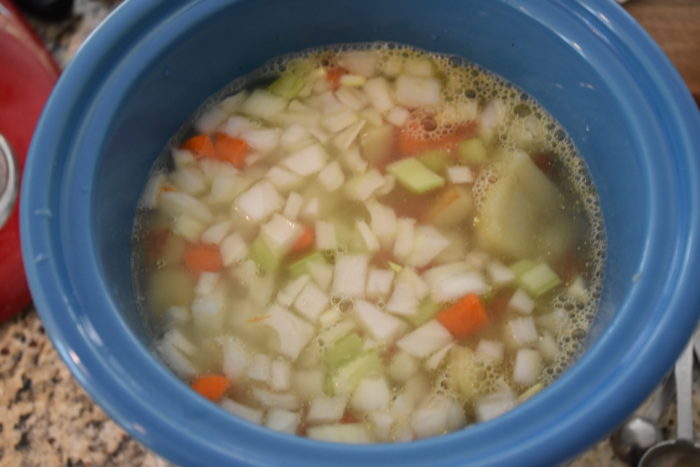 Then when you are ready to serve your soup take half of the liquid and vegetables out of the crock pot and blend them into a smooth puree using an immersion blender, a food processor or a blender. One key tip when you are blending hot liquids, is to make sure they have some air while you are blending them. If you are using a food processor remove the plastic shoot or if using a blender remover the center of the lid and cover it part way with a dish towel. Otherwise you could have a hot and dangerous mess.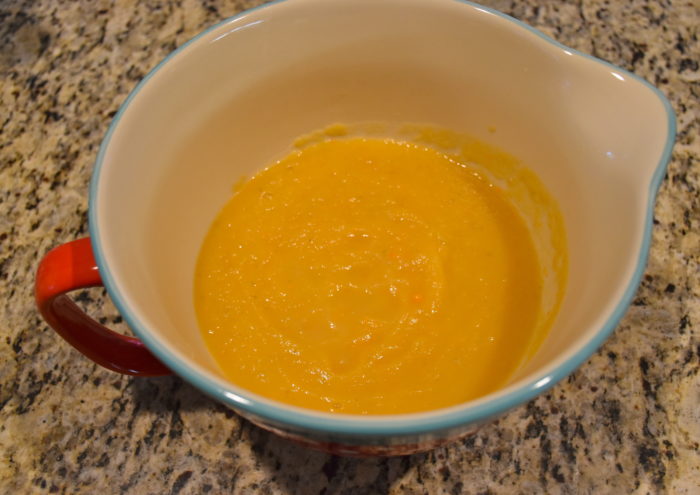 Then take the pureed soup and add it back in the crock pot and stir it in with the remaining vegetables. Then stir in your cream and season to taste with salt and pepper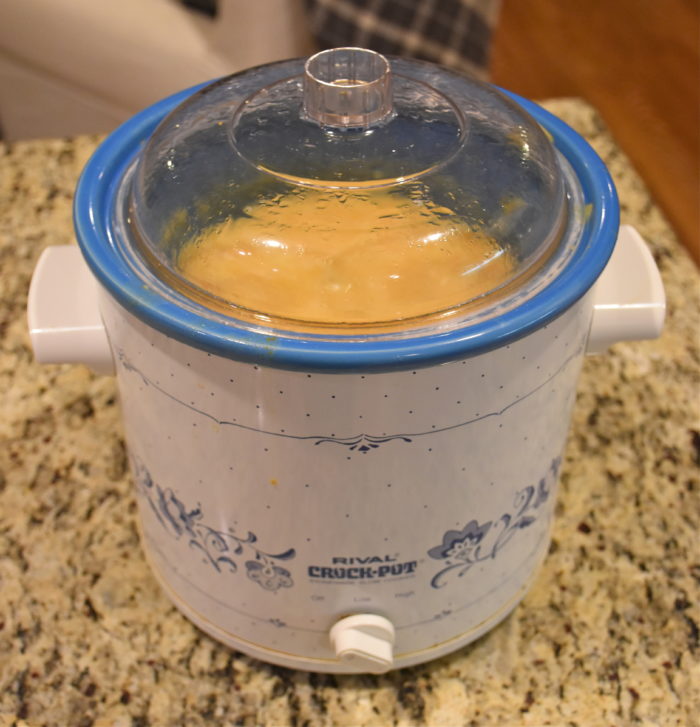 Then I like to top my soup with shredded cheddar cheese, a dollop of sour cream, some bacon and green onions. There you have it a delicious comforting meal you can make ahead in the crock pot.