Autumn has a new meaning now that I live up North. I must admit that when I lived in the South I couldn't wait to pull out my fall leaves and start decorating for the season. Maybe it was wishful thinking or the joy that comes in the South when the temperature cools down a bit and you actually want to get outside. However, now that I live in Chicago I find myself wishing I could put Summer on pause for a bit longer. Somehow in my mind, admitting it's Fall means acknowledging that winter is coming. Winter in Chicago is pretty, but it always comes so suddenly and it has a way of lasting. However, with the weather turning cooler this week and the first leaves beginning to change, I decided I had to quit living in denial and start enjoying fall. I got with it and ordered new snow boots for my girls and I decided to do a bit of Autumn decorating with a new set of wreaths for my doors.
I love all of the of the pretty leaves and berries in the fall. I especially like bittersweet branches. I am convinced these beautiful berries must have been named by a Northerner who wanted winter to stay at bay a little longer. Fall wreaths are pretty but they can get pricey so I decided to make a custom wreath of my own. I found some faux bittersweet berries on a recent trip to the Morton Arboretum gift shop, so I picked up four branches (two for each wreath) and I let then set the tone for my wreath. I had trouble finding bittersweet branches at my local craft stores, but I found a source online that has similar branches at Afloral.com. I went to my local Michael's and I found some grapevine wreathes with rustic branches that stuck out a bit. I like the more natural look when using fall branches and leaves.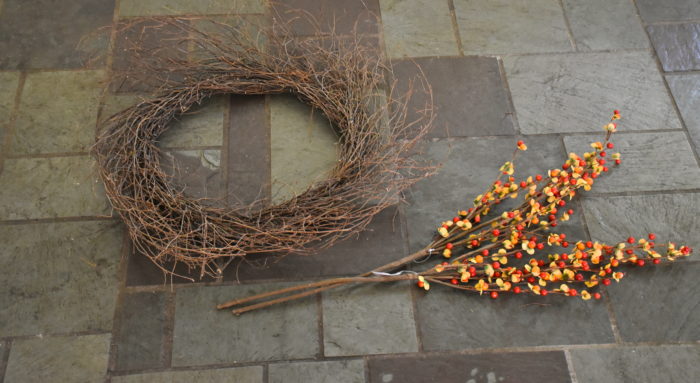 The first thing I did was take each branch and separate it into three smaller branch sections that I could tuck into my grapevine following the circular pattern of the branches.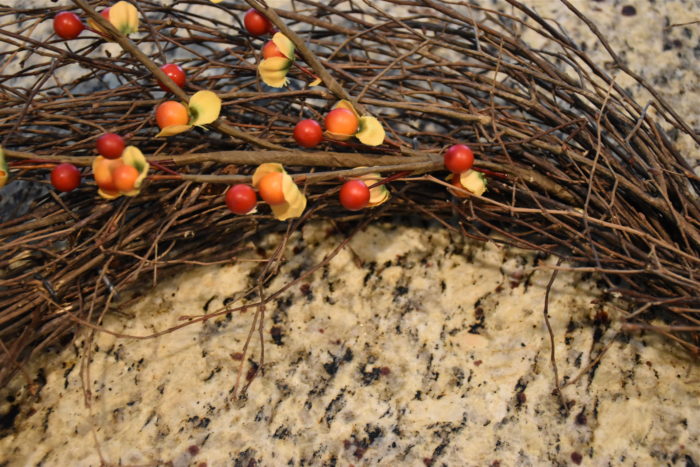 Here you can see how I wedged the wired end into the branches. I did't use any glue, because as long as you get it in the center of the wreath base the branches will stay.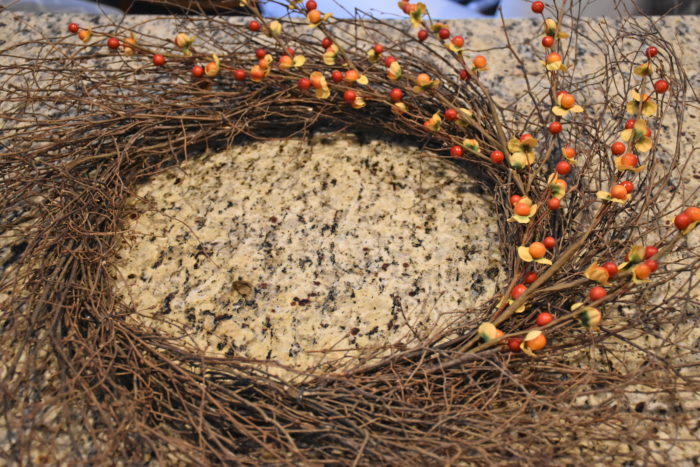 I continued adding all six of my branches sections spaced evenly around the wreath.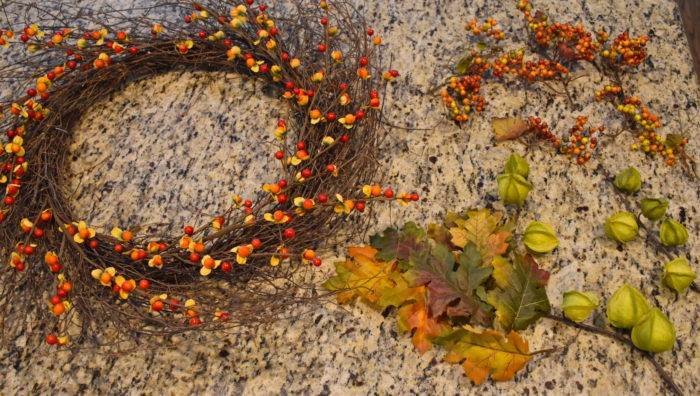 Once I had the bittersweet branches in place I took some other silk leaves and flowers and cut them into smaller branches. I found the leaves at Hobby Lobby a couple of years ago and the green Chinese Lattern branches are from a Houston garden store called Cornelius, but I have seen similar silk lanterns at other craft stores and sometimes you can find dried Chinese lantern branches as well.
I like to start by adding my largest pieces first, so I tucked in my Chinese lanterns.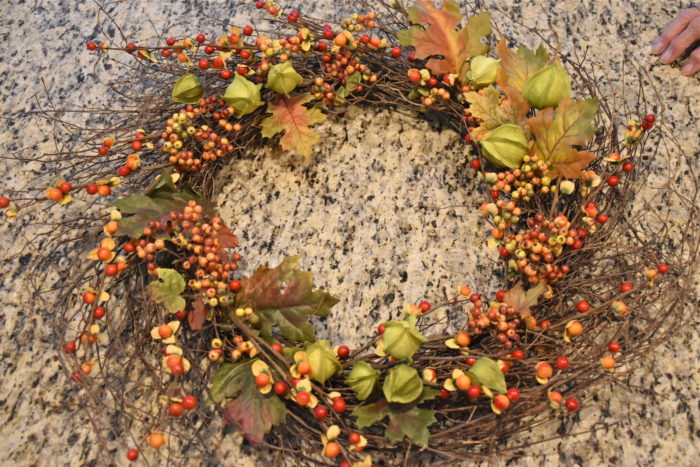 Then I added in some fall berries and my leaves. If your leaf has a short end and won't stay use some copper or brown floral wire and wrap it around the base of the leaf to make a longer end. Then you can then twist the longer wire end around a branch to keep your leaf in place.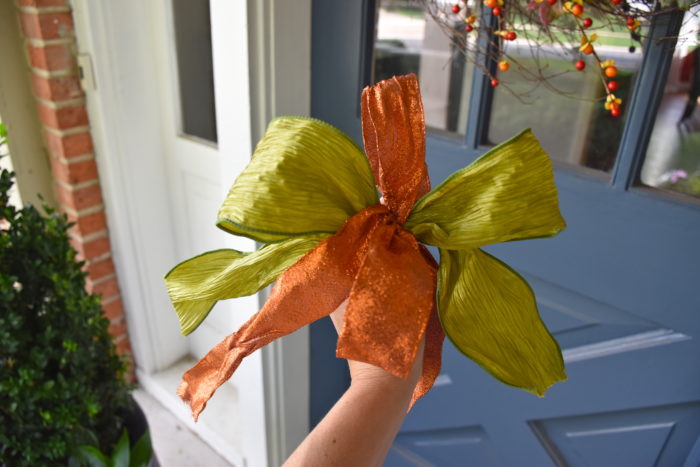 Next, I decided I wanted a small bow that picked up on the colors in the wreath. I used two wired ribbons I had in copper and green. I find that wired ribbons work best on wreaths because the bows hold their shape better. Each ribbon piece was about one yard long. I made two loops of each ribbon and I left long ends on each side so I could weave them on the side a bit.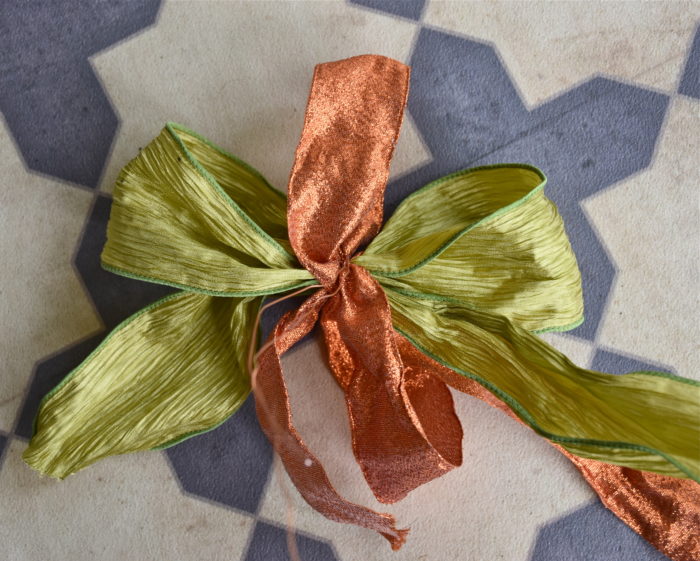 Here is the back side of the bow so you can see the center is held together with some twisted copper wire. Make sure that when you cut your wire to secure your bow cut a longer piece. You can use the long ends of your wire and wrap them through your branches and your bow will stay in place. You can always trim off any extra wire later. Once I hung my wreaths I found a few small pine cones in my yard that I decided would add a nice finishing touch. To add the pine cones I wrapped wire around then and I attached them to my wreath. So hopefully this will inspire you celebrate fall and bring its glorious colors to your door.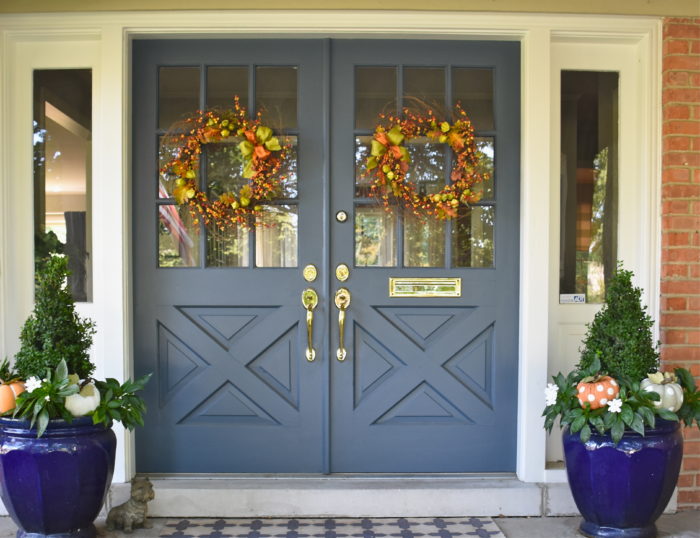 Make sure you stop by the blog next Thursday because I am getting into the season and hosting a Fall inspired giveaway.