Summer to me means barbecue. Texas is known for its barbecue beef so I grew up loving brisket. Making a good smoked brisket takes more equipment and time than I have. Even the oven version keeps you stuck in the house for hours, so using the crockpot is perfect. You can let the brisket cook low and slow without having to worry about it. This recipe makes great chopped beef sandwiches, brisket tacos or my favorite brisket baked potatoes. In creating this recipe I used my homemade spice rub. I coat the brisket in the spices and then sear the brisket on the stove top to seal in the flavor before putting it in the crockpot. This keeps the meat flavorful and tender. This recipe would be great if you are hanging out with friends and family because it takes just a short bit of time to get it prepped. Leaving you free enjoy your day with friends and family.
BBQ Spice Rub
This spice mix is something I also use when making burgers. Just add a couple of tablespoons and mix it into your ground beef when you are making your patties.
2 Tablespoons brown sugar
1 Teaspoon kosher salt
1 Teaspoon of garlic powder
1 Teaspoon cumin
1/2 Teaspoon pepper
1 Teaspoon chili powder
Mix the brown sugar and spices in a small bowl.
Brisket
Serves 4 if making a 2 pound brisket
1  (2 lb) brisket (this is the size that fits in my smaller crockpot but you could easily use a larger brisket if you have a larger crockpot)
1 large sweet yellow onion sliced into long strips (about 2 cups)
2 tablespoons canola oil
2 (12 oz) bottles of beer (I like to use Shiner Bock or Samuel Adams)
1 bottle of your favorite BBQ sauce (I tend to use a Kansas style sweet sauce like KC Masterpiece or Rufus Teague) and then I buy an extra bottle of sauce to top the brisket when I serve it
2 Tablespoons worcestershire sauce
First take your brisket and pat it dry with a paper towel. Dry meat sears better. Then coat all sides of the brisket in the spice rub. Press the rub on the surface of the meat to help it adhere well. Then in a large skillet heat 2 tablespoons of oil on medium high heat. When the oil is hot add the brisket and sear it until each side gets golden brown about 2 to 3 minutes a side.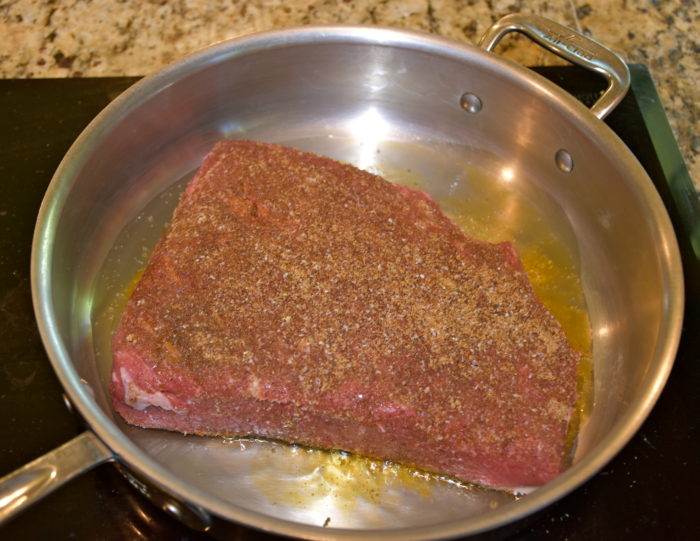 Then pour the 2 bottles of beer, 1 bottle of the BBQ sauce and the worcestershire sauce in the crock pot and mix them together. Next add in your brisket making sure it is fully covered by the liquid. Then finally add in your onions. Place your crock pot in a safe area. Put the lid on it and turn it on to the low setting. Let it cook on low for eight hours.
Chicago stores carry some different BBQ sauce brands then Texas, but so far my favorite sauce that I can find at our local Jewel Osco grocery store is this Rufus Teague Made Some Sauce. It's thick and sweet with just a little spice.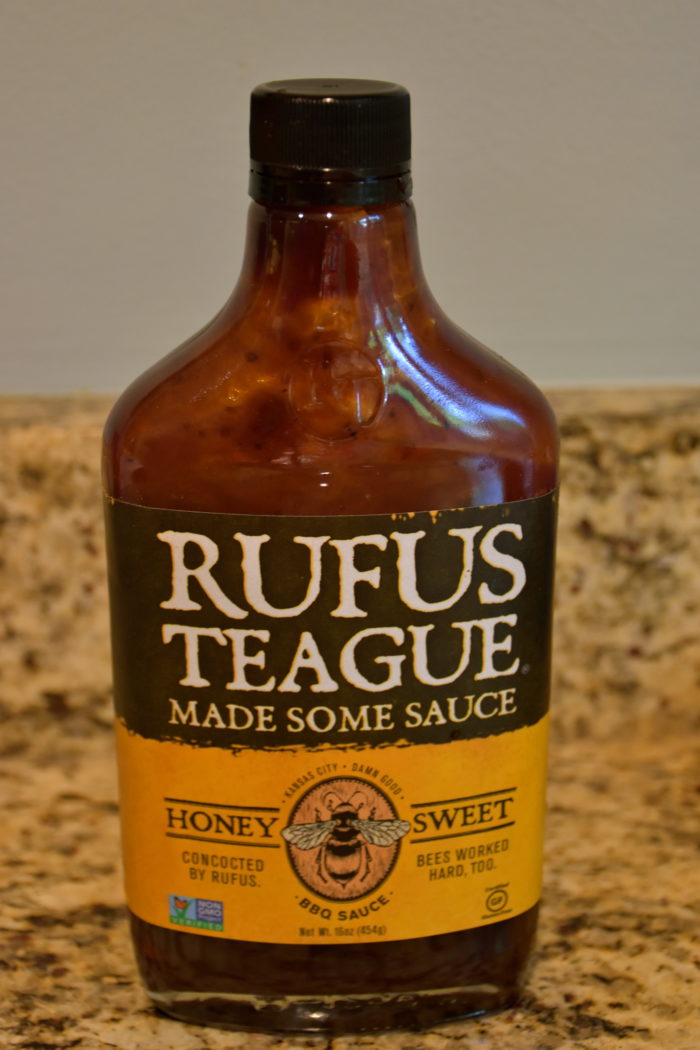 When your brisket is done you can slice it, chop it or shred it depending on how you plan to eat it. Then coat it with your favorite BBQ sauce to serve.
I made baked potatoes with our brisket. Just bake your potatoes and top them with a little salt and pepper, cheddar cheese, sour cream, shredded brisket and chives or add your own favorite toppings. These potatoes and so delicious and filling that one is a meal.