I wrote a piece about my living room so I thought I would follow that with a post about one of my favorite classic design elements: bold accent chairs. It's a fundamental that can be personalized and adapted to fit any style.
Accent chairs usually play a supporting role in a living room, but some of my favorite designers have created amazing rooms with a very memorable side chair. They offer a great way to add a little color and pattern in a room. A couch covered in a bright fabric or bold pattern might be too much to commit to or less flexible long term. However, a chair could add just the right touch, and its smaller scale means it takes less fabric to make a statement.
Accent chairs come in a variety of sizes and styles from wingback chairs, slipper chairs, club chairs, and side chairs.  If you look at many major furniture companies like Pottery Barn, Crate and Barrel, or Restoration Hardware, just to name a few, you will notice that they often don't offer a lot of fabric options for these chairs beyond neutral solids or leather.  Accent chairs often complement the rugs, draperies and throw pillows which tend to get all the exciting patterns and attention. An accent chair may take up less real estate in a room, but that doesn't mean it can't steal the show. A great accent chair can give your room a truly unique and designer look.
One way to strike the right balance in a room is to use a bold fabric on a traditional chair.   A classic wing chair can look great cover it in a graphic pattern. One of my favorite designers Tobi Fairley decorated her living room in a green and white color scheme. The traditional design elements become exciting because of the green trellis fabric she chose for her chairs. The room just wouldn't be the same without them. See this link below to Fairley's blog where she shows off her room design.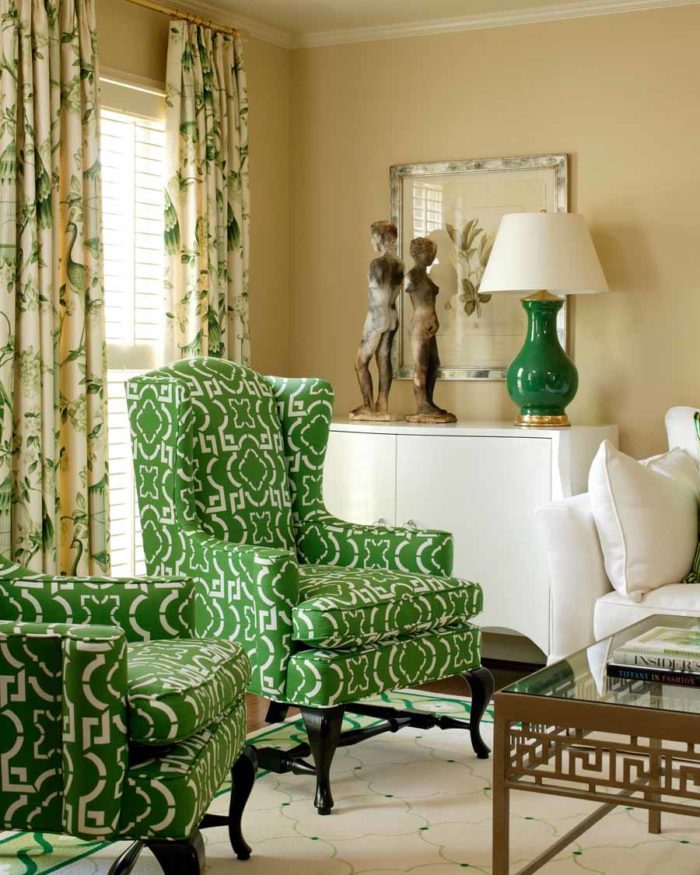 Another great example is from Designer Tommy Smythe's living room were he has a set of scene stealing wing chairs. Covered in a classic Brunschwig et Fils fabric called "Les Touches." Apartment Therapy featured a tour of his home including these great chairs.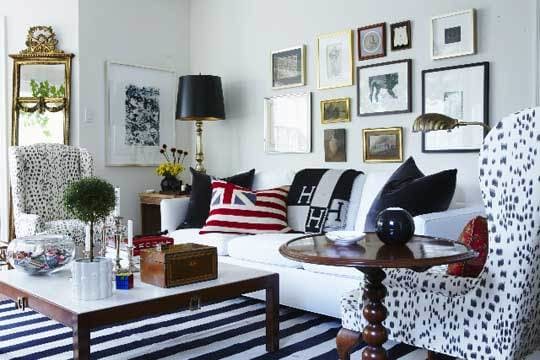 If graphic patterns are not your style or if you have a bold pattern somewhere else, you could use a bright colored chair to create interest. Designer Barclay Butera designed a gorgeous California living room which is featured on the Home Bunch blog. In this room Butera uses a bold blue and white pattern on his drapes and pillows so to add interest without making the room feel too busy he adds this brilliant orange side chair. I love how the busier patterns in the drapes and pillows are balanced and complemented by the tangerine colored chair. See the link below to take a tour of the whole room.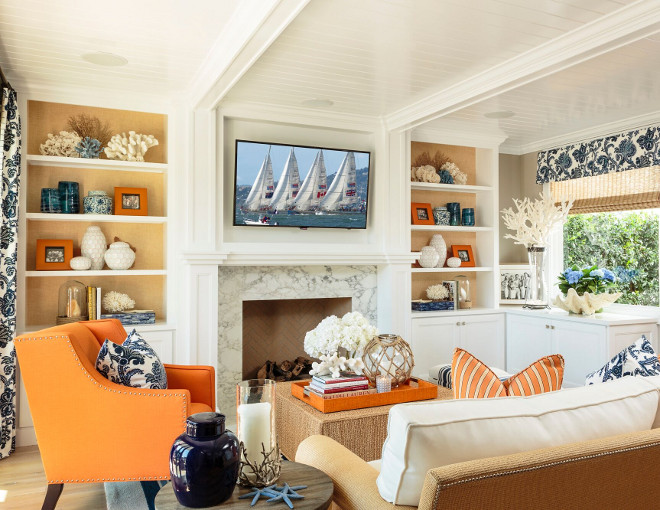 A talented master of the accent chair is designer Suellen Gregory. If you look at her gorgeous portfolio and blog  you will see time and time again she uses side chairs to add a punch of color or pattern to a room.  Gregory has a traditional decorating style, but often use uses accent chairs to make a statement and add a little whimsy. Veranda Magazine featured a home where she used a pop of pink to give a classic and formal chair a more modern feel. Click on the link below to see the article.
When decorating my own home I really like the look of using a a bold graphic pattern, but I didn't want to pay for yards and yards of fabric to make custom draperies and I wanted a bigger statement then just using the pattern on an accent pillow.  So when I was reworking my living room I recovered an armchair that had belonged to my grandmother in a navy ikat fabric from Kasmir.  I have a simple navy and gray color scheme in my living room so this accent chair adds a little pattern and interest. It gave the room a more custom look.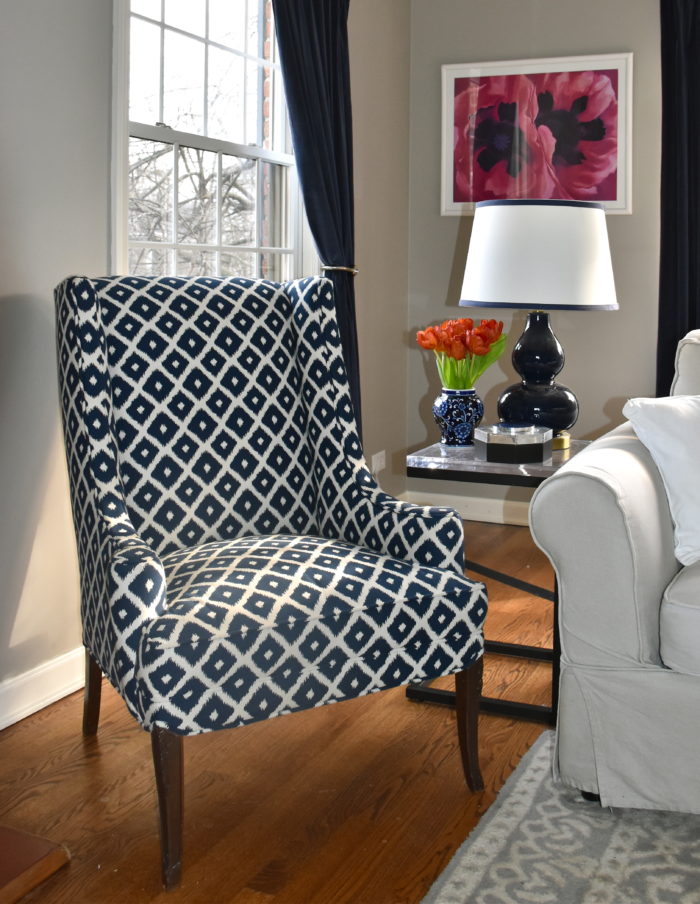 If you love this look too, you can incorporate it in your home by reupholstering an existing chair or I have also found some great chairs at estate sales. Buying a vintage chair can help keep the total cost of reupholstering down.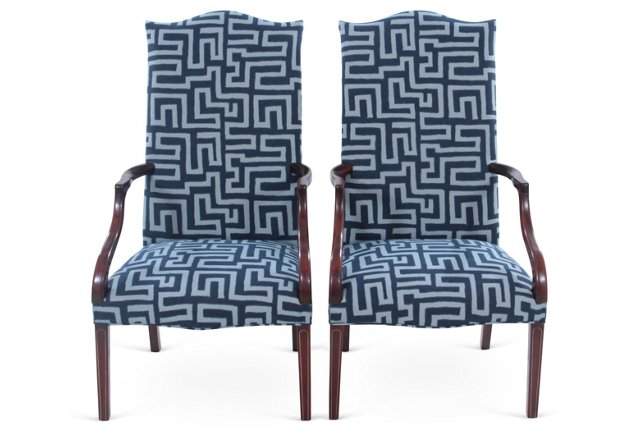 However, if getting a chair recovered is more than you want to take on there are lots of great choices online. Companies like Ballard Designs have lots of fabric options and will let you send in your own fabric. They will even cover a chair in more than one fabric or add custom trim.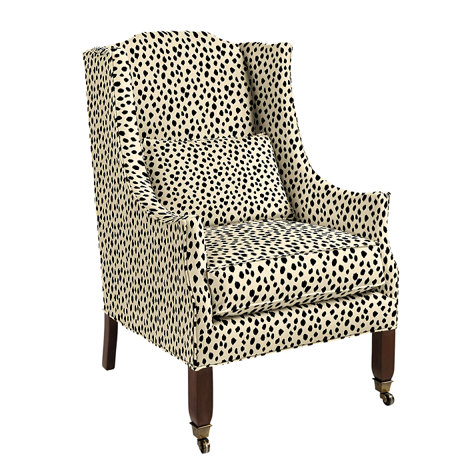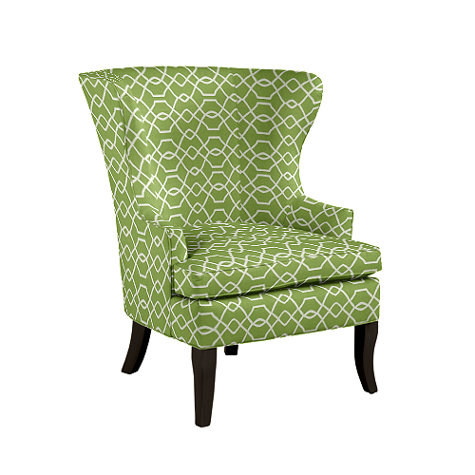 I even found a chair like Barclay Butera's armchair at Cost Plus World Market who is now offering more upholstery options.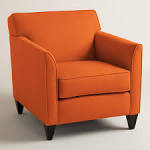 Want a classic piece like Suellen Gregory's pink chair? Another option is a store like Wisteria which sells classic French reproductions with lots of upholstery options.
So add a custom look or a little bit of fun with a chair. Do you have a favorite chair or a wonderful place to find one? I'd love to hear.