Everyone loves a good makeover especially when you can relate to the before. Its what made TLC's show What Not to Wear so much fun to watch. Show hosts Stacey London and Clinton Kelly would meet with fashion-impaired individuals who had been outed and nominated for a makeover by there family and friends. The show would always start out with a view of the person's crazy wardrobe, and then the co-hosts would try to give suggestions on how to shop for clothes to accentuate the participants best features. It was always amazing to watch the after and see how a fashion update could make a big difference in how the person looked and felt.
So today on this edition of What Not to Wear Home, I am outing my kitchen cabinets as the worst dressed cabinets. I wrote about some of the updates I made to my kitchen, but since this detail took lots of shopping and research I thought it deserved its own post. The truth is my cabinets are not supermodels. They are ordinary models from the 1960s who are beginning to showing their age. As I shared before, a major kitchen facelift was out, so it was clear they needed a makeover. They say that cabinet hardware is like jewelry for your kitchen, so I decided that my cabinets needed a new statement piece.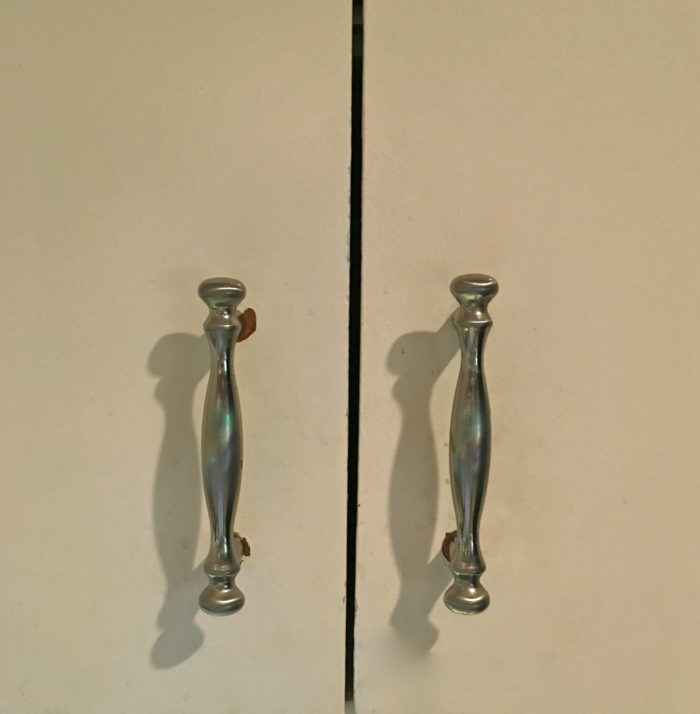 The existing cabinet pulls could use an update and there were chips in the paint around the base of many of the pulls. I knew I wanted to go with a classic cabinet hardware. I think its important to match the character of your house and ours has a traditional American feel.  I decided that since our kitchen has silver colored hinges and stainless steel appliances, we needed to go with a nickel finish; but to give it an updated feel I went with a bright nickel finish. I also wanted to find handles with a wider base which gave the hardware a greater architectural presence with the added benefit of covering all of those paint chips.  It is getting harder to find lots of selections available at a brick and mortar stores, so I ordered sample pulls online and began trying out my options.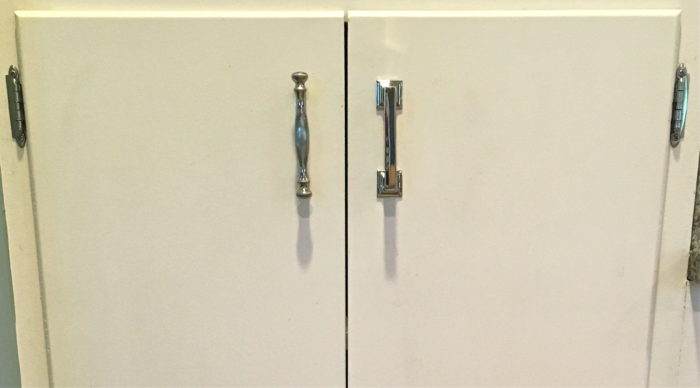 The clear winner for cabinet pulls were Hickory Hardware's Studio Collection. They come in a wide variety of lengths. The handles have a a good feel and they are made of solid metal. They look like other more expensive models, but they are actually reasonably priced. I have 31 cabinet doors and 11 drawers so price can make a big difference. I found the handles for six dollars at Home Depot which I thought was a surprisingly great deal.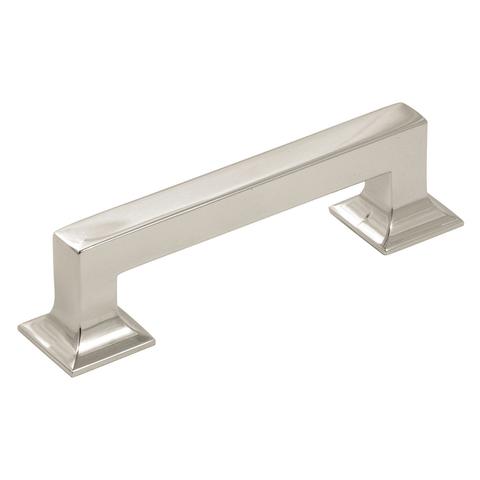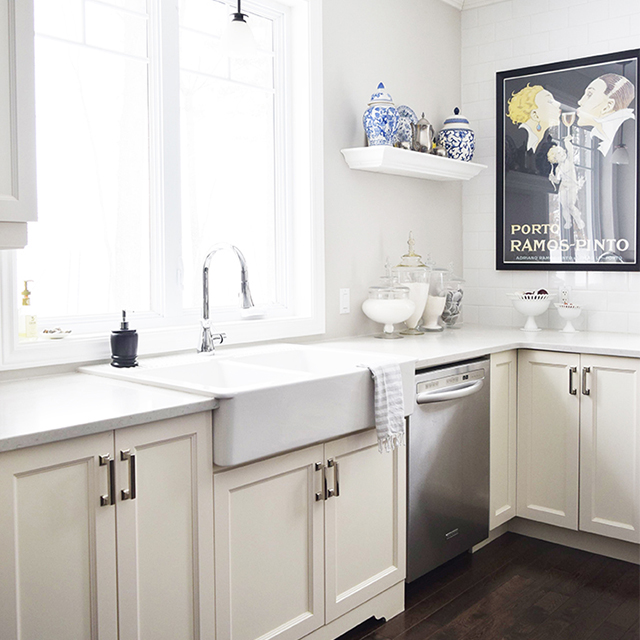 Next I went looking for drawer pulls. I wanted to have a mix of hardware to create a little more interest. When I tested the coordinating  Hickory Hardware cup pulls I realized that the holes for the drawer pulls were not exactly level. I think this is why the previous owner had gone with thinner handles.  Unfortunately, the boxy art deco pull accentuated the problem.
I needed something that could dress my drawers up without calling attention to the unleveled drawer holes. The answer was a rounded cup pull, because the absence of a straight line draws your attention away from the issue. I tried a few Amerock cup pulls and although I liked their look and feel, the nickel finish was not a good match with the Hickory Hardware handles. Then I looked at Restoration Hardware's pulls because they are one of the only stores that has a cup pull in a bright nickel finish.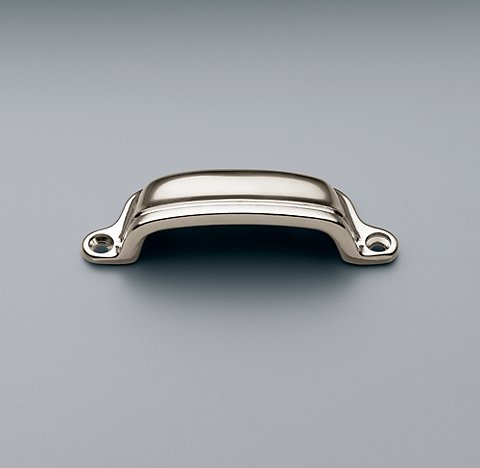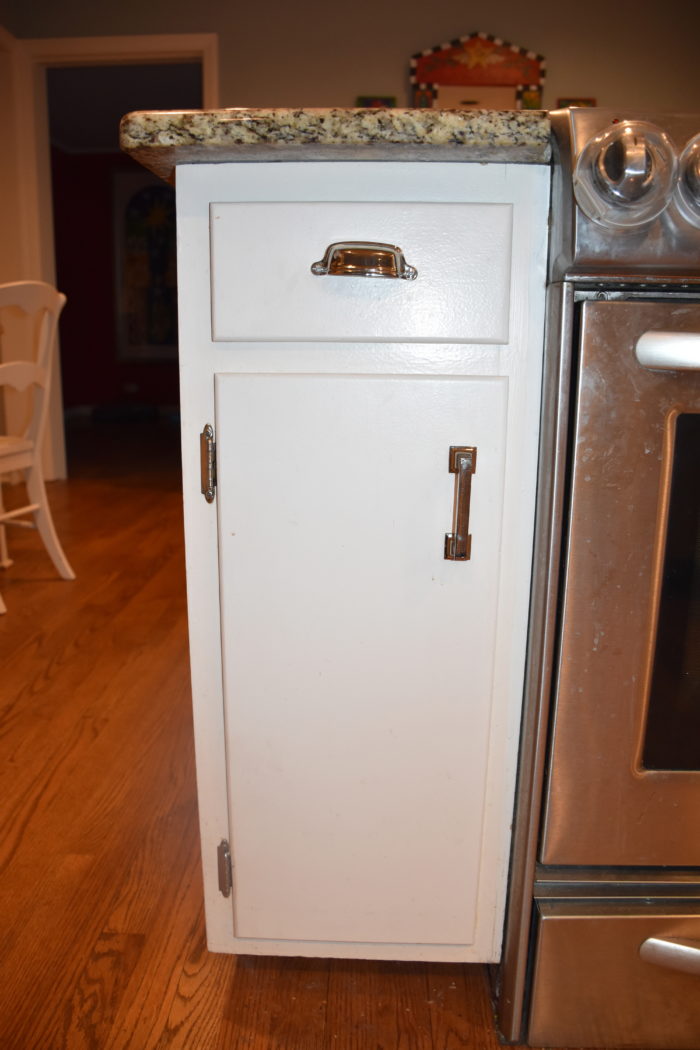 I liked the finish of the Restoration Hardware pulls. The only thing you should know is that if you are using these pulls on cabinets with existing holes, then you are going to need some additional bolts and nuts to fit the depth of your drawer front. The pulls came with short wood screws that did not work on my older drawers. It was an easy fix but its helpful to know the issue up front.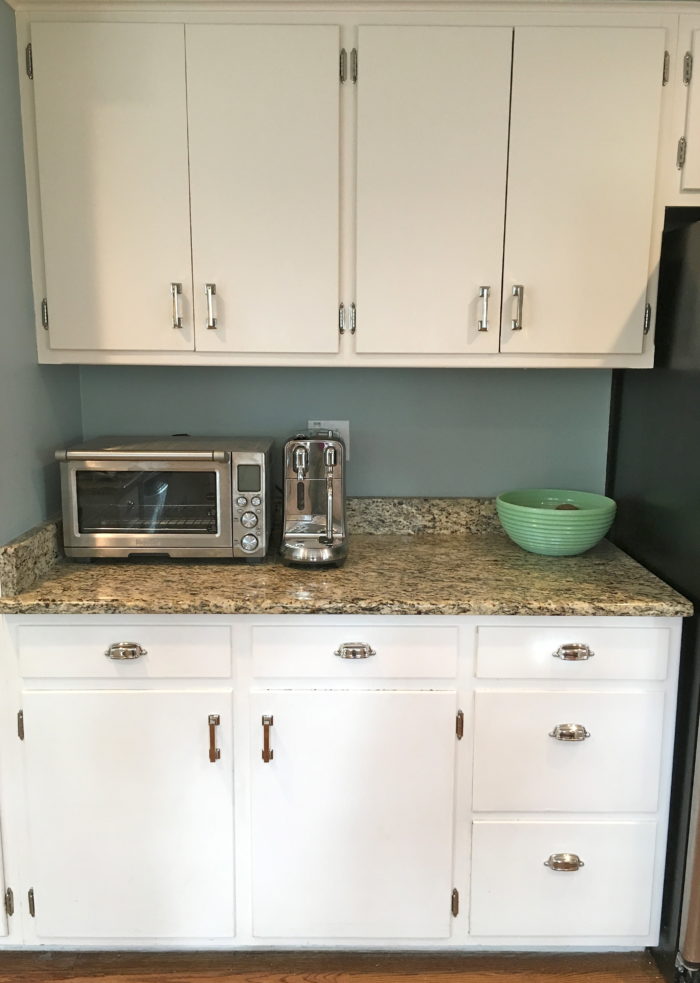 The "final reveal" is a classic and smartly dressed set of cabinetry. The mix of hardware styles keeps the eye interested and moving, and the bright nickel finish gives these older cabinets a more youthful and modern look. All jokes aside, I was amazed at just what a difference new hardware made on my cabinets. It has definitely given my cabinets and kitchen the style they desperately needed.